NOTE: This was published in 2012 and a new post has updated information!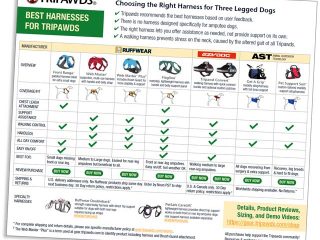 While some dogs may never need assistance after amputation, a harness can be an essential aide for helping your three legged dog in and out of cars, up and down stairs, over obstacles, or even up from a resting position as needed.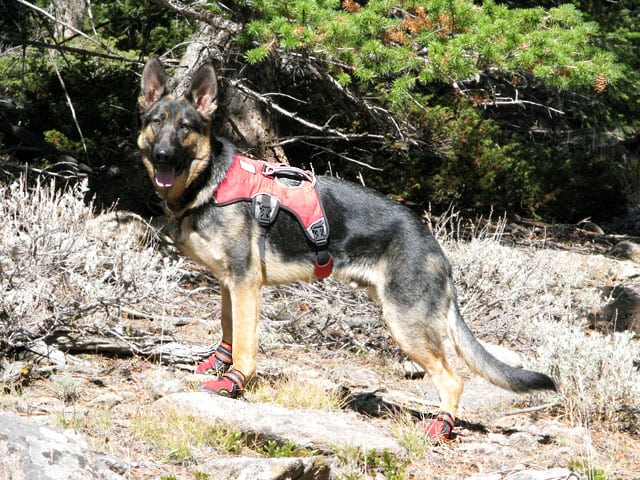 Consider getting your dog comfortable with a harness, before you realize he or she needs one.
The Ruff Wear Web Master harness is the most popular all-purpose support harness we recommend for the vast majority of people looking to help their three legged dogs. Ruff Wear also makes the Doubleback harness which is intended for technical climbing with your dog, but also provides a hip handle for front-leg Tripawds requiring additional rear end support.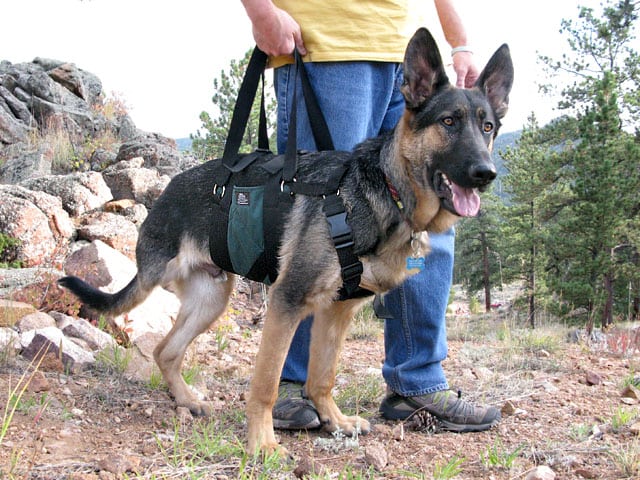 For larger, less mobile dogs, and those requiring additional support, Animal Support Technologies offers a couple different harnesses. See all recommended harnesses in the Tripawds Gear Shop and read on for tips to help determine which one is best for your three legged friend.
Ruff Wear Web Master Harness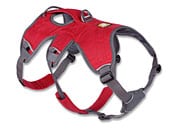 Originally designed to assist search-and-rescue dogs, this handy harness allows you to help your tripawd up and down stairs, in and out of a vehicle, or provide extra support. See full review and demo video for complete details.
Most popular and affordable.
Best for all purpose general support.
Most comfortable in all weather conditions.
Comfortable padded chest and belly straps.
Five adjustment points.
Quick release buckles.
Handle centered on back
Includes sturdy D-ring for attaching a leash.
Sizes to fit nearly any dog.
$103.00 – $133.00Select & Buy
$74.95 – $133.00Select & Buy
Ruff Wear Doubleback Harness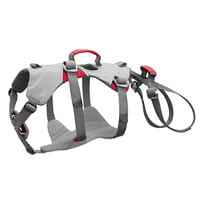 Strength rated belay harness designed for technical climbing with dogs provides direct hip support using padded leg loops that stow in convenient zippered pocket when not being used. Read full Doubleback harness review for details.
Full padded belly support
Rear leg loops enable hip-lift and even weight dispersion
Stow away leg loops
Allows multi-point adjustments for a custom fit
Rugged, durable design is strength-rated to 2,000lbf
Two handles, one providing direct hip support
Not ideal for rear-leg Tripawds with small or no stump
No quick release buckles
Narrow top handle
$124.95Select & Buy
See all recommended dog support harnesses in the Tripawds Gear Shop!
AST Get A Grip Harness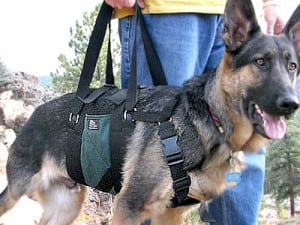 For deep chested, large breed, heavyweight or more physically challenged Tripawds, the AST provides superior under-belly support. NOTE: Small and Medium Get A Grips have permanent handles. Large size has four individual loops. Please select preferred handle options. Read Get A Grip product review and see demo video for details.
Comfortable under-belly support when carrying is necessary
Quick and easy to put on
Gives even support when lifting
Ideal for larger, heavyweight or less mobile dogs
Optional shoulder straps
Abdominal section accommodates male anatomy
Small and Medium sizes include permanent handles.
Large size includes four hand grip loops.
Carrying handles/loops are not removable
Optional clip-on handles and straps available
Doesn't seem practical for all-day use
Not necessarily for active Tripawds
Fabric seems heavy for hot climates
AST Get A Grip Total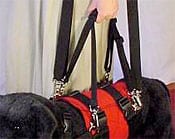 Select this option to receive a kit complete with Get A Grip Harness, clip-on handles and shoulder straps. NOTE: Ensure proper fit before replacing permanent handles on small and medium sizes to avoid voiding warranty. Read Get A Grip product review and see demo video for details.
See Get A Grip harness features above.
Includes adjustable clip-on handles.
Includes adjustable clip-on over the shoulder straps.
$125.00 – $181.00Select & Buy
AST Custom Pet Support Suit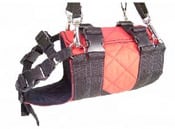 Ensure a perfect fit with this custom designed body harness made to order for your dog. The best solution for giant breed dogs and/or long term use. Includes Additional Velcro® closure, no-slip fit, choice of color and adjustable, detachable handles. No returns. See Jerry's original Pet Support Suit review and video. New review coming soon!
Wrap-Around Design
Custom Built to your dog's measurements
Additional Velcro® Closure
Adjustable Straps
No-Slip Fit
Durable, Heavy-Duty Construction
Choice of Color
Adjustable, Detachable Handles
Washable
Optional Shoulder Strap
Unbeatable Support and Control
Custom Pet Support Suit Harness by AST (Full Product Details)
$198.00 – $218.00Select & Buy
Visit the Tripawds Gear Shop for more helpful products!