The Ruffwear Web Master has been the most popular harness we've recommended for helping three legged dogs since launching the Tripawds Gear Shop in 2009.
Now we are excited to announce that Ruffwear is making the Brush Guard attachment for all their harnesses!

Why? Because when you add the Web Master plus the Brush Guard, you get the best all purpose harness available for helping Tripawds. That's why we're calling this winning combination the…
Web Master Plus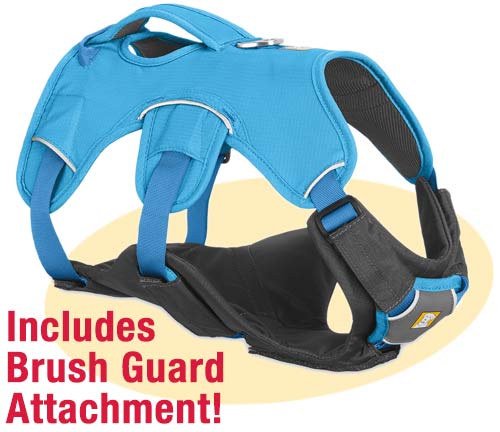 Watch this short video for a quick overview of the new features, and stay tuned for a detailed product review.
Near the end of this video you will find links to longer demo videos for the Web Master harness featuring front-leg Tripawd Jerry and rear-legger Wyatt. Watch the whole thing for some special treats at the end! 🙂
The Webmaster Plus offers:
Better Comfort
More Support
Greater Stability
The Brush Guard attaches in minutes to provide additional support when lifting and assisting dogs. For ease of use, size your harness to fit first, then attach the Brush Guard to the straps with its Velcro enclosures.
When you purchase from Tripawds, your cost includes shipping to anywhere in the continental U.S. via ground delivery (5-7 business days). Texas residents pay applicable sales tax. ONLY AVAILABLE TO U.S. CUSTOMERS. Find international dealers here.
$103.00 – $133.00Select & Buy
Already Have A Web Master?
No problem! Confirm the size of your existing harness and get your Brush Guard here!
*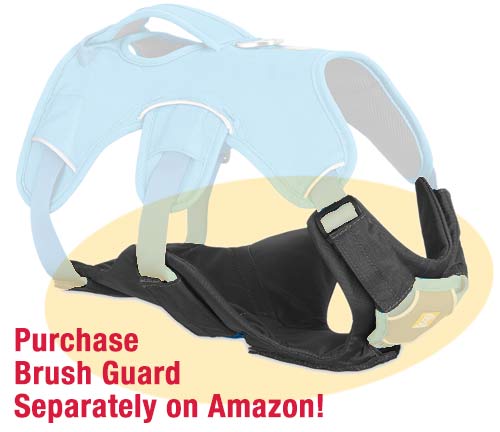 *The Web Master Plus Brush Guard attachment is available in the Tripawds Gear Shop and the price includes shipping! If you already have the harness, you will save money on the Brush Guard at Amazon.