There's nothing better than a happy amputee dog doing what they love. And there's nothing worse than a Tripawd knee injury, which we see in this community all the time. Some of these injuries happen when a dog's fitness level is not up to par with what their human is allowing them to do.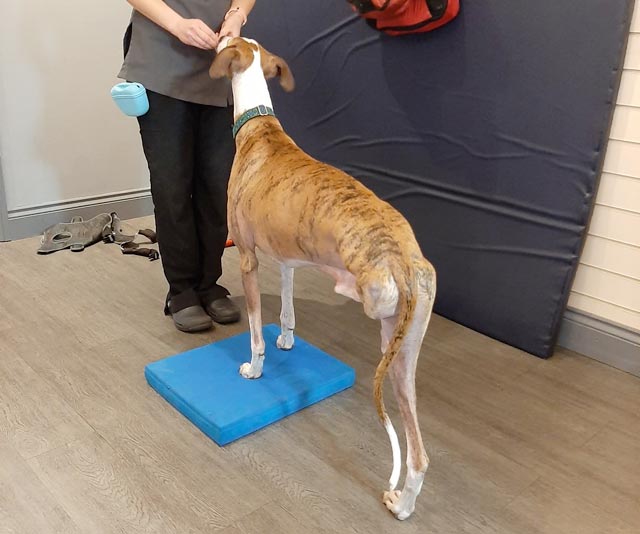 In keeping with September's theme of Animal Pain Awareness Month, let's look at findings from a recent study about four-legged agility dogs. The information can be applied to our amputee heroes who love running, jumping, and doing canine sports.
What Can 4-Legged Agility Dogs Teach Us About Tripawd Safety?
In a 2022 study by the University of Washington's Agility Dog Health Network, researchers found that agility dogs who don't have good core strength are more susceptible to a very common dog knee injury, cranial cruciate ligament rupture. It's the dog version of a human anterior cruciate ligament tear (ACL), and it's not a good thing, especially for amputee dogs. The study is called "Risk factors for cranial cruciate ligament rupture in dogs participating in canine agility," and it concludes:
Conclusions: These results are consistent with previous studies demonstrating that body weight and spay/neu‑ ter status are risk factors for CCLR in dogs. This is the first report to demonstrate that risk of CCLR in agility dogs is decreased in dogs that engage in regular core strengthening exercises, compete more frequently, compete at higher levels, and compete in more athletically challenging venues.

Risk factors for cranial cruciate ligament rupture in dogs participating in canine agility, Debra C. Sellon1* and Denis J. Marcellin‑Little2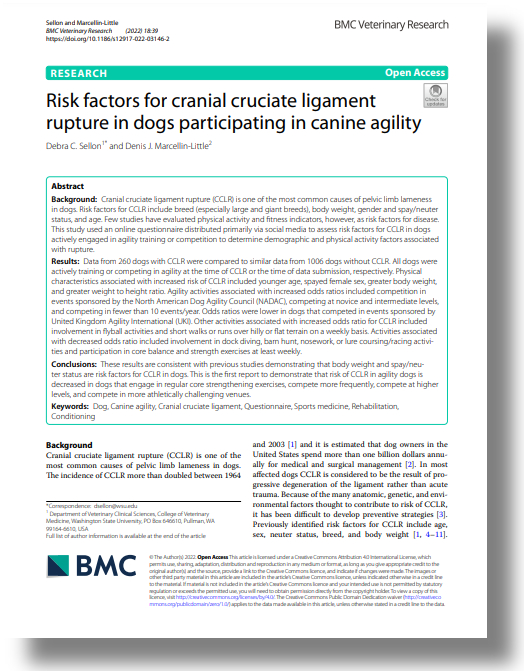 Trends of Agility Dogs with Knee Injuries
Over 1200 four-legged agility dogs were studied by these orthopedic vets. They looked at 260 dogs who tore their ligament and 1,002 dogs that did not. They found some trends, such as:
Certain breeds may be more susceptible to cruciate tears. Australian shepherds and Labrador retrievers were more than twice as likely to rupture the ligament. Rottweilers and Australian cattle dogs were more than four times as likely to tear the ligament!
Some dog breeds have lower odds of cruciate tears. They include Border Collie, Shetland Sheepdog, and Vizsla dogs.
Dogs with cruciate tears were more likely to participate in high-impact, explosive activities like flyball. They were less likely to engage in conformation, dock jumping, lure coursing or racing, nosework, and barn hunt or earth dog activities.
And finally, dogs who had knee injuries were also more likely to engage in short hikes or runs on flat or hilly terrain on at least a weekly basis. And, these dogs were less likely to engage in weekly or more frequent exercises related to core strength and balance or go on weekly short or long walks.
Build Core Strength to Avoid a Tripawd Knee Injury
This was a first-of-its-kind study in four-legged agility dogs. With growing numbers of Tripawds participating in risky canine sports like lure coursing, FastCAT and agility, we hope that awesome veterinary researchers will study the impact of these sports for amputee dogs. In the meantime, we can extrapolate from the study that if core strength benefits four-legged friends, it does just the same for three-legged dogs, if not more.
If you're going to do these high-impact sports with your 3-legged dog, please build core strength as part of your regular fitness activities.
Building core strength is not hard, and it's fun too! A few simple exercises can bring you closer to your Tripawd hero, and help protect them against a remaining leg injury too.
Learn at home with Dr. Waterhouse!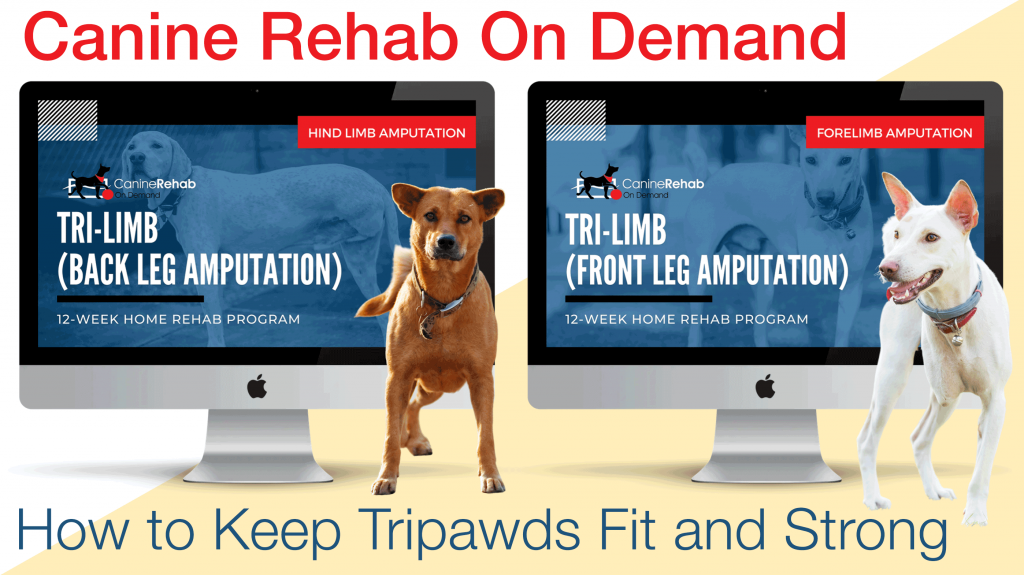 Here's how we helped Wyatt Ray stay strong for 12 great years on three legs
Don't do the following without taking advantage of the Tripawds Rehabilitation Therapy Reimbursement Grant first! Get reimbursed up to $200 for your Tripawd's first rehab visit!

Wyatt always had fun with the FitPAWS Trax Donut.
And the FitPAWS FITBone was always part of our daily exercise too.
Here's more canine fitness fun with our favorite canine fitness gear. Watch pawesome k9 trainer Robert Cabral demonstrate more fun core strengthening exercises for dogs:
Need Core Strengthening Gear? DIY or Shop Tripawds!
You can always make DIY fitness games, like a homemade buja board. Short on time? Order helpful Tripawds Fitness Gear. Your purchases support our community too. It's a win-win!