Last week we provided an overview of our favorite, mobility harnesses for canine amputees. Now, we'll get into specifics for each type of harness. Today we want to talk about the Custom Pet Support Suit by Animal Suspension Technologies.
Forget a Towel, The Pet Support Suit Has Arrived
Every dog has slightly different mobility needs. Tripawds who hardly need help getting around will find the Ruff Wear Webmaster is an ideal fit. But for others who need a higher level of assistance, the custom Pet Support Suit can be the perfect device to help restore quality of life.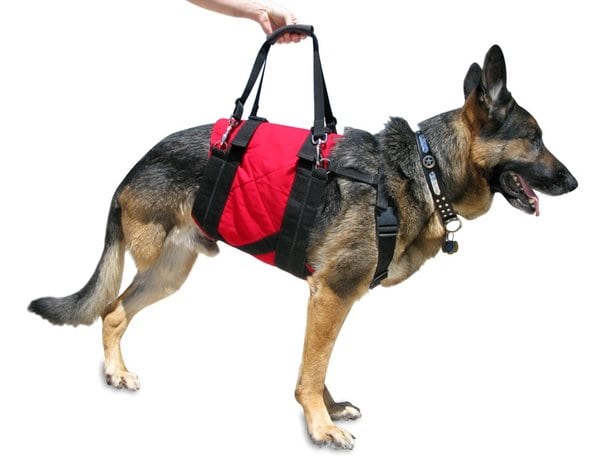 Each Pet Support Suit is tailored with a specific dog in mind and custom built to size. For hard-to-fit breeds with exceptionally long or short torsos, or a very thin belly compared to the chest, this harness is the best way to ensure that you get the control and support needed for your dog.
We became fans of the Pet Support Suit when we tried it on Tripawds Founder Jerry (see video below). The suit is exactly as described:
works for both front and rear leg amputees
non-slip fabric won't rotate
complete wrap-around design
full underbelly support
design allows for male anatomy
several points of adjustment
adjustable handles for taller people
easy to put on and remove
USA-made to order in about 3 business days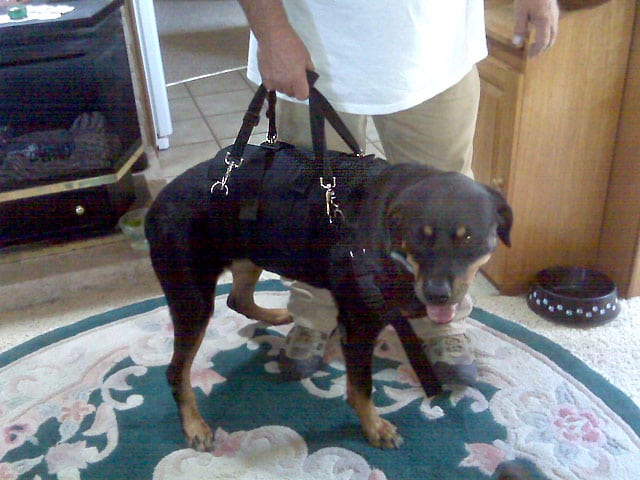 What we love the most is that even if a dog is completely immobile, the harness can be laid flat on the ground, slid underneath the torso and secured for a good fit.
An optional shoulder strap provides additional leverage for hoisting your dog up off the floor.
The harness can be worn all day if necessary, while allowing dogs to live life as normally as possible. Keep in mind that the Pet Support Suit's durable fabric is thick, so monitor your dog when she's wearing it during summer.
Sizing
NOTE: Custom harness requires 3-5 business days for production. There are no returns allowed on this custom harness, so please make sure it's what your Tripawd needs, then measure carefully.
Measure the girth of your dog's chest, belly and body length to ensure a proper fit. Click the image below to view the sizing instructions at a larger size in a new window.
Demo Video
The following video starting Tripawds Founder Jerry shows exactly how the harness can help dogs with extra mobility challenges.
Options and Pricing
When you purchase from Tripawds, your cost includes free shipping via USPS delivery. Texas residents pay applicable sales tax.
Custom Pet Support Suit Harness by AST (Full Product Details)
$198.00 – $218.00Select & Buy
$125.00 – $181.00Select & Buy