Tripawd pawrents have been asking for another alternative to the Ruffwear Webmaster Harness, and we're hoppy to say that the good people at Animal Suspension Technologies have met that need.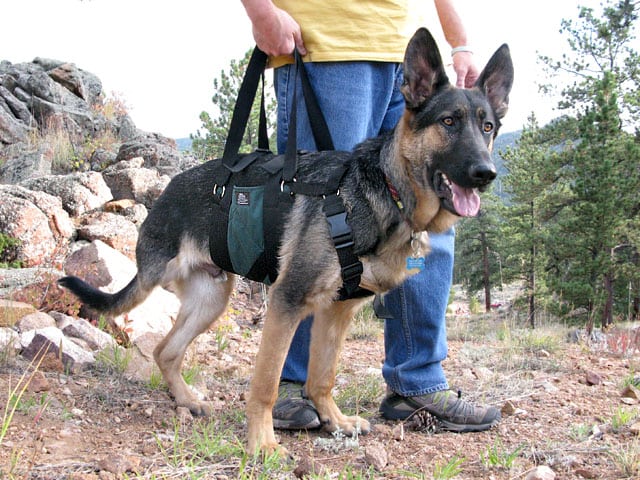 We think the Get A Grip Harness by Animal Suspension Technologies is a great choice for big-boned three legged amputee dogs who need extra support, and pawrents who need more leverage in moving their Tripawd around.
Unlike the AST's custom Pet Support Suit that Jerry demonstrated, the Get A Grip Harness is ready-made solution for immediate surgery recovery needs and mobility assistance.
---
AST Get-A-Grip Harness
Product Review at a Glance

Wags:
Comfortable under-belly support when carrying is necessary
Quick and easy to put on
Gives even support when lifting
Comfortable carrying straps
Great for less mobile dogs
Durable and washable
Shoulder strap option
Abdominal section accommodates male anatomy
Made in USA
Whimpers:
Carrying nandles not removable
Doesn't seem practical for all-day use
Not necessarily for active Tripawds
Fabric seems heavy for hot climates
Easy and Comfortable
The Get a Grip is comfortable for your Tripawd, and easy to put on, even if he cannot stand on his own. Just place the padding under his belly, wrap it around his body, and clip into place. There's no need to put your Tripawd's paws through individual leg loops. You may need to adjust the straps upon first wearing it, but after that, you won't need to hassle with fittings.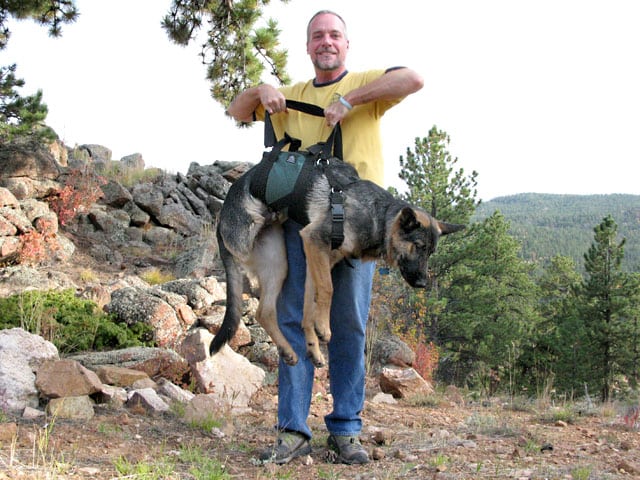 The patented "AST X-Belly Straps" cross under the body, connecting the front and rear support straps, and create a sling effect that lifts the whole dog at once. The wrap-around design helps the harness to stay centered on your dog, and ensures that as you lift him, the center of gravity stays centered directly underneath his belly. The handles can be used by one, two or more people to lift the dog. Finally, all sizes can accommodate minor weight changes.
Remember, AST does make a custom Pet Support Suit, which is almost identical to the Get a Grip. The custom Pet Support Suit is better choice if your dog has a very long or very short torso, or a very thin belly compared to his chest.
Tripawd spokespup Wyatt Ray Dawg will do a complete video review and demonstration of the Get a Grip Harness soon, but meanwhile, remember, three legged dogs now have another great harness option.
The Get-A-Grip Harness comes in three sizes: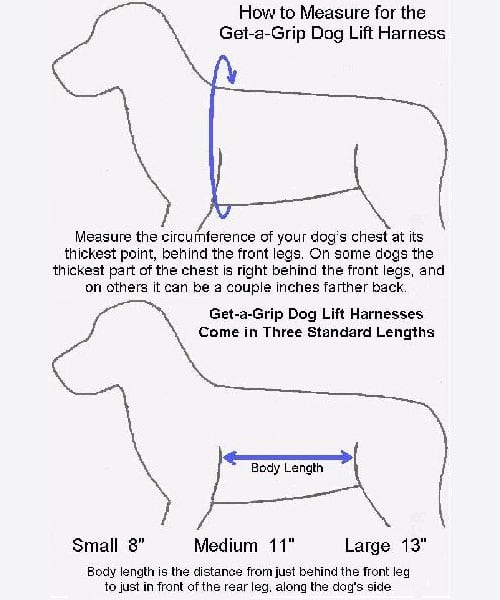 Small
Girth: 22" – 27" (56cm – 68cm)
Harness Body Length: 8"
Color: Black
Medium
Girth: 27" – 34" (68cm – 86cm)
Harness Body Length: 11" (28cm)
Color: Green
Large*
Girth: 34" – 42" (86cm – 106cm)
Harness Body Length: 13" (33cm)
Color: Blue
*Large Get-A-Grip Harnesses have four individual loop handles and are designed to be used by two or more people.
For a custom fit harness designed to your dog's specifications, consider the Custom Pet Support Suit from AST.
Without straps to interfere with incision healing this harness should be OK to use on amputee dogs during surgery, but please consult your veterinarian with any concerns. Stay tuned for our upcoming demonstration video! Don't miss our Get-A-Grip product demo video, and be sure to read the AST shipping and return policies.
Options and Pricing
When you purchase from Tripawds, your cost includes free shipping via USPS delivery. Texas residents pay applicable sales tax.
$125.00 – $181.00Select & Buy
Custom Pet Support Suit Harness by AST (Full Product Details)
$198.00 – $218.00Select & Buy