NOTE: This was published in 2014 and a new post has updated information!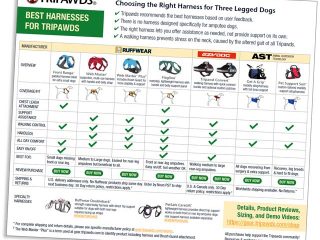 Are you wondering: Does my Tripawd dog really need a harness?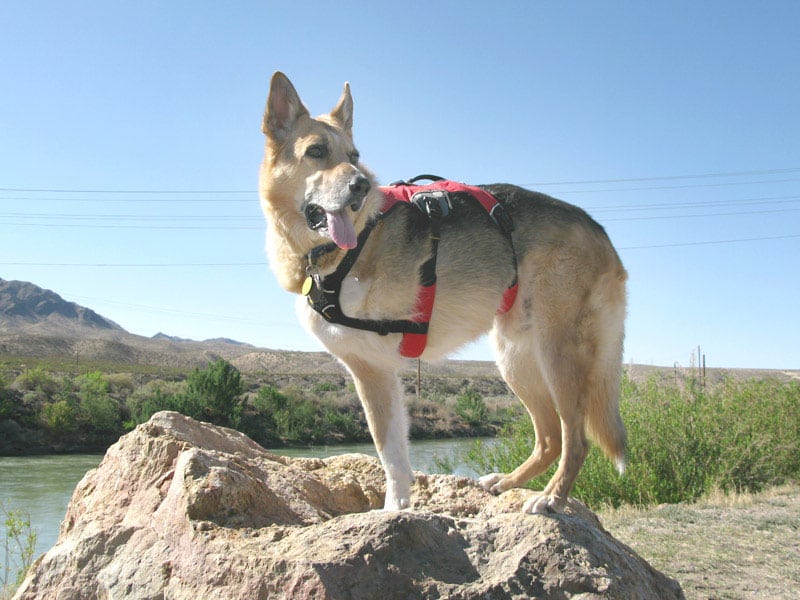 You're not alone. Most people wonder if a harness is really necessary for a three-legged dog. The answer to that question is that it depends: on the age, size, physical capability, living conditions and travel frequency of your Tripawd.
Since all Tripawds lead different lives, they have different harness needs between puppyhood and senior days, depending on their current state of health.
To help you decide if your Tripawd dog needs a harness, and which one may be best for you, here is a quick summary of the harnesses we think are best for Tripawds, and why.
UPDATED: The Best Tripawd Harness For Your Dog
All Purpose: Ruffwear Webmaster Harness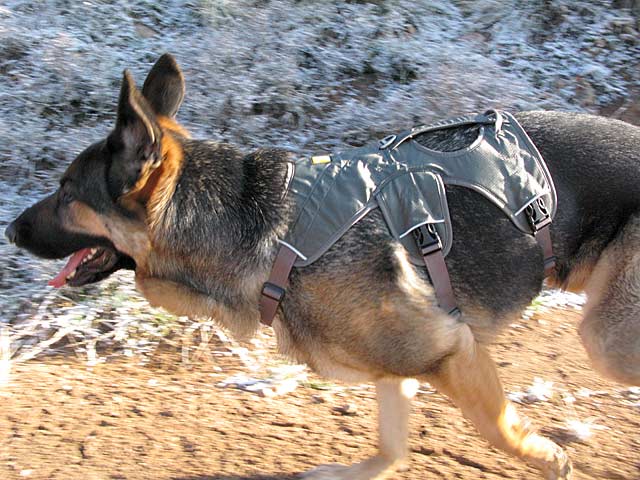 Originally designed for search and rescue dogs, the best-selling and affordable Webmaster harness is ideal for both front and rear leg canine amputees who:
Need a moderate amount of assistance, especially post-amputation
Require occasional lifting
Are active and ambulatory
Go everywhere with the pack
Love to explore and play outdoors
A good fit is achieved by working with any of the five different adjustment points. This is why it works great on both front and rear leg Tripawds.
The strategically placed top handle allows you to help your dog through a variety of conditions if needed, while the breathable, rugged fabric is comfortable enough to wear all day, every day, even while urinating.
A sturdy D-ring on top allows you to secure a leash, which makes it handy for going on walks.
For complete details about this option, read our full Webmaster harness review featuring front leg amputee Jerry or watch our updated demo video with rear-legger Wyatt. Once you try it we're certain you'll see why it's our #1 selling harness for Tripawd dogs.
$103.00 – $133.00Select & Buy
$74.95 – $133.00Select & Buy
Walking: The Tripawd Convert Harness by EzyDog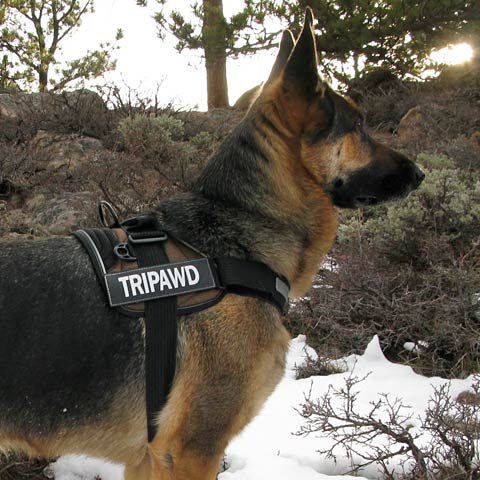 The Tripawd® Convert Harness by EzyDog is an ideal walking and adventure harness for any dog. It's especially great for front-leg Tripawds and is the only harness we know of that was specifically prototyped on a front leg canine amputee.
IMPORTANT UPDATE about Front-leg amputee dogs: As of 2019, the Flagline Harness is now our best harness for front-leg amputee dogs. The Convert is still a great walking harness for many Tripawds, but no harness is 100% perfect on an amputee. Many have a tendency to rotate because there is no second front leg to keep it in place. Proper sizing and fitting is important with any harness but especially the Convert. Always measure carefully before ordering. Contact us with any questions.
It's a snazzy, rugged harness with key features including:
A one-buckle system for easy and fast on and off use
There's no stepping into or out of it; just place it over your dog's head, buckle and go
The front chest strap sits across your dog's chest instead of behind the front legs, which prevents chafing and irritation
A lightweight but rugged, durable and breathable body piece makes it warm-weather friendly
The handle is comfortable and large enough for any size hand
Removable side patch for showing your Tripawd Pride
Can be worn during elimination.
While this harness does provide support for assisting your dog into cars and up and down stairs, we specifically recommend it as a walking harness. The EzyDog is not intended for use as a safety or mobility harness that allows you to frequently lift your dog or hoist him entirely off the ground. Read our entire Tripawd® Convert Harness Review for more information.
$60.00 – $79.00Select & Buy
$20.00 – $89.00Select & Buy
Mobility: The AST Custom Pet Support Suit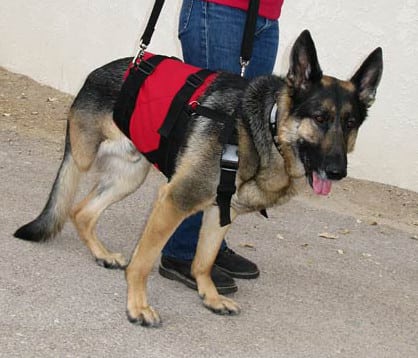 If your dog is experiencing significant mobility challenges, the Custom Pet Support Suit by Animal Suspension Technologies is an excellent investment for long-term support and assistance of both front and rear leg Tripawds. This custom designed Pet Support Suit made to order for your dog's specific measurements. It is also an excellent idea for people who have mobility challenges of their own and need help maneuvering a less ambulatory dog.
Provide your Tripawd's measurements and you'll be guaranteed a tailored fit for life. The Custom Pet Support Suit features:
A soft, padded wrap underneath the belly area makes it ideal for immediate post-op use.
Velcro® top closure for a secure, no-slip fit
Choice of color
Custom fit for any size dog
Adjustable, detachable handles so your Tripawd can wear it 24/7 if necessary.
It also features heavy-duty, washable fabric, but we don't recommend leaving it on your dog all day if you live in a warm climate. Because the Custom Pet Support Suit is tailor made, there are no returns. For details, see Jerry's original Custom Pet Support Suit review and video.
Custom Pet Support Suit Harness by AST (Full Product Details)
$198.00 – $218.00Select & Buy
Mobility: The AST Get-a-Grip Harness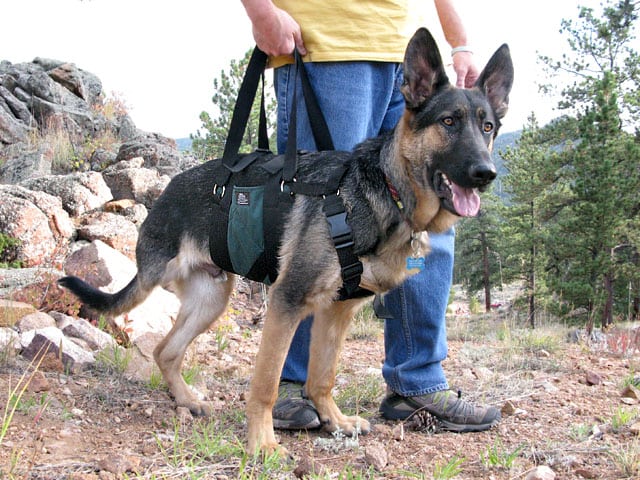 The Get-a-Grip Harness by Animal Suspension Technologies is ideal for less mobile dogs who can use extra mobility assistance immediately after surgery or during recovery challenges. Here's why we love it:
Comfortable under-belly support when carrying is necessary
Quick and easy to put on
Gives even support when lifting
Ideal for larger, heavyweight or less mobile dogs
Optional shoulder straps
Can be left on during elimination
Three sizes to choose from
Optional clip-on handles and shoulder strap is available
Like the Pet Support Suit, the Get-a-Grip is useful for pet parents with their own mobility challenges; an optional shoulder strap provides extra leverage when lifting or maneuvering your dog.
Read our Get A Grip harness review and see demo video for details.
$125.00 – $181.00Select & Buy
Mobility: The AST Get-a-Grip Total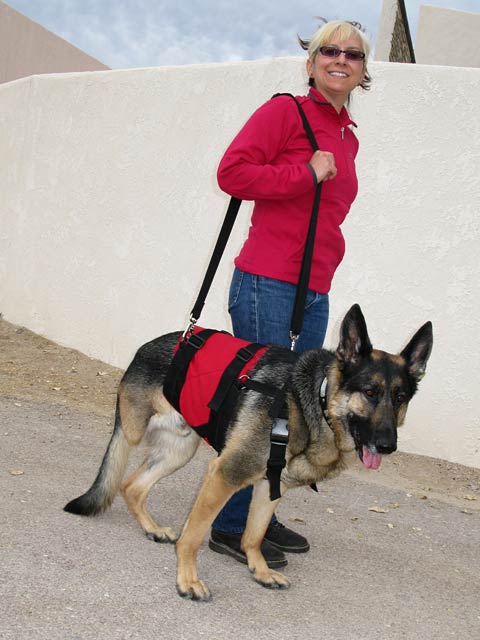 Choose the AST Get-a-Grip Total option when you need a variety of ways to help your dog in various situations. This "Total" option includes a Get-a-Grip harness, shoulder strap, and clip-on handles. This is an ideal solution to help maneuver your dog immediately post-op as well as when she's getting into the car, walking on slippery surfaces and performing weight-bearing activities.
Read our Get A Grip product review and see this demo video for details.
$125.00 – $181.00Select & Buy
All Purpose: Ruffwear Doubleback Harness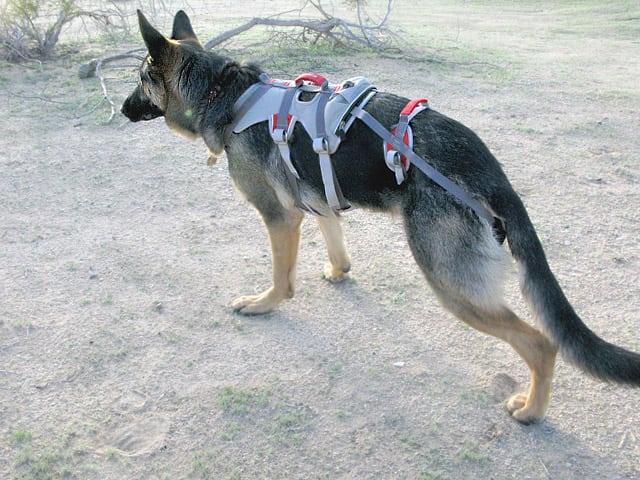 The heavy-duty Doubleback harness is great for active front leg amputee dogs needing rear-end lift and support. It provides all of the benefits of the Webmaster harness but has extra support on the rear half of the body, through the incorporation of leg loops (which can be stowed inside the harness when not being used).
Other features include:
Fully-padded, under-belly support
Rear leg loops enable hip-lift and even weight dispersion
Multi-point adjustment areas for a custom fit
Rugged, durable design strength-rated to 2,000 lbs
Laced buckles for secure fir
Two handles, one providing direct hip support
Keep in mind that the Doubleback is not ideal for rear-leg Tripawds who need rear-end lift support, since the leg loops cannot be used on dogs with small or no stump remaining. It does not feature quick-release buckles like the Webmaster, but can be worn all day and during elimination. Read the full Doubleback harness review for details.
$124.95Select & Buy
Front Range Harness Best for Small Tripawds
If you have a tiny, toy or very small breed Tripawd dog and want a great harness, we highly recommend the Ruffwear Front Range dog harness.
For small Tripawds with a girth size under 22″, the Ruffwear Front Range harness is perfect. It's not as heavy-duty as the Webmaster or the EzyDog Tripawd Convert harness, which are great for larger, heavier dogs — but sometimes too much harness for the daintiest Tripawds.
Remember, there are no harnesses manufactured specifically for three-legged dogs, but these are the best harness options for canine amputees that we know about. As new ones appear we'll be sure to let you know which harness is good for a Tripawd.
If you have a favorite harness we haven't mentioned, contact us today, we'd love to hear about it!