Harnesses come in all styles and for all uses, but only a few work well on a Tripawd's body. One of the newest dog harnesses that we proudly carry in the Tripawds Gear Shop is the Tripawd® Convert Harness by EzyDog. It's ideal walking harness for any dog missing a front or rear leg.
IMPORTANT UPDATE about Front-leg amputee dogs: As of 2019, the Flagline Harness is now our best harness for front-leg amputee dogs. The Convert is still a great walking harness for many Tripawds, but no harness is 100% perfect on an amputee. Many have a tendency to rotate because there is no second front leg to keep it in place. Proper sizing and fitting is important with any harness but especially the Convert. Always measure carefully before ordering. Contact us with any questions.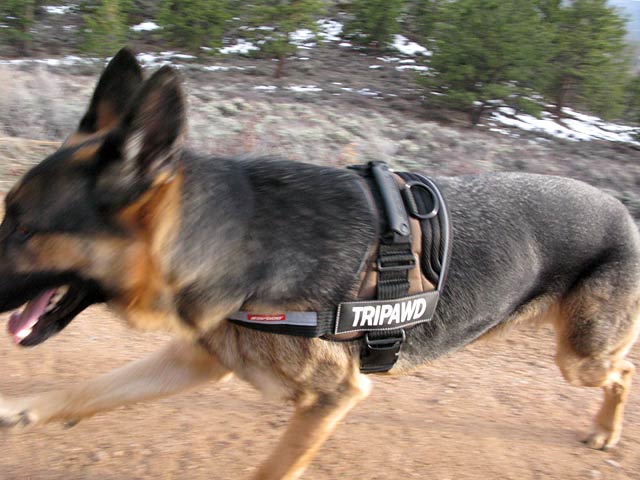 About the EzyDog Convert Harness
If you're looking for a great all-purpose walking harness for your three legged dog, the new Tripawd® Convert Harness by EzyDog is an exceptionally worthwhile gear investment. With the removable custom "Tripawd" side patches, your three-legged hero will go out into the world wearing his three legged pride and looking snazzier than any four-legged dog!
EzyDog was founded by John Hatcher, a  Tripawds Supporter whose beloved dog Hurley was diagnosed with osteosarcoma in 2011. Hurley's story is documented in his Tripawds blog, Hurley's Journey. John's company offers a wide selection of rugged outdoor gear for dogs, and we're proud to bring you his latest creation, the Convert Harness.
Why We Love the Convert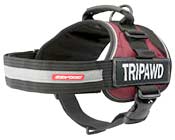 We love this walking harness for a lot of reasons but mainly because the Convert is the only harness we know of that was specifically prototyped on a front leg canine amputee (John's dog, Hurley) before the final version was released. As a result, it will not usually rotate around the body of a dog missing a front leg, the way many other harnesses do. Keep in mind that because all dogs are different, we can't guarantee that it won't rotate.
About Front-leg amputee dogs: Please keep in mind that no harness is 100% perfect for front leg Tripawds. Not every harness will work for every dog. Even the best have a tendency to slip when worn throughout the day. Proper sizing and fitting is important, always measure carefully before ordering. Contact us with any questions.
When we tested the Convert on Tripawds Spokesdog Wyatt Ray, we were impressed with  features including:
A one-buckle system for easy and fast on and off use
There's no stepping into or out of it; just place it over your dog's head, buckle and go
The front chest strap sits across your dog's chest instead of behind the front legs, which prevents chafing and irritation
A lightweight but rugged, durable and breathable body piece makes it warm-weather friendly
The handle is comfortable and large enough for any size hand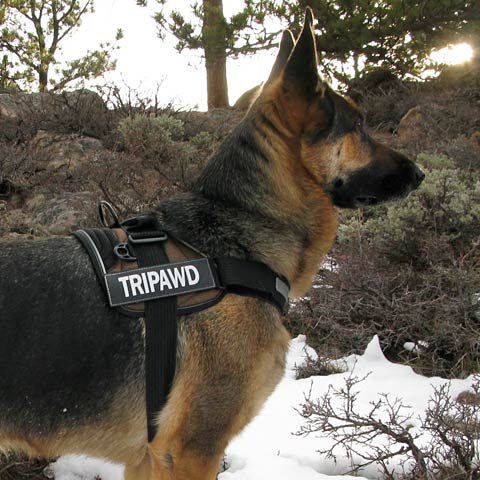 Whimpers About the only thing we wish the Convert had was a design that would enable more evenly-placed body hoisting for Tripawds who need extra help. But remember:
This is specifically a walking harness, it is not a safety or mobility harness
You can use it to assist your dog getting into cars and up and down stairs
It is not intended for hoisting your dog entirely off the ground
Keep this in mind and you'll find this is a great tool for active Tripawds. The Convert distributes load across the strongest point in your dog's body, which  means that even if your dog pulls while on leash, the pulling won't places excess stress around the throat the way a dog collar does.
Features and Benefits
The Tripawd® Convert Harness by EzyDog offers superior walking control and comfortable torso support for assisting dogs as needed. Convert Harness Features:
Durable polyester outer shell is rugged and washable.
Soft cotton lining offers comfort in any weather.
Fully adjustable chest strap provides quick, snug, secure fit.
Lightweight design delivers maximum comfort and flexibility.
Rust-proof welded D-ring provides a secure anchor for leashes.
Single-buckle attachment makes putting on and taking off easy.
Sturdy soft touch traffic handle lets you give extra support as needed.
Removable Tripawd side badges included with your purchase!
Available in these colors: Charcoal, Burgundy or Blue (Gold is no longer available.)

Sizing Chart
For the best fit, accurately measure the girth of your dog. This is the area behind the front legs and around the body. The neck will typically fit appropriately once girth is determined. If the measurement is close to the end of the size range, go up to the larger size.
Toy Breed or Small Dog? Consider the Front Range Harness!
Size
Girth (inches)
Girth (cm)
XS
16.5-19"
42-48cm
S
20.5-24"
52-66cm
M
24.5-31"
62-79cm
L
27.5-35.5"
70-90cm
XL
31.5-43.5"
80-110cm
XXL
34-45.5"
86-116cm
Fitting Instructions: Download this PDF to learn how to fit the Convert on your Tripawd.
Options and Pricing
When you purchase from Tripawds, your cost includes free shipping! Prices include one pair of "Tripawd" side patches and ground shipping within the U.S. Order custom side patches to personalize your harness.
Your cost includes shipping to anywhere in the continental U.S. via ground delivery (5-7 business days). Texas residents pay applicable sales tax. ONLY AVAILABLE TO U.S. CUSTOMERS. Find international dealers here.
$60.00 – $79.00Select & Buy
$20.00 – $89.00Select & Buy
Shipping Information
Regular ground shipping is included in your Convert price. All orders ship from Idaho, USA, via US Postal Service Priority Mail. Prices are for delivery to the continental U.S., Alaska and Hawaii only.
Free 2-Day Shipping: (U.S. Only) All orders must be received by 10:00 a.m. MST to go out the same day.
Canadian Customers: We use DHL International delivery for orders going to Canada, for an additional $34 Flat Rate. This is a 6-10 day service. Please note that neither we nor EzyDog is responsible for any additional Duties, Fees or Taxes that may be incurred with Canadian Shipments.
International Customers: We are not able to provide international shipping outside of North America for this product. Visit EzyDog.com to find a distributor in your country
Refused Shipments: Once an order has been sent from EzyDog, customers are responsible for all shipping charges incurred. If an order is refused by the customer or canceled during transit, the customer will be charged outgoing and return shipping charges.
Returns: Please notify us within 10 days of receipt if you want a return or exchange. Do not contact EzyDog directly. Please contact Tripawds for detailed return instructions. All returned harnesses must be completely clean, and odorless and returned in as close to new condition as possible. The Buyer must pay all shipping charges. We will be unable to issue credit for harnesses that appear used, dirty or smelly. Harnesses in this condition will be donated to an animal rescue group in our area and no credit will be issued. There is a $15.00 re-stocking fee on all returned harnesses.
Warranty/Guarantee: EzyDog guarantees against material defects and workmanship for one year from time of purchase.  If you experience a problem with our product please contact Tripawds.  This does not include chewing or abuse.