Most vets will recommend confining pets and limiting exercise after any major surgery. Since we have already reviewed recommended crates for post-op recovery, and the best pet gates for indoor use, we thought we would suggest a few portable pens for keeping new Tripawds safe inside and out.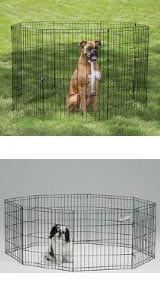 With the weather warming up, pet exercise pens are a great way to limit activity of recovering pups while enjoying time with them outside. Got two dogs or more? Take them all out back without worry. Keep your dog on the mend from romping around with this selection of collapsible pens suitable for use anywhere.
Ideal for keeping recovering pups from from jumping on and off the furniture, pet pens can be used indoors to keep new Tripawds safe and separated from other dogs. In the back yard or at the park, these portable pens allow you to enjoy time outside while keeping a close eye on activity.
Recommended Pet Exercise Pens For Post-Op Confinement
Save on portable pet exercise pens pens at Amazon with this selection of recommended indoor/outdoor confinement solutions to ensure safe recovery!