Ruffwear has done it again! Their new DoubleBack harness is a strength-rated belay harness made for technical climbing with adventurous dogs but also featuring rear-lift hip support, perfect for Tripawds with weaker rear legs who need extra help getting up and around.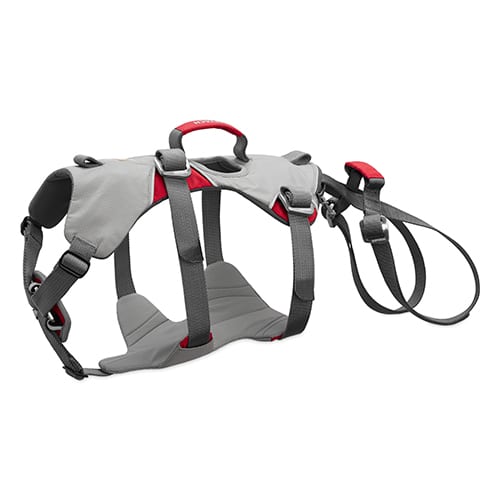 The DoubleBack dog harness provides an increased level of safety, comfort, and convenience – and as with the Web Master harness, we found it works well for assisting three legged dogs, especially ones who are missing a front leg.
---
Ruffwear DoubleBack: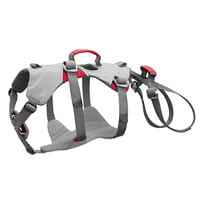 Strength rated belay harness designed for technical climbing with dogs provides direct hip support using padded leg loops that stow in convenient zippered pocket when not being used.
[ all ruffwear gear | sizing | return policy | order now ]
---
Product Review at a Glance

Wags:
Great for front-leg Tripawds
Stays put; no slipping or spinning
Full padded belly support
Rear leg loops enable hip-lift and even weight dispersion
Stow away leg loops
Allows multi-point adjustments for a custom fit
Rugged, durable design
Strength-rated to 2,000lbf (8.9kN)
Two handles, one providing direct hip support
Whimpers:
Not ideal for rear-leg Tripawds with small or no stump
No quick release buckles
Narrow top handle
Weighs more than the Web Master harness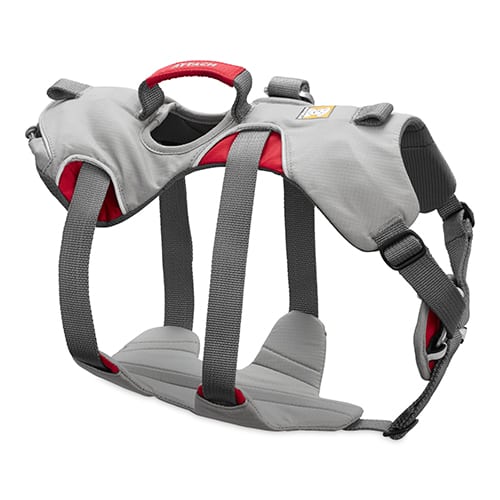 The DoubleBack: Hind-Leg Support for Front Leg Tripawds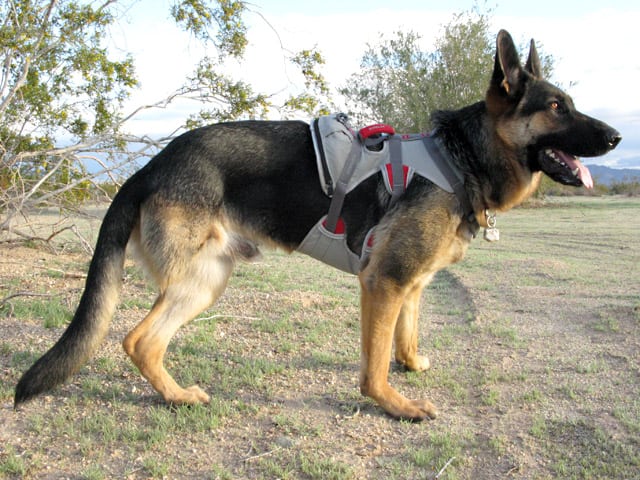 When we discovered the Ruffwear Web Master Harness for our front leg Tripawd Jerry, we fell in love with it. Although it was originally intended for mountaineering dogs, the Web Master is one of the best assistive devices for three legged dogs.
The Web Master harness helps pawrents assist their tripods when they need it most, like getting into cars, navigating slippery surfaces, or lifting up off the floor. The Web Master only has one drawback; on front-leg Tripawds, the harness will periodically shift to one side, requiring an occasional adjustment. Still, we've always felt that it's a small inconvenience for a great assistive harness for three legged dogs.
Earlier this year, Ruffwear introduced the DoubleBack Harness. We heard great things about it, and couldn't wait to test it. Pawrents of front leg Tripawds say the DoubleBack doesn't require adjustments to stay upright. And for Tripawds with compromised hind legs, the rear leg loops give a boost by enabling simultaneous hoisting of both front and rear ends.
$124.95Select & Buy
Ruffwear was kind enough to send us a demo model recently, and here's what we learned …
DoubleBack Harness Key Features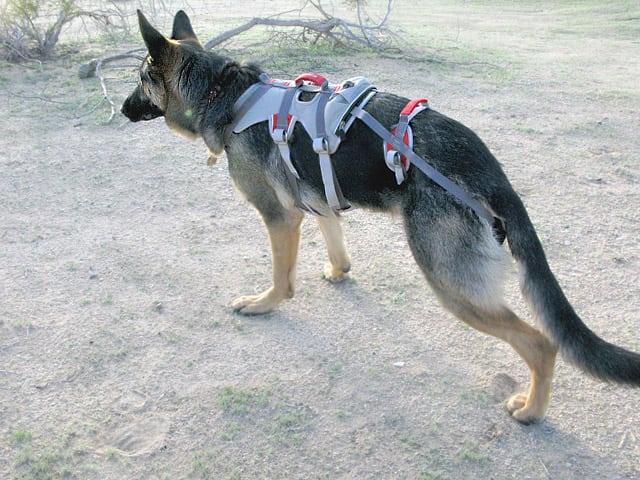 The DoubleBack harness was created for hard-core mountaineering dogs. The strength-rated durable design was intended for hoisting dogs using ropes and pulleys, and getting them into otherwise inaccessible areas.
Rated at 2,000lbf or 8.9kN, Ruffwear wasn't messing around when they designed this super safety harness. This is why the DoubleBack weighs a bit more than other harnessess: the fabric is heavier than the Web Master, there is fully padded belly support, and the lace-back buckles are made of anodized aluminum instead of plastic.
Wyatt Tests the DoubleBack
Why We Love It

Putting the DoubleBack on a dog can be done whether the dog is laying down or standing up. The leg loops don't have to be used and they stow away inside a convenient zippered pocket when not in use. Getting a good fit on Wyatt didn't take long, even without quick release buckles. Although the extra-strength straps must be "double backed" through the buckles for each use, getting the hang of it doesn't take long, even with a squirmy dog. And they provide much stronger support for hoisting heavy dogs when necessary.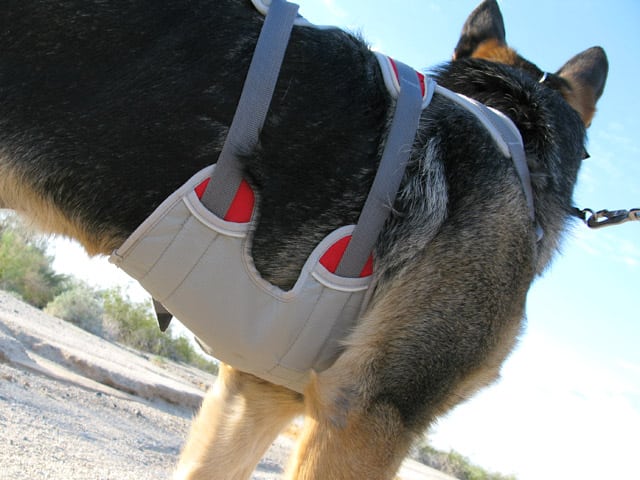 We also loved the under-belly padding. It looked comfortable when we lifted him up and down stairs, and we can appreciate how this would be beneficial for less mobile dogs. It would be wonderful if Ruffwear could integrate this padded belly support into the Web Master harness.
Wyatt wore the harness all morning while playing fetch. The DoubleBack fit great, and no adjustments were necessary. Removal took the same amount of time as putting it on him.
Some Things to Consider

We discovered the biggest downside of the DoubleBack when we attempted to put the leg loops on Wyatt. We assumed that since he has a fair amount of stump left on his amputation side, the loops would stay put. While running around however, the loop slipped off his side with the missing leg a couple times.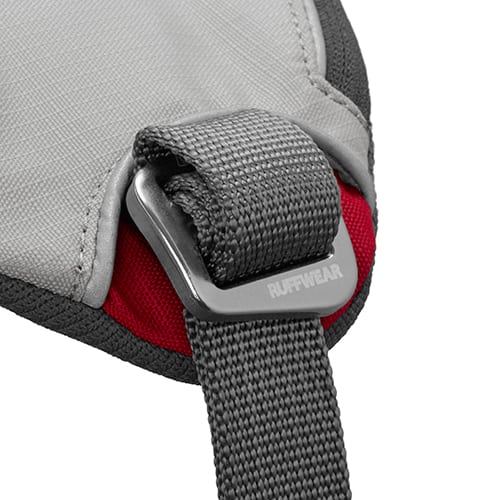 After making many adjustments without success, it was an easy conclusion; the DoubleBack leg loops do not work well on a rear-leg Tripawd.
But, if a rear-leg Tripawd pawrent still wants to use the DoubleBack for its great belly padding features and ultra-durable design, the leg loops neatly pack away. However, our gut feeling is that if you're not going to utilize the leg loops, you're better off sticking with the lower-priced Web Master harness instead … unless of course you intend to hoist your pup into a helicopter or lower him off a cliff! 😉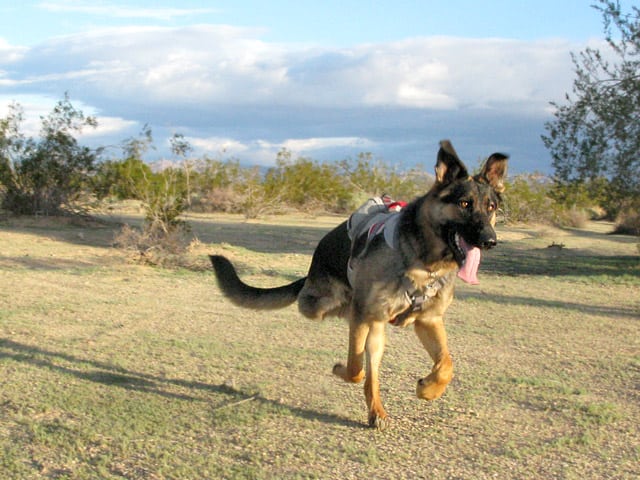 The only other drawback to the DoubleBack we noticed was the small size of the handle on the harness. They seem to be designed more as attachment points for climbing ropes instead of actual hand grips. Those with small hands can fully grasp the handles, but larger hands may have to squeeze inside.
The Tripawds Conclusion
Ruffwear has done it again, by creating another high quality, multi-use dog support harness. While there are many assistive devices available for handicapped dogs, no other company creates a user-friendly harness that's rugged enough for the more active, three legged dogs of the world.
And now, for less-active front-leg Tripawds who require rear-end hip support, the DoubleBack Harness by Ruffwear is the perfect fit. Stay tuned for upcoming demonstration video!


Please measure carefully! Girth measurements that determine proper fit for the DoubleBack are different than those for the Web Master. For dogs in between sizes, Ruff wear recommends selecting the smaller harness for an active performance fit.
PLEASE NOTE: Ruffwear will not ship outside the U.S. and no P.O. Boxes or military addresses are permitted. Please see this list of online retailers for international orders and review the Ruffwear shipping and return policies for complete details.
Purchase Information: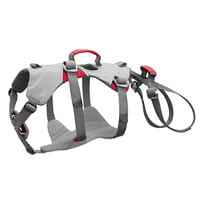 Strength rated belay harness designed for technical climbing with dogs provides direct hip support using padded leg loops that stow in convenient zippered pocket when not being used.
[ all ruffwear gear | sizing | return policy ]
$124.95Select & Buy