After amputation surgery, a three legged dog needs time to build up muscles in remaining limbs. But walking won't do the trick. According to canine fitness experts, only core strengthening activities will increase muscle tone and keep your Tripawd steady on his paws.
Walking is great for endurance, but it does not build strength.
Thoughts About Strengthening Your Tripawd's Limbs
Even though a Tripawd can go on long walks after recovering from surgery, that doesn't mean he should.
Your time will be better spent by taking a few minutes each day to practice core strengthening activities.
A dog's core muscles (or abdominals) are like a human's: they support the back muscles which in turn help support the entire body, maintain balance and allow us to work out other parts, like the leg muscles.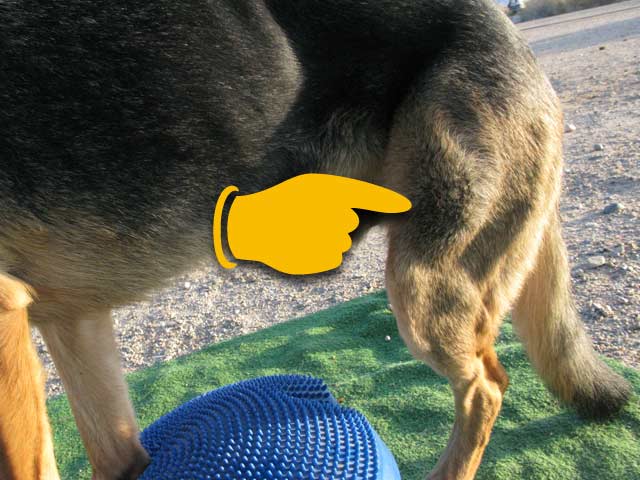 Tripawds Spokespup Wyatt Ray Dawg is a good example of what can happen when you dedicate your recreation time to canine fitness games that strengthen core muscles.
Nearly three years after beginning our work on improving his core muscles and balance capabilities, Wyatt is stronger than ever.
We did it by using equipment like the games created by FitPAWS canine conditioning gear, but read on for more ideas about how to strengthen your three-legged dog's legs.
Getting Stronger One Game at a Time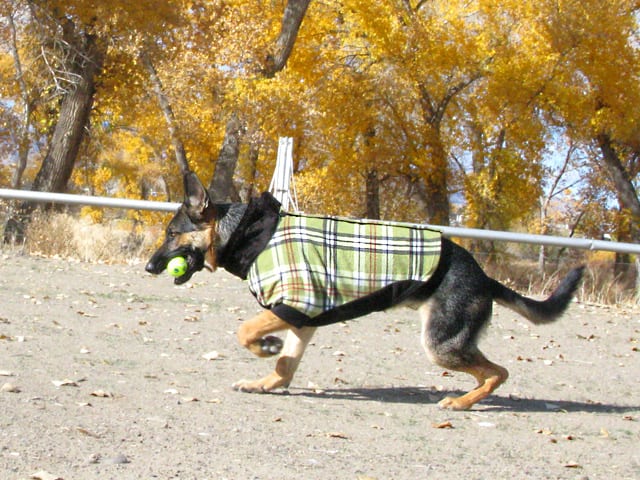 As you can see in the above photo of Wyatt Ray running, his remaining rear limb was extremely weak and his slope was extremely pronounced. That photo was taken less than six months after amputation.
Today, this photo on the right shows his improvement, almost three years after amputation. His stronger core muscles are better able to support his entire body, his rear leg has gained power and more obvious definition.
Today he has better spinal alignment and longer endurance that helps him during playtime and walks. Staying strong will also reduce joint stress as he ages.
Can you see the difference in the two photos?
Strengthening Tips for Tripawds
Take shorter, more frequent walks (no more than 20 minutes each).
Practice proprioception ("body awareness") by balancing on uneven surfaces, like walking over small hedges, up and down curbs, and stepping over sticks and logs.
Keep food proportions small (notice how you can see the faint outline of Wyatt's ribs in the above photo). Tripawds should be thinner than quadpawds to ease the strain on their joints.
Play with FitPAWS canine conditioning gear several times a week, but make daily games your goal.
Remember, you don't need to invest a lot of money into canine fitness gear. And you can also build your own dog fitness equipment, or use simple objects like couch cushions and pillows! Here's a list of places to help you get started.
Recommended Reading:
Tripawds News (Updated for 2022): 3 Facts About Longer Walks and Tripawd Dogs
Tripawds Gear Blog: Fitness Tips for Tripawds
Tripawds Gear Blog: How to Build a Homemade Agility Course
Tripawds Gear Blog: More Fun with FitPAWS Balance Discs
Tripawds Gear Blog: Stay Strong with Maggie's FitPAWS Workout
Tripawds Downloads Blog: Get Fit with a DIY Balance Board for Dogs
Tripawds Gear Blog: FitPAWS Wobble Board Builds Amputee Confidence
Tripawds News Blog: California Animal Rehabilitation Center Recovery, Fitness and Diet Tips
Want more rehab and exercise tips?
Download Loving Life On Three Legs for professional rehab exercises, recommended stretches, how-to videos, and more professional tips!

NOTE: We are not veterinarians. All information provided here is based only on our own experiences caring for Jerry and Wyatt, and the experiences of other Tripawds members. Please consult your vet or do further research before implementing any new fitness regimen into your dog's treatment plan.