If you're looking for the best harness for a Tripawd, you've come to the right place. Visit the Tripawds Gear Shop, and you'll see that we carry all the best harnesses for Tripawd dogs. We even recommend the best cat harnesss, too! But how do you know which is the best harness for a Tripawd? Well, that depends upon your dog, and your specific needs.
Top 5 Tripawd Harness Choices
We know that our wide selection can be confusing when you need to pick one. So, how do you know which on is best for you? Here's a handy Tripawd dog harness chart for you to compare all the features and benefits of our best recommendations.
How to Choose the Best Harness for a Tripawd Dog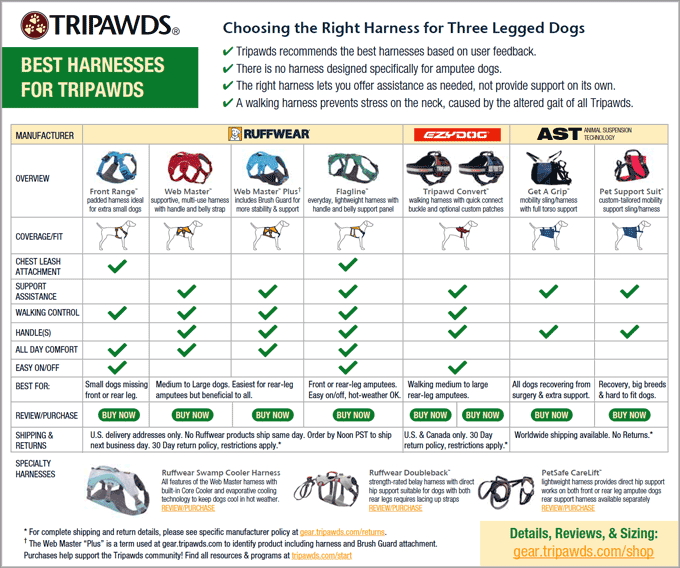 When and Why a Harness is Useful
We know your vet bills are high and we don't think you should buy something that you don't need. So keep in mind that not every amputee dog will need a harness.
Dogs who don't travel in a car very often probably don't need one.
If your home doesn't have a staircase, your dog probably doesn't need one.
But, many amputee dogs can benefit from a harness. Those are dogs who:
Go everywhere in the car with you.
Live in a multi-level home and need help with stairs.
Are unsteady on their feet, or just need extra help getting around due to age or mobility challenges.
Remember, a Good Measurement Gives Good Results!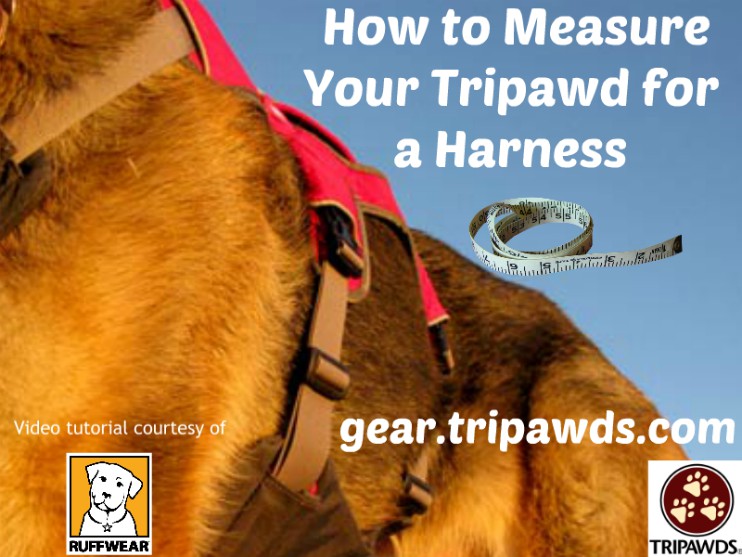 One last thing to remember: once you decide on a harness, it's SO important to carefully measure your dog's girth. For these top-of-the-line harnesses we carry, sizes are according to a dog's girth size, not weight. A "girth" is simply the measurement at the widest point of your dog's ribcage.
We encourage you to learn how to measure for a Tripawd dog harness to get the most accurate measurement and avoid return hassles.
Download Tripawd Harness Comparison Chart
Most Popular Tripawd Dog Harnesses
Select from the best user-recommended three legged dog harnesses below. Click images for detailed information, reviews, and demo videos.
Still Have Questions? We're here to Help.
We hope this Tripawd harness comparison chart helps you to decide. But if you're still unsure about which harness is best for Tripawd, you can always email or call us at 707-845-3129 during normal business hours (M-F 9-5 Pacific Time) with any questions. We will do our best to make it easier for you and your three-legged hero.