Custom Convert Harness or Badges
$20.00 – $89.00
Personalize the EzyDog Convert walking harness for three legged dogs with your own custom side badges for a truly unique walking harness with quick-connect straps. Or, get additional badges for your existing Tripawd Convert harness. Purchase includes coupon for $5 Off Tripawds E-books!
Description
Looking for a service dog harness or personalized walking harness for three legged dogs. Customize your EzyDog Convert harness with any message – add custom printed badges to the best Tripawd Walking Harness!
The EzyDog Convert is a great walking harness for three legged dogs that offers superior control and comfortable torso support. The Convert has a minimal profile but is sturdy too. To customize this three legged dog walking harness with your own personalized message, select the badge background and add up to 20 characters of text. Custom badges are an easy way to create a personalized service dog harness.
Get $5 rebate when ordered together with the SnakPak Treat Bag by EzyDog!

The EzyDog Convert is a top recommended walking harness for three legged dogs. Get this Custom EzyDog Convert if you're looking for a truly unique all-purpose three legged dog walking harness. The sturdy handle and D-ring offer support to help three legged dogs as needed, and prevents strain on the neck while walking. Purchase EzyDog Tripawd Walking Harness here, then add custom badges to your order. (Custom badges only available to U.S. customers.)
A note about front-leg amputees: without that fourth leg, all harnesses may shift a bit during the day. But when sized and properly adjusted, the harnesses we carry have minimal shifting.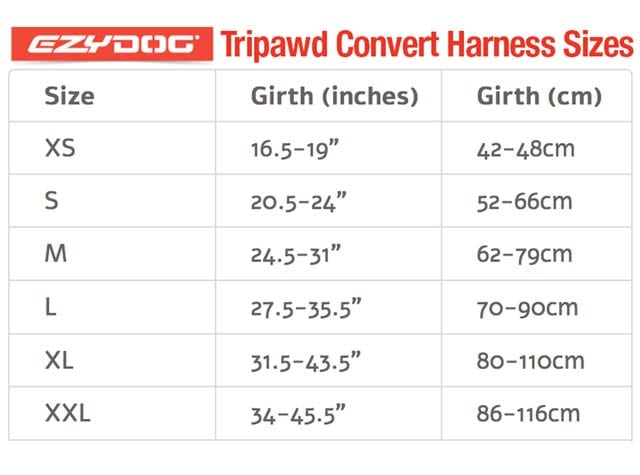 If the measurement is close to the end of the size range, go up to the larger size.
NOTE: CUSTOM HARNESS ONLY AVAILABLE IN U.S. Custom printed badges are not available outside the U.S. Canadian customers, please select the Tripawd Convert Harness. All other customers, please visit ezydog.com to find international distributors. Orders must be received by 9:00 a.m. PST to go out the same day.
product review | return policy
Custom printed badges are nonrefundable.
NOTE: We recommend not using any three legged dog harness until the surgery has completely healed and stitches or staples are removed. We have heard of no specific cases where any harness has hampered healing, but we believe direct pressure from the straps may irritate the wound. Please consult your veterinarian with any concerns.
We suggest using a soft towel slung under the belly if additional support is required in the meantime. A reusable canvas shopping bag slit down the sides also makes a handy temporary sling / harness for three legged dog. Find instructions for DIY Tripawd sling here.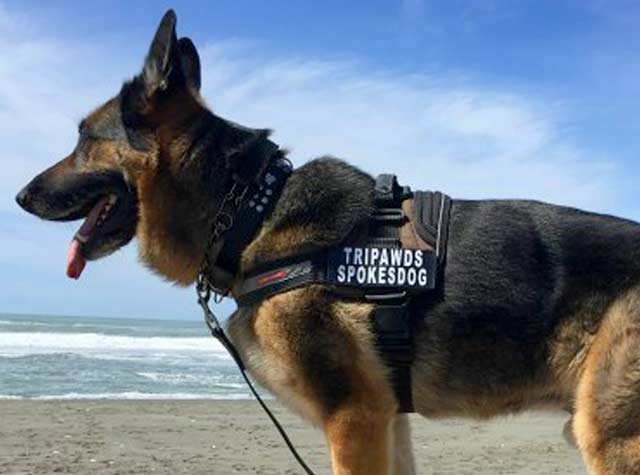 Add custom side badges to personalize your Tripawd Convert harness! Create your own service dog harness with a custom message, or add a name to personalize your Tripawd Convert harness.

Custom text is limited to 20 characters, including spaces. No Emojis Allowed.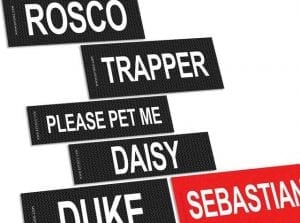 Add a seat belt restraint to keep Tripawds safe in the car!
Attach a restraint to the Tripawd Convert harnesses to ensure your pup is safe in the back seat while traveling. Vehicle dog restraints have become law in several states in the US, so protect your pup while on the road. Two styles to choose from. Only available when purchased together with harness.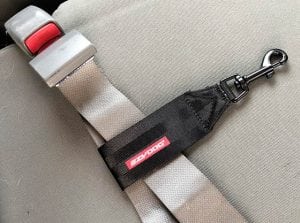 Read seat belt restraint review.
Add a 3-Paw Patch
Your dog has earned the Tripawds merit badge! Add the patch to your dog's harness or wear it with pride. These embroidered badges measure 2″ in diameter. No adhesive or Velcro backing, badges require stitching or fabric fusing tape to attach. Ships separately. Do not attach to harness until proper fit is confirmed. Affixing badge voids harness return.
Additional information
| | |
| --- | --- |
| Size | XS: 16.5-19 in, SM: 20.5-24 in, MED: 24.5-31 in, LG: 27.5-35.5 in, XL: 31.5-43.5 in, XXL: 34-45.5 in |
| Color | Charcoal, Burgundy, Blue, Denim, Corduroy, Camo, Badges Only (No Harness) |