Web Master Harness by Ruffwear
$74.95 – $133.00
The Ruffwear Web Master harness is the most versatile all purpose support harness for three-legged dogs. NOTE: Brush Guard and Core Cooler are not available for XXS size. Standard shipping included! Plus, get coupon for $5 Off Tripawds E-books.
Description
The Ruffwear Web Master is the best 3-legged dog harness – an excellent all purpose support harness recommended for all Tripawds. Originally designed to assist search-and-rescue dogs, this handy harness allows you to help a three legged dog on stairs, in and out of a vehicle, or provide extra support when needed.
The Ruffwear Web Master harness is the most versatile support harness for three-legged dogs.
Here are a few brief reasons why it's the best harness for canine amputees:
Ergonomic fit allows for full range of motion
Centered handle provides distributed weigh support for assisting dogs into vehicles, on stairs or as needed.
Designed to be comfortable enough to wear every day, all day.
Makes a great dog collar alternative for Tripawds who hop along rather quickly. The secure D-ring on top enables you to attach a leash and distribute pulling force evenly across the body.
Add the Brush Guard attachment for better stability and added comfort. Include the Core Cooler to keep dogs comfortable is hot summer weather.
The Brush Guard offers additional chest and belly protection. It also disperses the weight of dogs in the harness, providing additional comfort when lifted and adding stability to the harness, further minimizing shifting.
About front-leg amputees: without that fourth leg, all harnesses may shift a bit during the day. But when sized and properly adjusted, the harnesses we carry have minimal shifting.
We recommend the Ruffwear Flagline Harness for front-leg Tripawds, since you will not have to lift any leg to put it on.
NOTE: Base price includes free shipping via USPS Priority Mail. Ruffwear items do not ship same day. Select desired shipping option to rush delivery. ONLY AVAILABLE IN THE THE UNITED STATES. Find international dealers here.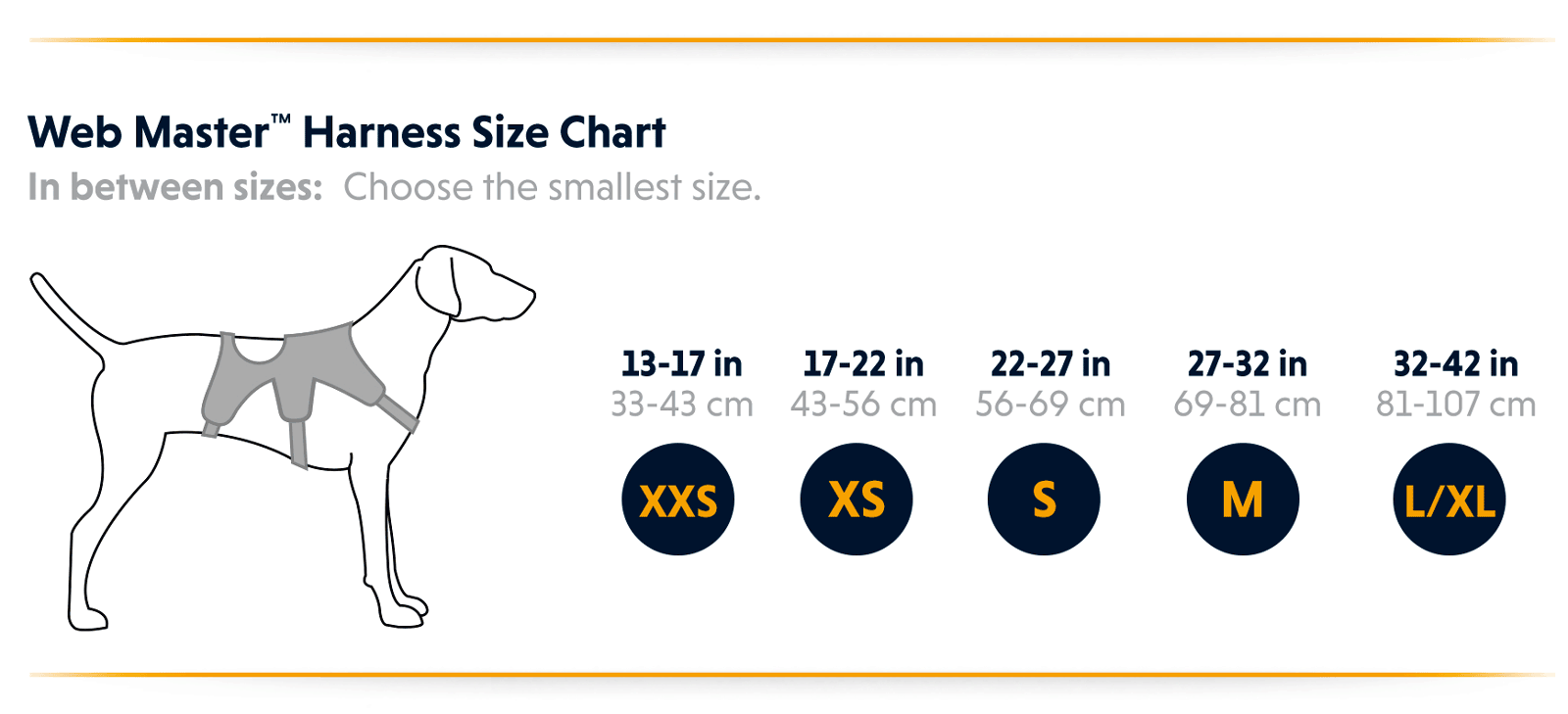 Harness Sizing:
Take your dog's girth measurement while standing up for the perfect three legged dog harness fit.
XXS: 13-17 in (33-43 cm)
XS: 17-22 in (43-56 cm)
SM: 22-27 in (56-69 cm)
MED: 27-32 in (69-81 cm)
LG/XL: 32-42 in (81-107 cm)
Brush Guard and Core Cooler are not available for XXS size.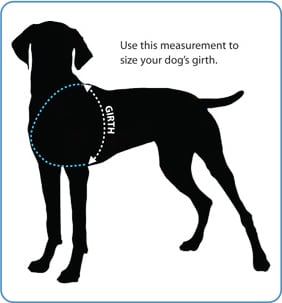 NOTE: In between sizes? Choose the smaller size. Ruffwear suggests getting the smaller size Web Master harness for a more active fit on dogs who measure in between sizes.
Add the Brush Guard for Extra Support and Comfort.
The Brush Guard attaches to your Web Master Harness straps with Velcro to better disburse your dog's weight, providing additional support, stability, and comfort. See Web Master Plus video for complete details.

Add the Core Cooler to keep Tripawds cool in summer!
Soak the Core Cooler in water to lower core body temperature and keep dogs comfortable in hot weather. Like the Ruffwear Brush Guard accessory, the Core Cooler gives additional support when lifting and assisting your Tripawd. It's just as easy to attach to the harness. Put it on your dog's Web Master in spring, before the temperature goes up then replace it in fall with the Brush Guard configuration.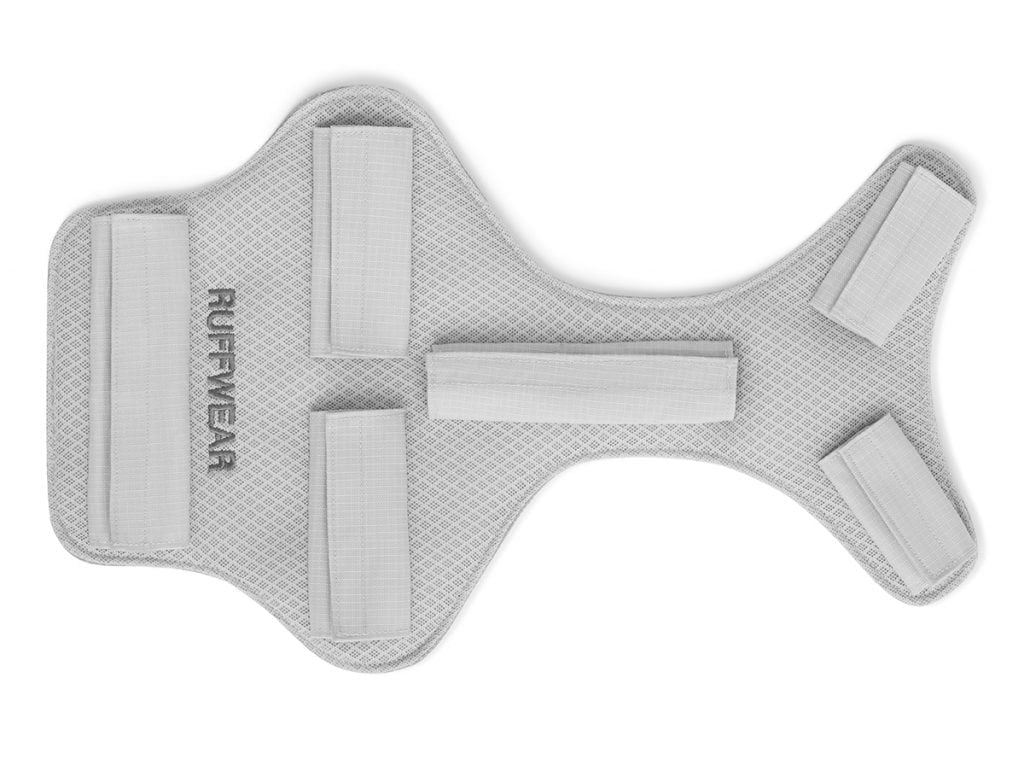 Read more about how the Core Cooler works and other great cooling cooling gear for dogs.
Do not use harness until stitches are out!
NOTE: We recommend not using a 3-legged dog harness until the surgery has completely healed and stitches or staples are removed. We have heard of no specific cases where any harness has hampered healing, but we believe direct pressure from the straps may irritate the wound. Please consult your veterinarian with any concerns.
We suggest using a soft towel slung under the belly if additional support is required in the meantime. A reusable canvas shopping bag slit down the sides also makes a handy temporary sling. Find instructions for DIY Tripawd sling here.
web master review | web master plus review | return policy
Add a 3-Paw Patch
Your dog has earned the Tripawds merit badge! Add the patch to your dog's harness or wear it with pride. These embroidered badges measure 2″ in diameter. No adhesive or Velcro backing, badges require stitching or fabric fusing tape to attach. Ships separately. Do not attach to harness until proper fit is confirmed. Affixing badge voids harness return.
Additional information
| | |
| --- | --- |
| Size | XXS: 13-17 in., XS: 17-22 in., SM: 22-27 in., MED: 27-32 in., LG/XL: 32-42 in. |
| Color | Slate Blue, Purple Rain, Red Sumac, Blaze Orange |
| Options | With Brush Guard, With Core Cooler, With Guard and Cooler, Harness Only |