Flagline Harness by Ruffwear
$69.95
The Ruffwear Flagline harness is a lightweight, compact support harness for three-legged dogs of all sizes. Purchase includes coupon for $5 Off Tripawds E-books!
Description
The Flagline harness by Ruffwear is a game changer for three legged dogs. It's the leanest and lightest harness yet, and the only Ruffwear harness that slips over your dog's head making it the easiest to put on front-leg amputees – regardless of which leg is missing.
The Ruffwear Flagline Harness is a Game-Changer for Helping Tripawd Dogs
The Flagline is an incredible new option for Tripawds. It is the first Tripawd support harness by Ruffwear that easily slips over your dog's head. Just slip it on, buckle up and you're ready to go.
This means your dog no longer has to balance on two legs when you put it on!
Other Great Flagline Harness Features:
Compact, light profile. It's cool to wear on hot days, and is friendly to petite and small breed Tripawds.
Three leash attachment points. A front-chest loop attachment is great for Tripawds who pull!
Debris-resistant liner.
Plus, the same great harness support from Ruffwear!
The Flagline harness offers the same great support for three-legged dogs as the Ruffwear Web Master Plus. It also offers chest and belly protection, without need for the additional Brush Guard attachment.
The bottom panel disperses the weight of dogs in the harness, for additional comfort when lifted. The bottom also adds stability to the harness, further minimizing shifting.
A note about front-leg amputees: The Flagline is truly the best harness for front-leg Tripawds yet. But keep in mind that without that fourth leg, all harnesses may shift a bit during the day. When sized and properly adjusted, however, all harnesses we carry have minimal shifting.
NOTE: Base price includes free shipping via USPS Priority Mail. Ruffwear items do not ship same day. Select desired shipping option to rush delivery. ONLY AVAILABLE IN THE THE UNITED STATES. Find international dealers here.
Harness Sizing
Take your dog's girth measurement while standing up for the perfect fit. See this video for measuring help.
XXS: 13-17 in (33-43 cm)
XS: 17-22 in (43-56 cm)
SM: 22-27 in (56-69 cm)
MED: 27-32 in (69-81 cm)
LG/XL: 32-42 in (81-107 cm)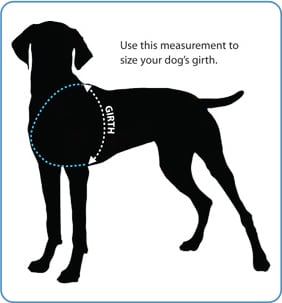 NOTE: In between sizes? Choose the larger size. Ruffwear suggests getting the larger size Flagline harness for dogs who measure in between sizes.
NOTE: We recommend not using any three legged dog harness until the surgery has completely healed and stitches or staples are removed. We have heard of no specific cases where any harness has hampered healing, but we believe direct pressure from the straps may irritate the wound. Please consult your veterinarian with any concerns.
We suggest using a soft towel slung under the belly if additional support is required in the meantime. A reusable canvas shopping bag slit down the sides also makes a handy temporary sling / harness for three legged dog. Find instructions for DIY Tripawd sling here.
review & demo video | return policy
Tripawds Flagline Review: Best Support for Three-Legged Dogs!
Tripawds agree: a great front-leg amputee dog harness starts with the Flagline
Nelson's Flagline Harness Review: a Great Choice for Tripawds!
Add a 3-Paw Patch
Your dog has earned the Tripawds merit badge! Add the patch to your dog's harness or wear it with pride. These embroidered badges measure 2″ in diameter. No adhesive or Velcro backing, badges require stitching or fabric fusing tape to attach. Ships separately. Do not attach to harness until proper fit is confirmed. Affixing badge voids harness return.
Additional information
| | |
| --- | --- |
| Size | XXS: 13-17 in, XS: 17-22 in, SM: 22-27 in, MED: 27-32 in, LG/XL: 32-42 in |
| Color | Blue Dusk, Lichen Green, Sage Green, Salmon Pink |