Dog harnesses for Tripawds serve different purposes. Some, like the Get-a-Grip, are best for giant breeds going through amputation recovery. The Get-a-Grip and its customized version the Custom Pet Support Suit, are our favorite mobility harnesses to help large dogs get around after any surgery, or when they're having mobility issues.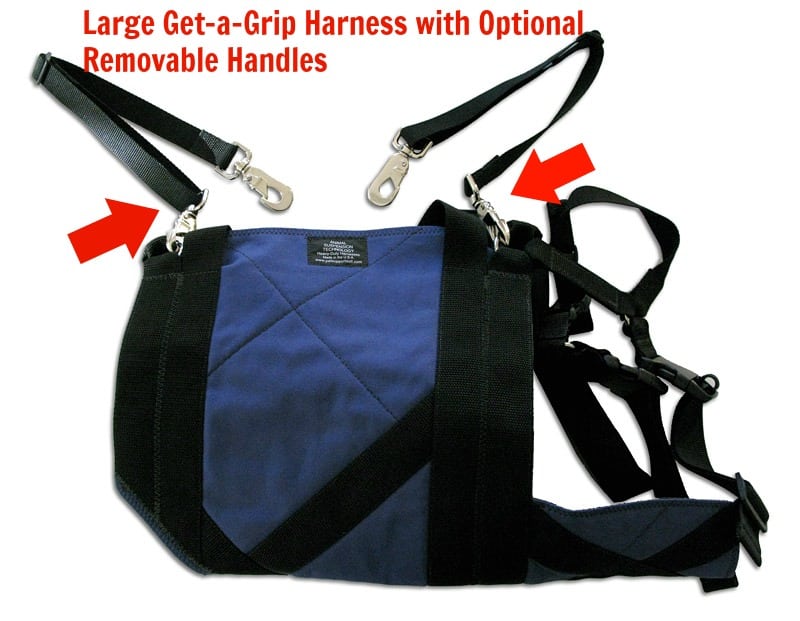 Recently, Marley and Sage's moms sent us videos we just had to share. Marley is a 12-year old, large breed dog who lives in Vancouver, British Columbia. He needs extra help getting around these days, so his mom ordered the Get-a-Grip Mobility Harness for dogs.
Watch Marley Move in the Get-a-Grip Dog Harness for Tripawds and All Dogs
Sage Models the Get-a-Grip Too
Not to be outdone, new Tripawd Sage shows off the Get-a-Grip soon after surgery. "See Mom, I don't need any help!" she's saying. But because she's wearing the harness on her walk, if she needs the help, her mom can quickly assist her before she gets too tired.
Learn More About the Get-a-Grip Harness
The Get-a-Grip Dog Harness for Tripawds and other dogs is a USA-made total support harness for dogs with mobility challenges. We find that it works best immediately after surgery, or for Tripawds recovering from a remaining leg surgery.
Comfortable under-belly support when carrying is necessary
Quick and easy to put on (dog can be laying down when you do)
Gives even support when lifting
Comfortable carrying straps
Great for less mobile dogs
Durable and washable
Abdominal section accommodates male anatomy
Made in USA
Extra add-ons are available, like clip-on / removable handles, and a shoulder strap to give you extra leverage when lifting your dog.
This is one of the best tools for assisting giant breed dogs who need help walking. We don't recommend it for an every-day harness for the typical three-legged dog. Most of the other dog harnesses for Tripawds that we carry are meant for life after recovery.
Shop the Tripawds Gear Store for Harnesses and More!
If you have questions about which harness is best for your Tripawd, feel free to contact us any time with questions.