The goal of the Tripawds Gear Shop is to share recommendations for products we believe may help improve the quality of life for all amputee dogs. Our intent is to only offer items that we can stand behind one hundred percent. With that said, we shall no longer sell the Help 'em Up Harness from Blue Dog Designs.

With an understanding that most customers seeking assistive aids for their dogs are usually already rather distraught, we simply cannot risk anyone else experiencing the same difficulties Fortis' dad dealt with after using the Help 'em Up harness for a short time. When we originally tested the Help 'em Up with Wyatt, we were pleased with its overall performance and addressed certain concerns in our review. Admittedly, Wyatt wore the harness for no more than a few hours. We appreciate Brett sharing this real world user review with the Tripawds community …
Actual User Submitted Help 'em Up Dog Harness Review
I have used the Help 'Em Up harness by Blue Dog Designs extensively now for 3 consecutive months. The harness I've used is an XLg prototype of the "Total Support" model that allows males to urinate while keeping the harness intact. It is for dogs with a weight between 95-130lbs.

Fortis the test subject is a male Cane Corso whose right rear leg was amputated due to osteosarcoma on 2/03/2010. His current weight is between 135-145lbs although the bulk of his bulldog type frame is forward and not loaded to the rear. This is important because his weight is over the amount stated above. It should be noted that the rear portion of the harness was actually to large which indicated to me that it is was designed for a dog of more mass and weight than Fortis.
First, I want to make clear that this review is my opinion of the harness and the support that the company provided during my extended use of it. Secondly, I want to state before hand that I will be focusing on the negatives that I encounter during this period. Which are primarily the issues of structural reliability, design, and customer support. In my view the harness attempts to fill a void with its pelvic support where there is regrettably few choices on the market. It is this rear/pelvic portion of the harness I will focus on. In my opinion this harness possesses many positive and desirable features for the pet owner who needs the extra pelvic support for their pup. As previously stated I will not be addressing those here. The company's website and other available online reviews do a good job of this.
Structural reliability
I received the harness on Thursday the 1st of April. On the 2nd, one day after receiving the harness, the rear handle strap started to fray just inside the stitch line (view photo 1 below). In my opinion the issue was in the strength of the strap used and something that couldn't be attributed to inadequate stitching alone.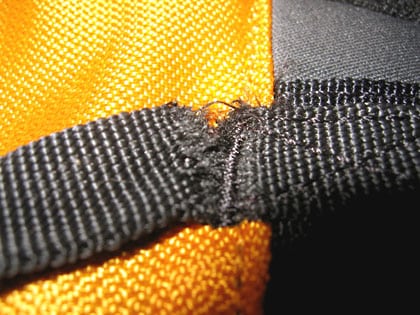 I called Blue Dog designs the following day (Easter Weekend), describing the problem. On Monday I emailed a JPEG showing the tear and left a brief message and my phone number. On Wednesday I made contact with the company. I received a replacement of the top rear section of the harness which is where the support strap is located. This was done in a timely manner.
The last week of May the replacement harness failed. This time the support handle completely snapped off. Both sides of the strap failed simultaneously (view photo 2 below). It seems to me this could pose a safety issue for those dogs, especially large ones, who depend on the pelvic support this harness is designed to provide.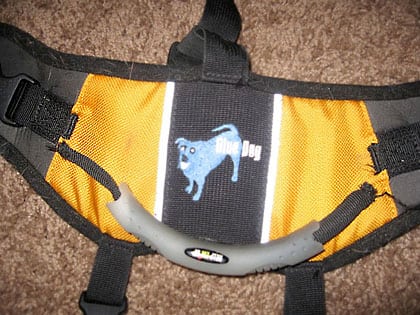 Once again, this tearing occurred inside the stitch line. I made several phone calls to the number provided on the companies web site over the coming days to discuss the problem. I left my number and a brief message. After my voicemails went unanswered I once again sent an email with the photo shown below and a short descriptive message on 6/07/2010. That same day I received this response, "Sometimes this happens with prototypes as they make them a little too carefully". "But I will check to see if this is a problem with production products". I replied asking if they were sending a replacement and that I felt the issue had nothing to do with it being a prototype. I paid full price for the harness. I also called once again leaving a brief message. The company made no further attempts to contact me by phone or email.
Design
The harness I used had a horseshoe shaped cushioned metal rod that fits in front and around the male dog's penis. This feature is on the prototype. I'm not sure if it is on the current production model. It enables males to urinate while the harness remains intact. For the most part it worked fine except for needing continual adjustments. The main problem I encountered with this design is the metal rod worked its way out of the cushioned sleeve.
This caused cuts and bruises to from on Fortis' belly. This occurred before the second handle failed. I called the company to discuss this issue thinking it was important but never received a response. I have attached a photo below, which shows the rod protruding out of the sleeve.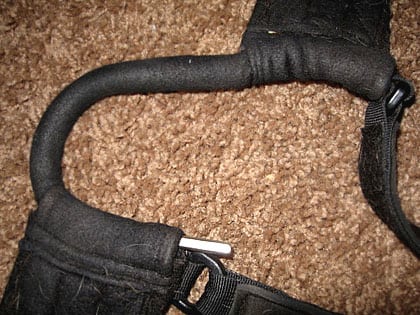 Customer Service
"helpemup.com's customer service goal is simple: We are committed to providing our customers total satisfaction. Every time. Guaranteed."
It's obvious from my comments above that I don't feel they live up to this promise, at least not every time and certainly not in my case.
Summary
Does this harness fill a much-needed void for dogs that are in need of extra pelvic support and their owners? My short answer to this question is a very reluctant maybe. Would I purchase this same harness again? In my world the dog comes first. If this is my only choice and it's what my pup needs, then yes. But I will continue to search for a harness that meets the needs of dogs that require the extra pelvic support, and for a company such as Ruff Wear that has the support we desire as loving owners.
Regards — Fortis' Dad, Brett
Review additional feedback about using this harness in the Tripawds Discussion Forums. If you believe the Help 'em Up harness is right for your dog, please contact Blue Dog Designs directly.

Tripawds recommends the Ruff Wear Webmaster harness for most dogs. For more options, please see our list of recommended harnesses in the Tripawds Gear Shop. We welcome all feedback.