Helping your new canine amputee sometimes means using a harness to assist in different situations. But do all Tripawds need a harness? Not necessarily. Here are the top three reasons why your Tripawd needs a harness (or doesn't!).
Do All Amputee Dogs Need Help?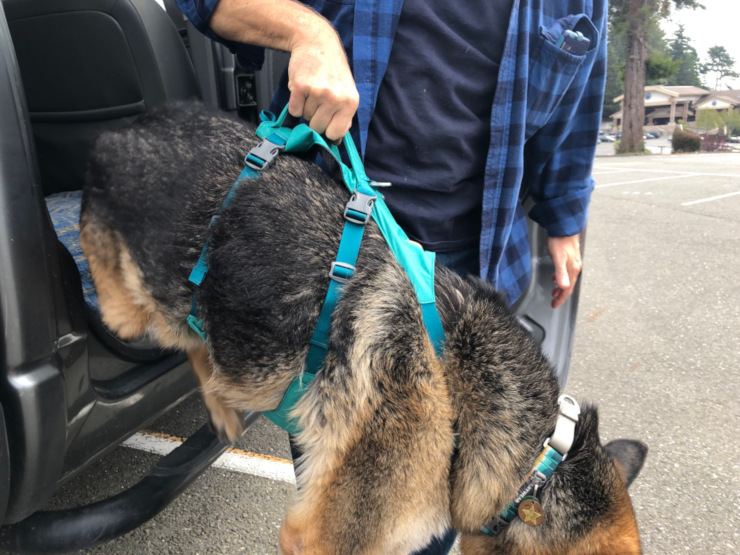 When we learn our Tripawd will lose a leg, we worry that constant help will be required. The fact is, most three-legged pets get around really well without assistance. If a Tripawd cat or dog is otherwise healthy, the majority get around on their own when recovery is over. Their mobility improvements happen on different timelines, however. Some need a little help even after stitches come out. Senior dogs especially. That's one situation when a harness can help.
Three Reasons Why Your Tripawd Dog Needs a Harness
Over time we've learned that a Tripawd needs a harness when certain situations apply. Like when our front-leg amputee Jerry had to use a tall flight of eighteen steep, old, steps to get in and out of our old house. We weren't going to let him do those stairs without our help. The top handle of the Webmaster harness was a huge help. This vintage video shows how:
Reason 1: You have a flight of stairs in your home, or out of your home
Most three-legged dogs can handle one or two steps to get into or out of their home. If you have a tri-level home with a few stairs, say less than four, your Tripawd can probably do those too.
But if you have a tall staircase inside or outside of your home, it's smart to help your Tripawd with a harness. Carpeted stairs are usually safe after a while. But when your Tripawd is learning how to balance on stairs, it's smart to assist.
Reason 2: Your new Tripawd is older
A dog's size or age should not exclude them from being an amputation candidate. But during those first few weeks after amputation surgery, a Tripawd-approved harness can help you assist your senior dog with mobility challenges. From learning to walk on stairs, to going outside to potty, the harnesses we recommend are awesome tools. Some dogs benefit from wearing harnesses indefinitely. Others only need the help for a few weeks.
Reason 3: You have a Tripawd who goes everywhere with you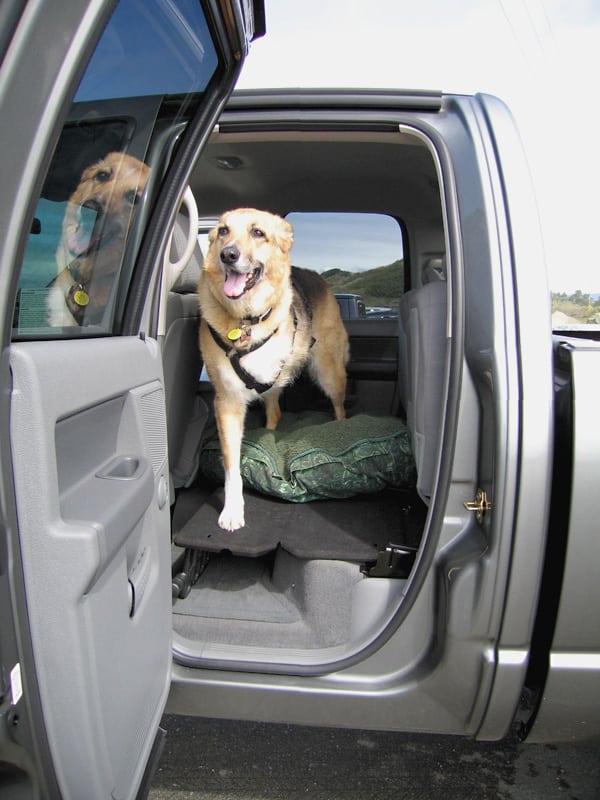 If your dog is your co-pilot, a Tripawd-approved harness helps you get your dog in and out of your car. Mostly, out of the car. Jumping out of vehicles can be tricky, if not dangerous. The top handle of the harnesses we carry allow you to help your dog get out of the car. No more landing on the hard pavement, which puts unnecessary stress on their joints.
Tripawd harnesses are also a great tool for unexpected situations. Say you visit Grandpaw's house, and they have slippery floors. A harness helps you assist your dog getting into and out of the house. Or, if you go to the vet with your Tripawd and they need help on those shiny vet clinic floors. Our Tripawd-approved harnesses are great tools for that situation too!
If your Tripawd is a homebody, you probably don't need to get a harness
We know you have enough vet bills right now, and harnesses aren't inexpensive. If these situations don't apply to you, and your Tripawd stays home most of the time, chances are your Tripawd doesn't need a harness. Save your money for a nice orthopedic bed instead!
How to choose the right Tripawd approved harness
Be sure to check out "What's the Best Harness for Tripawd Dogs" to learn more about choosing the right harness for three-legged dogs like yours. And call us during normal business hours with any questions. 844-TRIPAWD, or 707-845-3129.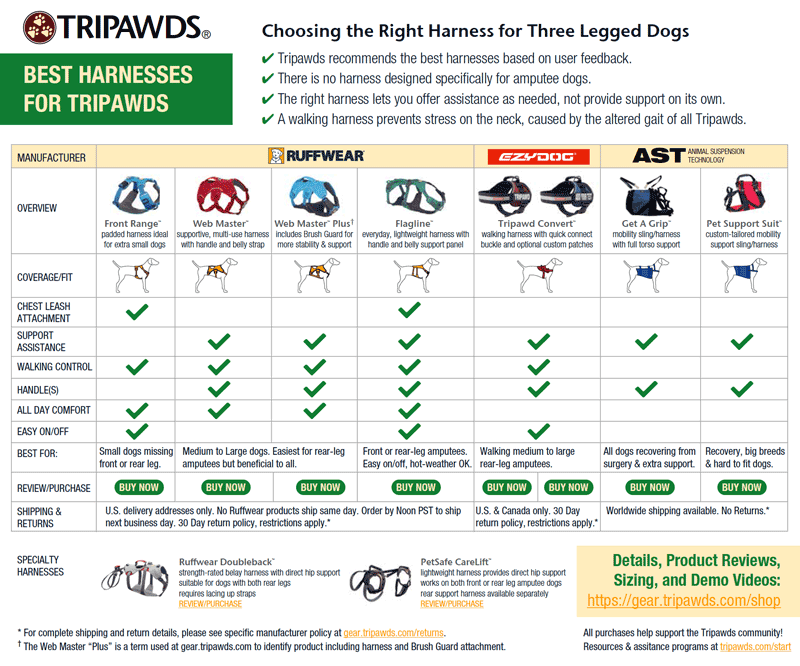 Most Popular Tripawd Dog Harnesses
Select from the best user-recommended three legged dog harnesses below. Click images for detailed information, reviews, and demo videos.