The Tripawds Gear Shop is your solution to support small business, and for faster shipping during this time of need. Shopping online is imperative while sheltering in place to help prevent the spread of Coronavirus. And now more than ever, we all need to support small business.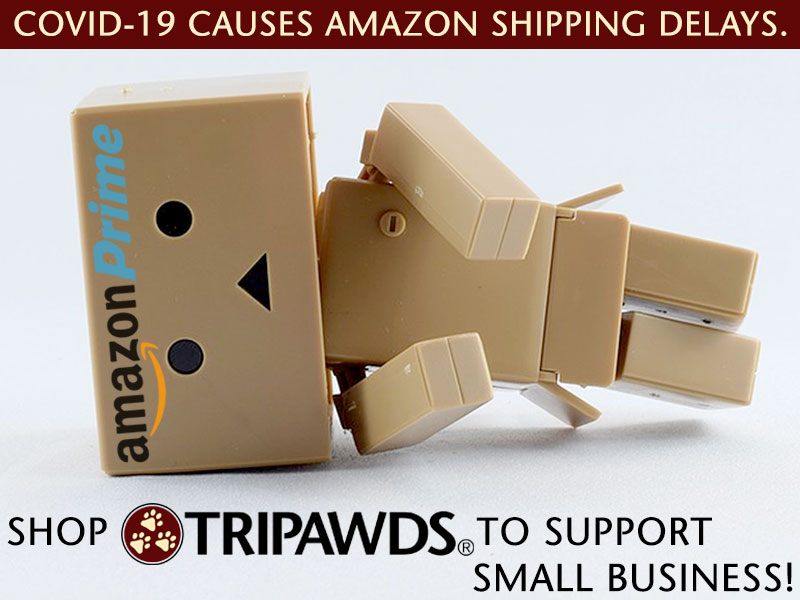 Avoid Amazon for Fastest Delivery
Due to the COVID-19 pandemic, new Amazon shipping priority policies are delaying delivery of non-essential goods. Since late March, Amazon delays shipments of nonessential items in the US by up to a month. And, Amazon Prime next day delivery is unavailable for many non-essential products.
"This has resulted in some of our delivery promises being longer than usual…"
—Amazon Press Release
When shopping at Amazon right now, you can expect delayed delivery of any items you may want quickly to help your three legged dog or cat.
Thankfully, many small businesses are not impacted by these shipping restrictions. But the recent drop in retail sales is affecting them all. To get your Tripawd harnesses and other helpful gear as soon as possible, buy from the Tripawds Gear Shop. You may get your items quicker, and you will be helping support small businesses, right now when they need your help most.
Shopping at Tripawds Helps Support Small Businesses
All of the manufacturers we work with at Tripawds are small businesses compared to Amazon and other major online distributors like Chewy. And, Tripawds is a very small business. We pride ourselves in offering competitive pricing, the fastest possible delivery, and superior personal customer service. But we cannot compete with Amazon, and neither can our partner manufacturers. Right now we can, with your help.
Ruffwear is a relatively small company who treats their employees incredibly well in Bend, Oregon. The EzyDog crew is even smaller, operating out of remote Sand Point, Idaho. Animal Suspension Technology products are manufactured in the USA by only a couple passionate dog health advocates. FitPAWS canine rehab gear ships from the small team working outside Denver, Colorado. And there are only two of us here at Tripawds, three including spokesdawg Wyatt Ray.
With companies being forced to close their retail stores – and lay off workers – the hardest hit during these early days of the Coronavirus pandemic are the small businesses who are relying on website orders now more than ever. Thank you in advance for your support!
Shop Tripawds for Best Gear and Support Small Business
For the Tripawds Gear Shop, we personally review all the best harnesses for three-legged dogs. Other helpful products we offer for dogs and cats have been reviewed or recommended by members. If you are currently looking for a harness, apparel, dog boots, or pain relief for your Tripawd – and want to support small business – please start your search here:
Select from these most popular harnesses to help three-legged dogs, or download this comparison chart for help deciding which harness is best for you.
Please know that when you Shop Tripawds, you receive the best product recommendations and personal customer service. If you have any questions, or wish to order by phone, call 707 845-3129 (M-F, 10am-6pm PST). Have you ever tried calling Amazon? 😀 Your purchase helps keep the Tripawds community online, and helps support small businesses like ours and the independent manufacturers we work with.
IF you do choose to shop at Amazon, please use this link or be sure to start your Amazon Search here! We will recieve a small commission, and every little bit helps to keep Tripawds online!