Help your Tripawd develop strength, endurance, proprioception, balance and flexibility after amputation surgery with the new K9FITbone™.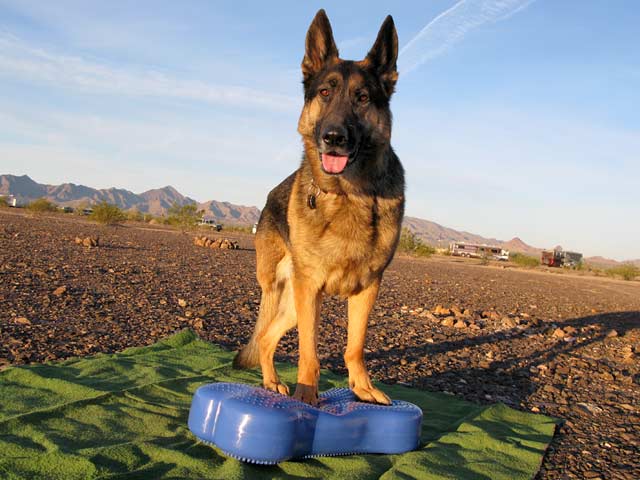 This is the latest addition to the FitPAWS line of canine conditioning products available in the Tripawds Fitness shop. Developed by PetZen Products, the K9FITbone is a fun, low impact way to overcome amputation recovery hurdles and strengthen your Tripawd's overall fitness level.
Why Stronger Core Muscles Matter
As we mention in our Tripawd fitness book, "Loving Life on Three Legs," if you start a fun fitness routine of just 3-5 minutes daily for at least three times a week, your dog can build stronger core muscles for:
Better balance and overall strength, as the remaining limbs gain power and muscle definition.
Better spinal alignment and longer endurance for longer, safer and more fun playtime and walks.
Reduced joint stress and body stiffness as your Tripawd grows older.
Have Fun, Get Strong with the K9FITbone™
Tripawds Spokesdog Wyatt Ray is having fun and staying strong with his latest gym equipment!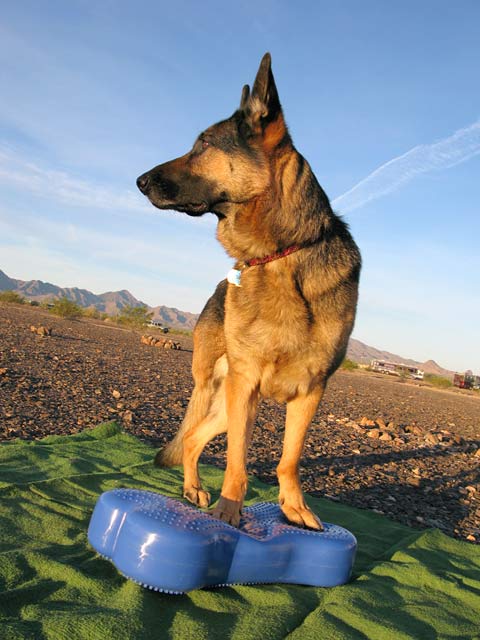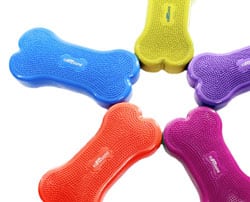 Incorporate instability training with the K9FITbone for:
Stronger hips, knees and core muscles
Better lateral balance for good proprioception (the awareness of one's body in space)
Proper stance and better posture
Neural stimulation when feet touch the sensory bumps
To make it more or less challenging, add or decrease the amount of air inside the K9FITbone with the free air pump included in your purchase. Less air in the K9FITbone will build muscles in your Tripawd's shoulders, hips and feet while pumping more air will engage your Tripawd's abdominal and spinal muscles.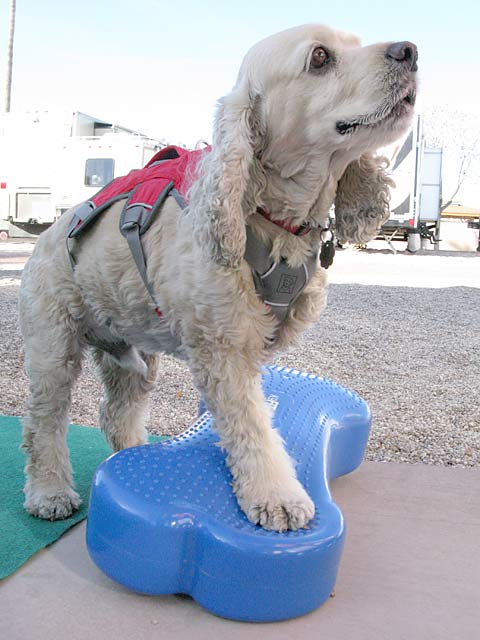 Front and Rear Amputees Benefit from the K9FITbone™
Both front and rear leg Tripawds can reap the benefits of the K9FITbone™.
Front leg amputees: place rear legs on the surface for stronger hind limbs and hips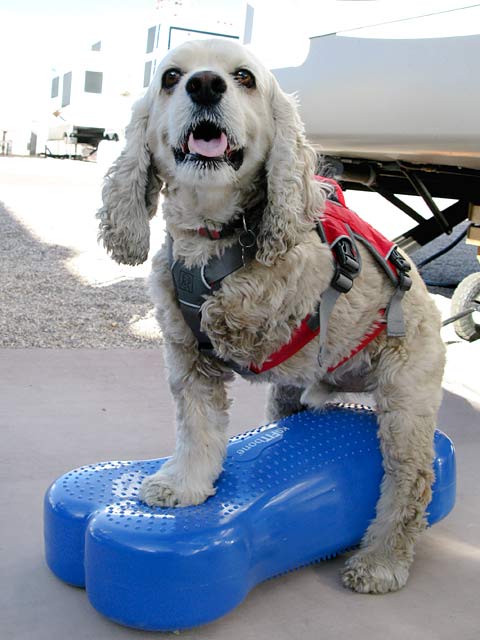 Rear leg amputees: place front legs on the surface and develop strong shoulders, biceps and triceps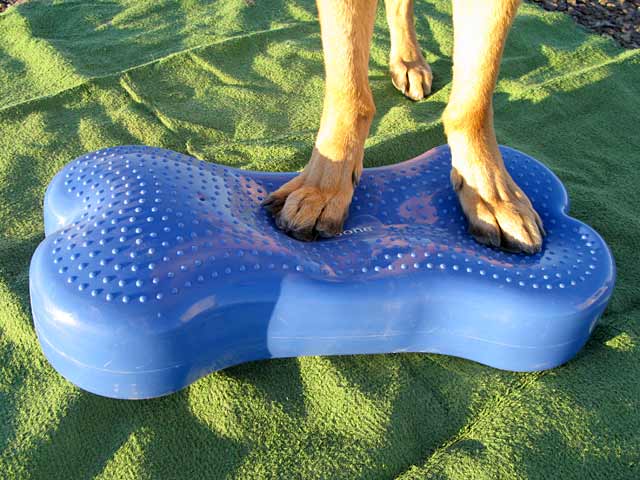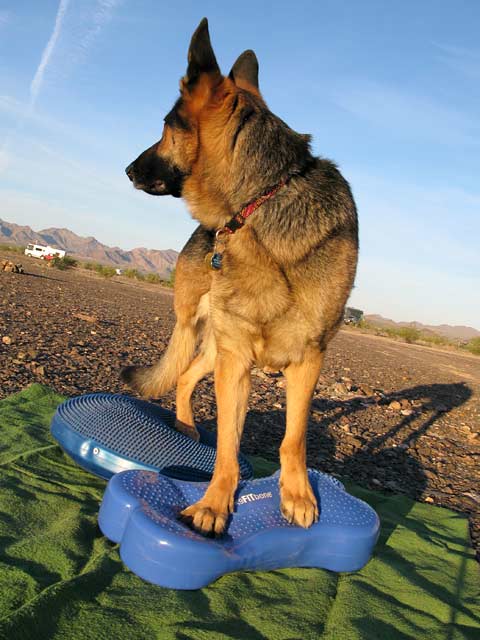 Made for both small and large dogs alike, the K9FITbone's professional grade heavy duty PVC material is tough enough for the biggest Tripawd and has an extra safe, superior gripping surface that's resistant to doggie nail punctures. It's perfect for travel with an overall size of 23″ long, 11.4″ wide and 4″ tall. Each K9FITbone includes exercises that can be modified for our three-legged heroes.
After testing this on both a front and rear leg canine amputee, we know this piece of gear is an invaluable tool for your three-legged dog's fitness routine. You can see the K9FITbone in action with our four-legged friends:
Add The K9FITbone to Your Tripawd Gym!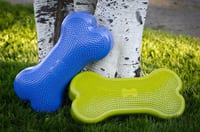 Integrate instability training to develop strength, endurance, proprioception, balance and flexibility with the new K9FITbone™. Provides a low–impact, platform to add full–body conditioning and toning for small and big Tripawds. K9FITbone also features sensory bumps for neural stimulation. Balance challenge can be adjusted by adding more or less air to the platform.
Includes an exercise guide and free inflation pump. Measures 23″ long, 11.4″ wide and 4″ tall.
FitBONE Now Availabe in 5 Colors!
Select form Green, Orange, Purple, Raspberry, and  Blue.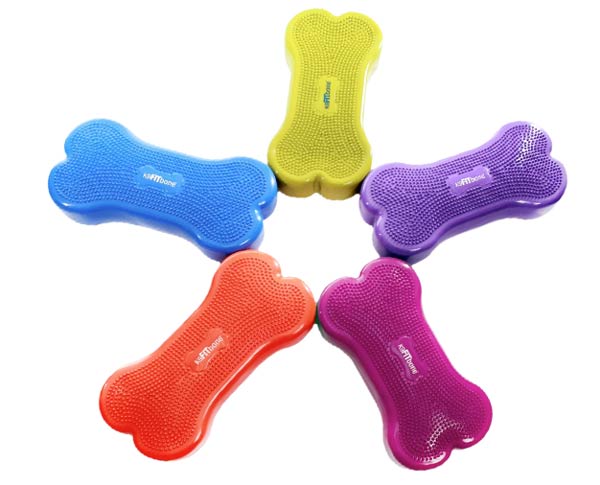 Recommended Reading
Loving Life on Three Legs, Canine Fitness and Conditioning for Happy, Healthy Tripawds
Why Longer Walks Won't Strengthen Your Tripawd's Leg Muscles
Best of Tripawds Gear and Fitness Tips