It's summertime Tripawds Nation, time to get out and play! But before you do, check out our Best of Tripawds Gear List. Get all of the tips and tricks you need in this one spot, while we take July off to make the most of the season. If you have any questions you can still contact us anytime and we'll be there to help!
Get What You Need in the Best Tripawds Gear List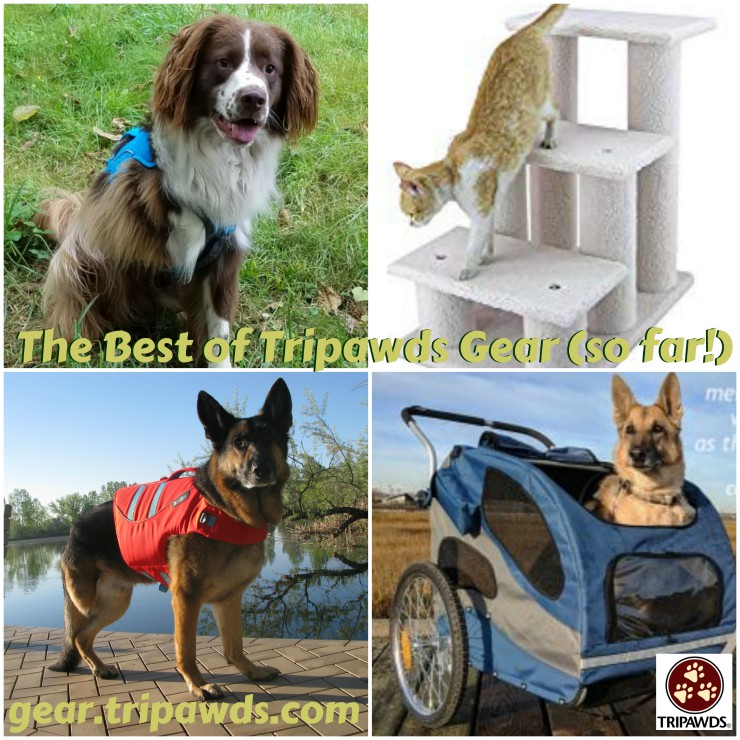 Every day Tripawds members just like you want to know things like:
"What's the best harness for Tripawds?"
"Can a three-legged cat use pet stairs?"
"How can I exercise my Tripawd?"
We try to answer these questions here by providing helpful information about the best services, tips and products for Tripawd dogs and cats. Here are some of our favorites.
Tripawd Harnesses for Dogs
Welcome to the new and improved Tripawds Gear Shop! That's right, the best shop for three legged pet supplies has all new features, many more products and a much better shopping experience.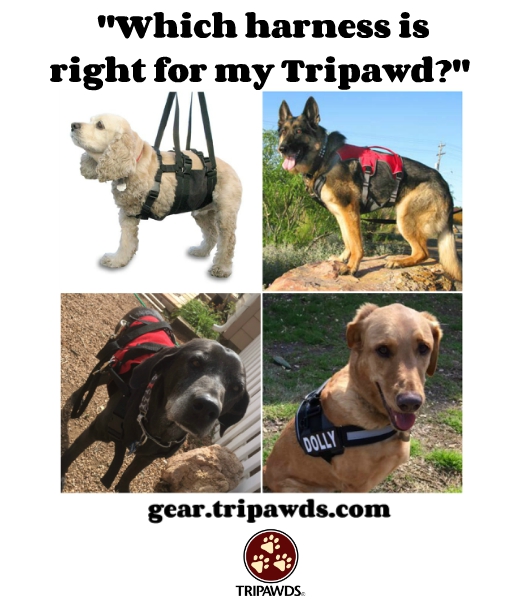 When people ask us "What's the best Tripawd harness?" we first want to know more about their dog. Does the dog get around OK? Will the dog need to climb stairs during amputation recovery? Does the dog travel often? The answer to the "What's the best dog harness?" question changes from dog to dog.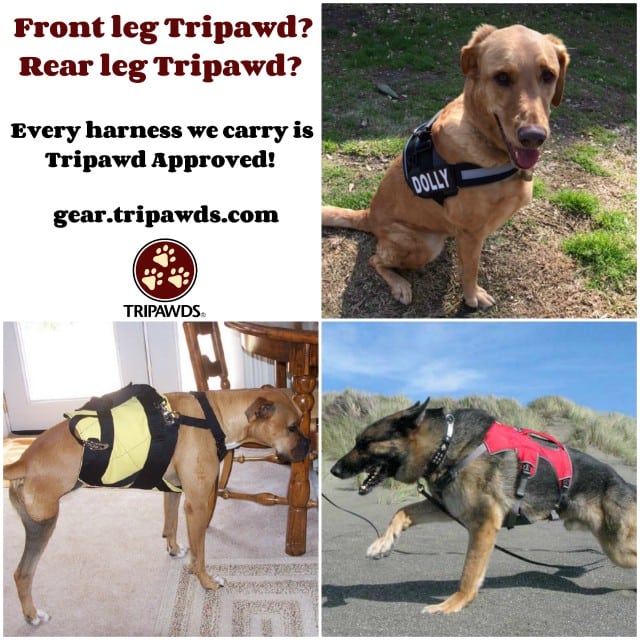 Tripawd approved dog harnesses are for front and rear leg amputees alike. Whether you're looking at the Ruffwear Webmaster Plus, the Tripawd Convert Harness, the Get-a-Grip or the Custom Pet Support Suit, you can rest easy knowing that each of these models has been tested on a rear and front leg amputee dog.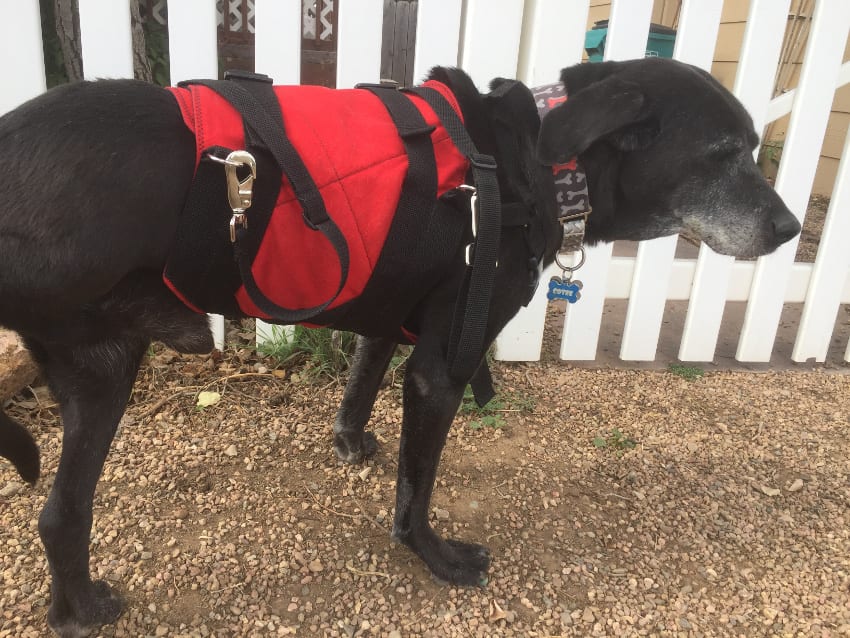 "I had ordered various vests n harnesses for Torpedo in the past, and they were nightmares to figure out n didn't fit, and I ended up returning them. And that's prob because they weren't made with Tripawds specifically in mind. This one is sooooo different!"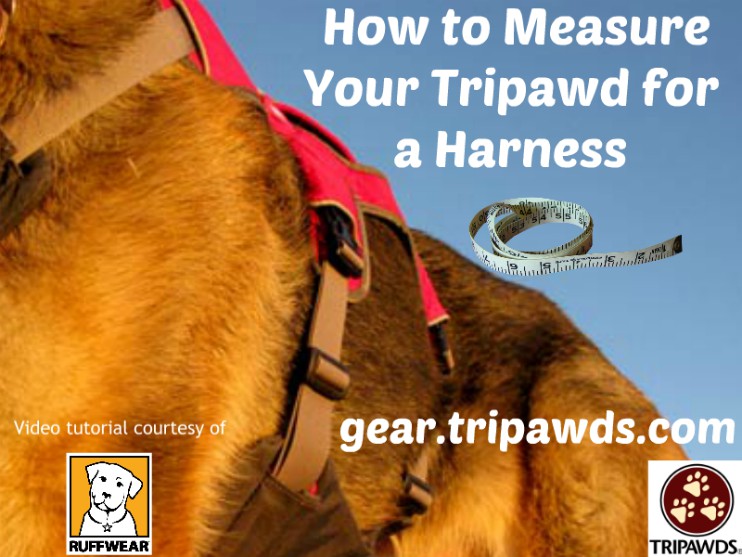 Confused about how to measure for a Tripawd Harness? Fear not! Here's Ruffwear's explainer video that shows everything you need to know about measuring a three-legged dog's girth and body for a harness.
Exercise Tips for Tripawds
There's a new game in town to help Tripawds strengthen, and it's called the FitPAWS® Balance Ramp. Made with dogs in mind but just as fun and helpful for three-legged cats, it's a great way to introduce your Tripawd to gentle strengthening exercises.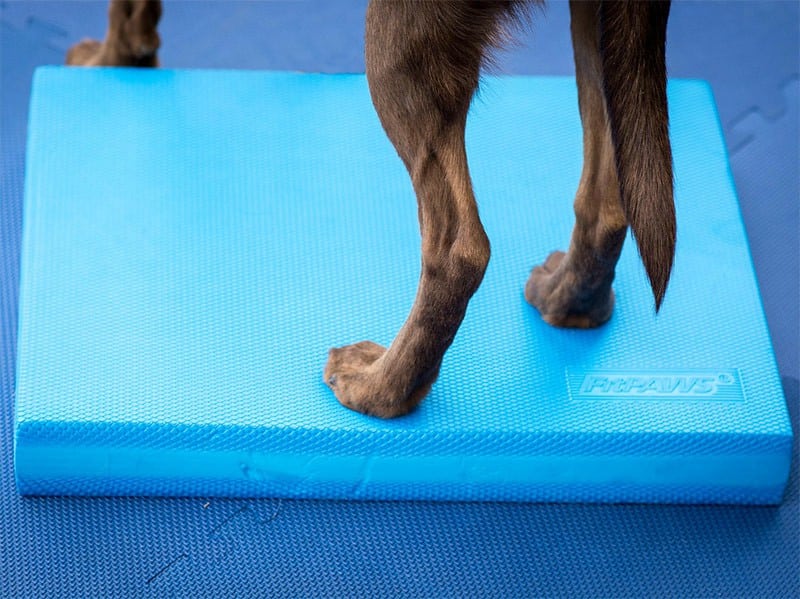 Whether your Tripawd is just a few weeks past amputation day or has been an amputee all his life, here's how a FitPAWS Balance Pad can help keep him conditioned and strong.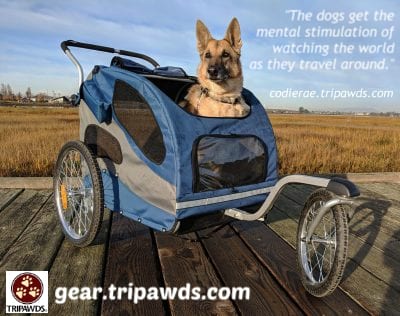 No matter how strong you think your Tripawd is, shorter walks of no more than 15 minutes, two or three times a day, are one of the best ways to minimize the risk of joint stress and injuries. But just because the walks are shorter doesn't mean that your Tripawd can't take long strolls around the neighborhood!
Tripawd Proof Furniture for Home and Car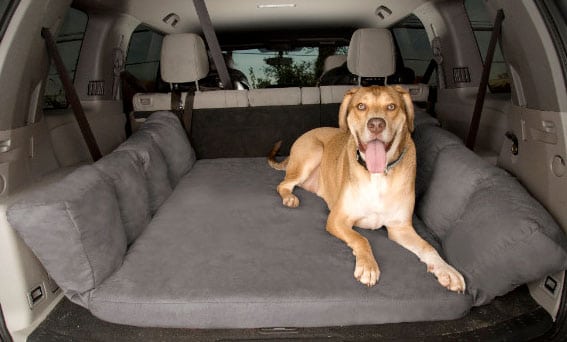 Worried about your Tripawd bouncing around in the back of your SUV when you're on the road? Don't! The Backseat Barker SUV Dog Bed is all the cushioning your pup needs for a smooth ride.
Tripawd Cat Gear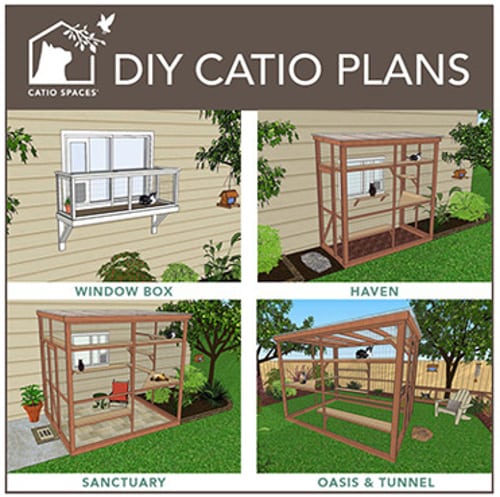 If you're struggling with transitioning your outdoor Tripawd cat to the indoor life, here's how a Catio DIY Plan can make the move so much easier.
How do you actually get Tripawd cats and dogs to use stairs and ramps? If you're not sure, follow the advice of Tripawds members who have some great tips for pet steps and ramp training success.
If you don't see what you are looking for here, let us know and we'll try to help you find it for your Tripawd hero. Every purchase made through the Tripawds Gear Store or links found in this blog help support the community. Thanks for shopping with us!