When an animal goes from four legs to three, stamina suffers. But that's no reason you can't take your Tripawd on longer walks. As the Oaktown Pack recently shared, one of the best ways to keep your Tripawd engaged and active in the world is to get outside with a pet stroller.
How to Take Your Tripawd on Longer Walks without Doing Damage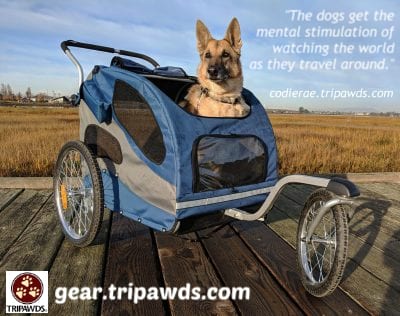 No matter how strong you think your Tripawd is, shorter walks of no more than 15 minutes, two or three times a day, are one of the best ways to minimize the risk of joint stress and injuries. But just because the walks are shorter doesn't mean that your Tripawd can't take long strolls around the neighborhood!
Some of the links on this page are Amazon Affiliate links. Start your Amazon shopping with them, and the Tripawds Community receives a small commission. Thanks for your support!
Lots of Tripawd parents like the Oaktown Pack's Martha and Ralph have discovered the joys of a doggie stroller. In their dog Codie Rae's recent dog stroller review, we learn the benefits of investing in one:
. . . did I say the dawgs love it? Besides me getting the exercise I desperately need, the dogs get the mental stimulation of watching the world as they travel around.
All three of Martha and Ralph's rear-legged Tripawds (Codie Rae, Travis Ray and Austin Ray) are senior dogs. Their only four-legged dog, Smokey, is also a senior. Getting the large size Solvit HoundAbout II™ Pet Bicycle Trailer with the optional Strolling Kit was a game changer for everyone.
Three OP members are now spending most of their "walks" in the stroller, and they all enjoy the ride!

Codie has never been more social than now!
Things to Love About the HoundAbout II Dog Stroller
According to the Oaktown Pack, this dog stroller is ideal because:
It has a light but strong aluminum frame
Has one of the largest cabin spaces available
Is car travel friendly
Want more convincing about the benefits of a dog stroller for your three-legged hero? Check out these other Tripawds dog stroller reviews:
A Tripawd's Dog Stroller that Helps Hugo Roll with Life
Hop on the Party Bus Doggy Stroller, Tripawds!