Did your cat live outdoors before losing a leg? Now that you have a Trikitty, it's so important to transition your feline to an indoor life. Since October is Animal Safety & Protection Month, we think it's a good time to share our best Tripawd cats safety tip for life after amputation.
The Best Tripawd Cats Safety Tip Starts with a Catio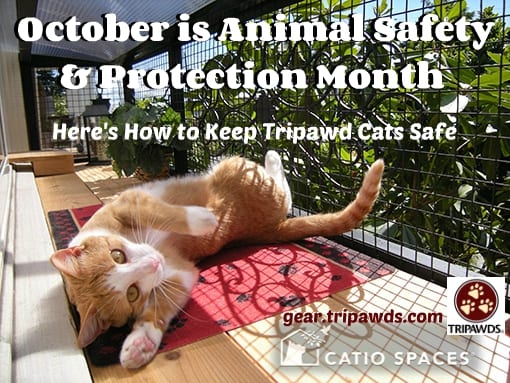 Statistics prove that free roaming cats have a shorter life expectancy than indoor cats. They often encounter a variety of outdoor hazards including predators, poisons, diseases, vehicles, getting lost or chased up a tree. For a cat with one less leg, the risk goes up.
If you're struggling with transitioning your outdoor Tripawd cat to the indoor life, a Catio can make the move so much easier. Our friends at Catio Spaces can get you started. The company offers a variety of DIY Catio Plans starting at $39.95. Every one will complement your home and keep your cat safe and happy while protecting birds and other wildlife.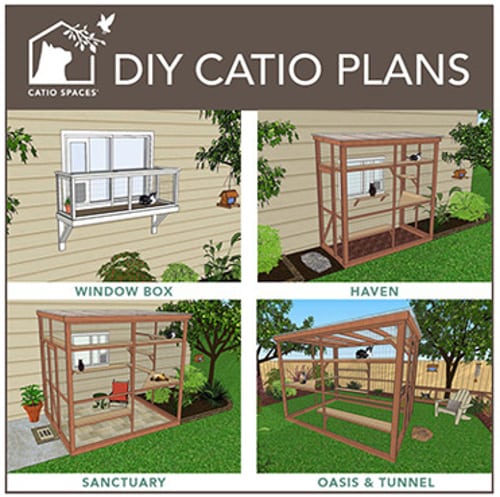 Mars the Catio Cat Explores in Safety
Before he got his catio, "Boss of the Road" Mars, the energetic Abyssinian pictured below, frequently bolted out the door creating stress for his human companions and the birds in the neighborhood. He's now enjoying life in a catio! If you're inspired to have a catio for your own cat, our friends at Catio Spaces offer a variety of DIY Catio Plans to take the guesswork out of building one, or you can hire a local carpenter to build the catio plan for you!
Anyone Can Make a DIY Catio
You don't need to be a general contractor to make a DIY catio. The plans created by Catio Spaces are made for the average pet owner who doesn't have much carpentry experience. You'll see that Catio Spaces Plans are made for many different environments. From windows to patios to decks and yards.
Choosing the right plan is relatively easy:
Step 1: Consider the location for your catio and how much space you have. If you are limited on space, the compact Window Box™ or Haven™ catio plans will work great. But if you want to enjoy the outdoors with your cat, The Sanctuary™ and Oasis™ plans are ideal.
Step 2: Decide whether you'd like your cat to enter the catio through a cat door in a window, wall, or door. There's a catio plan that your Trikitty will love.
Step 3: Buy the best DIY catio plan for your  needs.
As a bonus, if you purchase a DIY Catio plan
using code TRICATIO
10% of every purchase helps the Tripawds Nation!
So what are you waiting for? Shop Catio Spaces and keep your three-legged hero safe for life.