Notice anything different around here lately? We hope so! Welcome to the new and improved Tripawds Gear Shop! That's right, the best shop for three legged pet supplies has all new features, many more products and a much better shopping experience.
Can't wait? Read on for details about how to get $5 OFF as one of the FIRST 5 CUSTOMERS.
Shop Tripawd Supplies at Grand Re-Opening!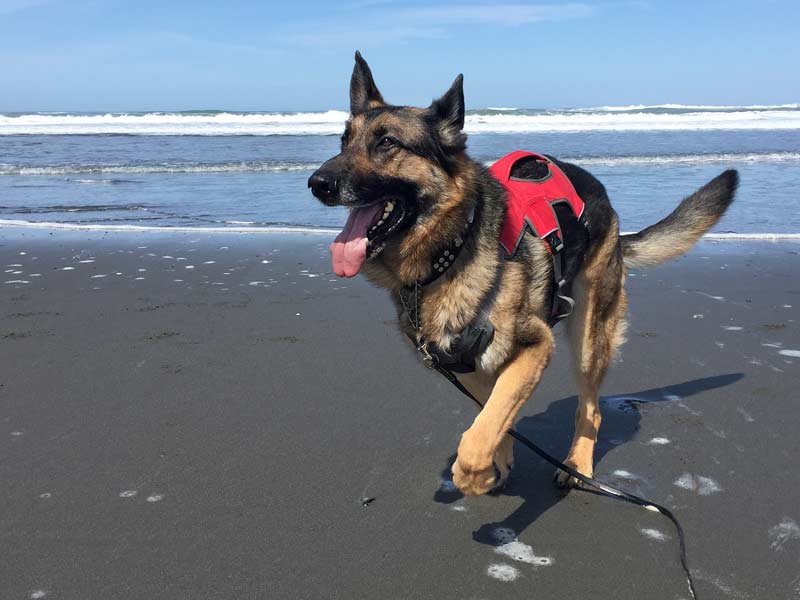 Technology moves almost as fast as Tripawds Spokesdog Wyatt Ray, which is why we spent the last several months upgrading the Tripawds Gear Shop with new and improved shopping features like:
Easier browsing and buying from any device
Ultra-encrypted high-tech shopping security
More product choices for your Tripawd
New Quick Search to easily find desired products
Better videos and photos, viewable across all devices
Clear product sizing and measuring information
Personalized experiences filled with items you love
Our first Tri-kitty products, with many more to come!
Best of all: We've made it much easier to select your preferred shipping method, and added more options for rush delivery!
POPULAR PRODUCTS:
harnesses | beds | jackets | strollers | car steps | rehab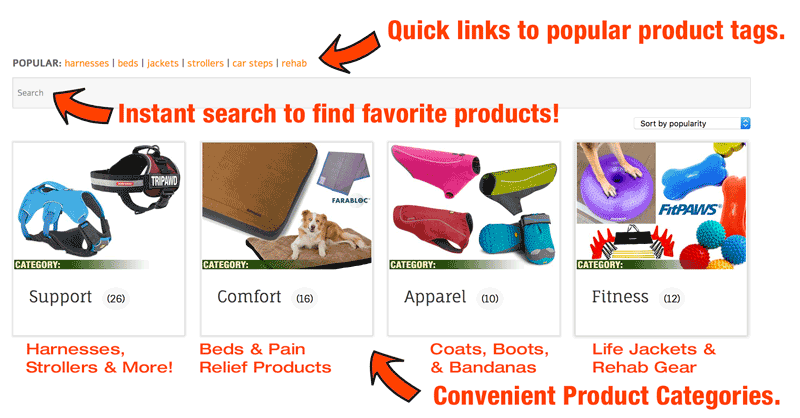 Need help navigating the new store?
Watch this short video for complete details about the new and improved Tripawds Gear Shop, complete with cameo appearance from Tripawds founders Jim & Rene, Wyatt Ray and original spokesdawg Jerry G. Dawg. Spoiler alert: We personally fulfill all your orders!
We Scour the Planet to Find for the Best Deals for You and Your Tripawd
Look carefully and you'll notice both "Select & Buy" and "Shop Now" buttons. What's the difference, you ask?
Well… Select our favorite products to configure options and Buy them now. We will personally fulfill your order to ship directly from the manufacturer. From harnesses and boots to beds and apparel, the sale of these items are directly managed by us, your faithful Tripawds founders Jim and Rene.
Or, click Shop Now to find more reviews and the best price for items we cannot offer directly. Of course we know we don't always have the lowest price on some things. If we don't we will personally help you find the best deal! Just click the "Shop Now" buttons for the best price on Tripawd pet supplies we have found by scouring the internet but cannot personally carry here.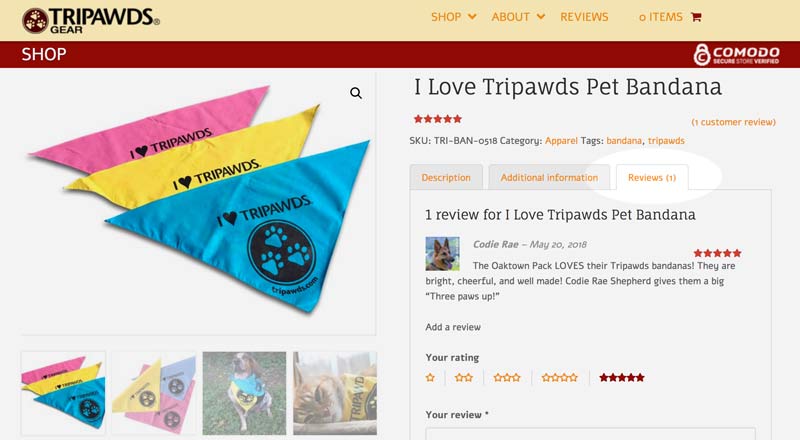 Your Product Reviews Add the Finishing Touch
One of our favorite features of the new store is the new "Product Review" tab found within each product. This section lets you rate and share your own experience with every item featured in the store. Please remove your favorite products to help other concerned pet parents searching for the best Tripawds gear to help their three legged friends.

First Five Customers Save $5 Off Tripawds Gear
The first five lucky customers to read this post and go shopping in the new and improved Tripawds Gear Shop can receive $5 OFF with Coupon Code: TRIGEAR1ST5
Enter code "TRIGEAR1ST5" at checkout to receive $5 off your total purchase. First come first served. Applicable toward any Ruffwear, EzyDog, AST, or Farabloc products. Discount applied to cart total at checkout. Cannot be combined with other discounts. Tripawds Bandana Excluded. If code does not work, they have all been used up. Stay tuned for more Tripawds Gear deals and promotions!
Love the New Tripawds Gear Shop? Please Tell Us More!
We hope you enjoy the new experience of our renovated Tripawds Gear Shop. If you have any questions with the new system, or want to share good or bad feedback, just comment below and let us know what you think. Remember, we look to you, Tripawds Nation, for feedback on how to make our Tripawds community better than ever!