The newest support harness for amputee dogs is flying off our Tripawds Gear Shop shelves. And now, your front leg Tripawd can win you a free Flagline harness with this month's fun promotion.
The Flagline is Flying High!
We are so happy that Tripawds members like Riot are loving the new Flagline Harness by Ruffwear. This is one great support harness for three-legged dogs like him!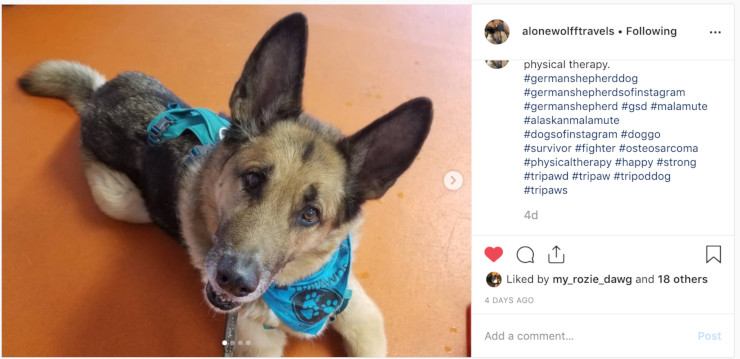 So far, Riot and I really like the harness. I'll post more after we've used it for a while. If a dog needs more support, I'd still suggest the Webmaster with Brushguard, but the Flagline is great for where we're at right now. He can wear it all day.
As handsome as Riot is in the new Flagline, there's just one thing: he is a rear leg amputee, like our Flagline reviewer, Tripawds Spokesdog Wyatt Ray. And we need to publish a review from the front-legger perspective.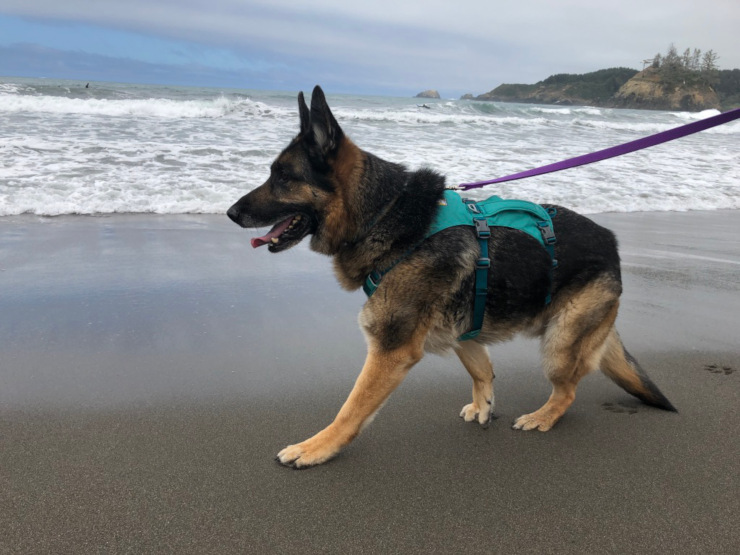 We really want feedback from dogs missing a front limb. That's why we're hosting this contest – specifically for front-leg amputee dogs and their humans.
How to Win a Free Flagline Harness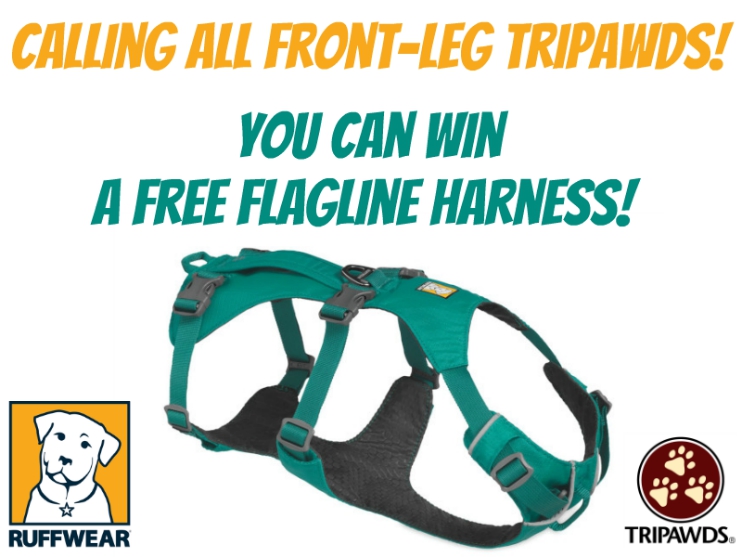 If you purchase a Flagline for your front-leg amputee, you can get reimbursed for the full cost.
Here's how the contest works:
Step 1: Buy a Flagline harness for your front-leg Tripawd dog in the Tripawds Gear Shop anytime between October 1 and October 31, 2019
Step 2: Share your feedback! Send us a written review with at least two photos, one video or both.
Step 3: One winner will be chosen at random and announced on November 29, 2019. The winner will be reimbursed $69.95 for the Flagline.
Confirmed Flagline harness purchase must be made from Tripawds Gear Shop prior to 11:59 pm Pacific time on October 31, 2019. Review submissions including photos and/or video must be received before November 15, 2019. Reviews may be published in the Tripawds Gear blog. Optional rush shipping fees are nonrefundable.
All runner-ups get a special Tripawds door prize!
Contest Rules
Your dog must be missing a front leg.
You must purchase your Flagline harness from Tripawds.
Written review must be 250-300 words.
Photos / video must show your front-leg amputee wearing and using the harness.
 Video must be at least 30 seconds and show your Tripawd wearing and using the Flagline.
Got questions? Contact us today!
Submit your Flagline review here!