Most times after amputation surgery, pain relief for Tripawds takes a multi-modal approach. Medications, heat and ice therapy, manual therapies, massage and pain reduction techniques like acupuncture all work together to reduce pain. In addition, many Tripawd pet parents also try Farabloc Pain Relief Blankets with much success.
If you've been thinking about trying one, now's the time: Three Largest Farabloc Sizes Now On Sale!
Act Now: Farabloc Sale Ends March 5, 2019
Big Savings on Farabloc Pain Relief for Tripawds and People
From today through March, you can get huge savings on the largest sizes of these blankets that reduce high frequency EMFs (Electro Magnetic Frequencies).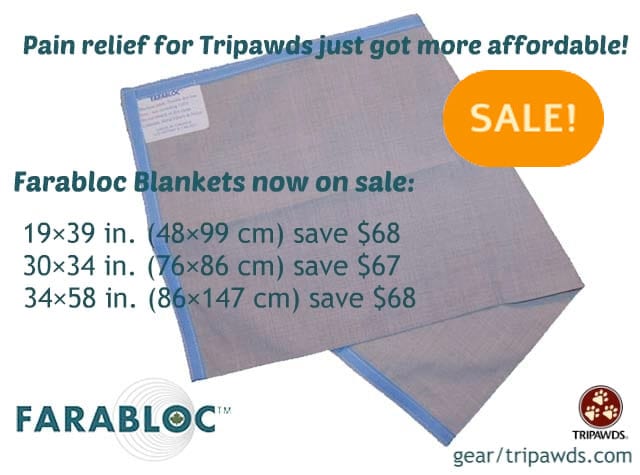 What's so special about Farabloc blankets? In short, they work just as a Faraday cage does: by shielding the body from the impact of high EMFs ordinarily absorbed by the body's tissues. Scientific studies on humans and animals show that the absence of high EMFs can reduce pain and speeds healing.
Purrkins had a late onset of phantom limb pain after we had a smart meter installed on our home. Farabloc has saved us money we thought we would have to increase our sessions for acupuncture. Farabloc is Purrkins bff stops phantom limb episodes when applied or laid on. I wish we would have purchased for Purrkins recovery. Relief for Purrkins and his humans. ~Holly
Curious to find out how Farabloc blankets may help ease any pain your Tripawd is experiencing? Learn about how it helped Tripawd Purrkins here in this interview with his mom Holly, and Dr. Don Nixdorf, DC, 2018 TEDx Speaker and advisor for Farabloc Development Corporation:
Healing by Removing High EMFs for Animal Amputees
The best part is that Farabloc isn't just a pain relief for Tripawds product: it was actually developed to reduce pain in human amputees many years ago. Along the way people have discovered it as a non-pharmaceutical pain relief for other conditions, like fibromyalgia, migraines and chronic arthritis.
A recent customer who purchased a Farabloc from us, explained how much it's helped her in a Farabloc product user review:
I bought the farabloc wrap for myself because of chronic back pain. I was a little bit skeptical but decided I would try the farabloc wrap to see if it would give me any relief. I also suffer from fibromyalgia. I have been absolutely amazed at how much relief I am getting from my back pain and from my fibromyalgia pain. I put the wrap under my sheet at night and I have no back pain and sleep thru the night for the first time in years pain free.

I highly recommend this wrap to anyone who has chronic back pain or fibromyalgia. ~Sue

Farabloc research can put even the most skeptical customer at ease. The science is backed by research documented in the U.S. National Institute of Health online database PubMed as well as dozens of reputable health journals such as Canadian Journal of Rehabilitation, the Clinical Journal of Sports Medicine and the Clinical Journal of Pain.
But like any self-care treatment, there are no absolute guarantees that it will work so returns are not allowed. It's similar to how certain pain relief drugs or holistic therapies work great on most people and pets but not every one. We understand that the cost of to buy a Farabloc blanket is considerable, so if you want more information before buying, Dr. Nixdorf and the Farabloc company is ready to answer your questions before you buy.
$149.00 – $308.00Select & Buy
Recommended Reading
Original Tripawds Farabloc Review
Farabloc User Video Testimonial
More Farabloc User Testimonials
Tripawd Talk Radio Podcast (EMF Technology and User Experience)
Farabloc Research