Beginning today, your Tripawds Product Reviews for harnesses, dog beds, apparel or any other items will automatically enter you in a monthly drawing for fun prizes!

Tripawds Product Reviews Wanted
We all want our hard-earned money to go far, which is why product ratings and reviews from real customers mean so much to everyone shopping online. And now whether you're a new or experienced parent to a three-legged dog or cat, when you buy through the Tripawds Gear Shop you can help others when you provide useful feedback with your Tripawds product reviews!
From our best-selling Web Master Plus harness to the Doggy Ride Pet Stroller, the Tripawds Gear store allows customers to rate products and leave uncensored user reviews.
Tripawds product reviews matter so much. Why? Because we only carry the best user-tested and approved items to help amputee pets. If something doesn't work like we had hoped, we need to know about that as soon as possible.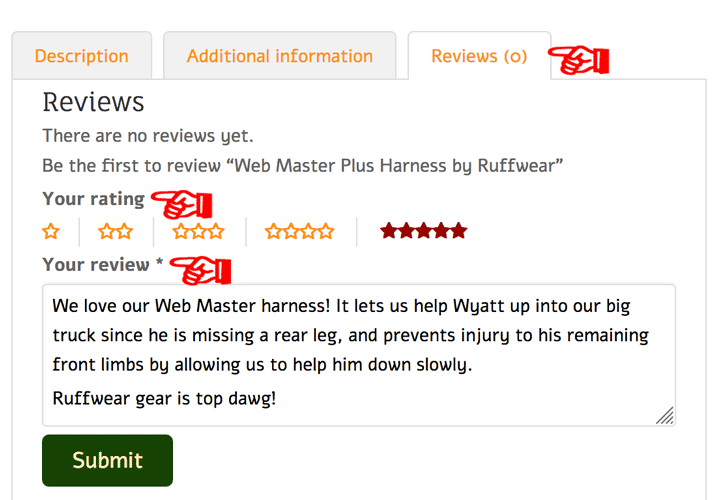 How to Enter the Monthly Tripawds Product Review Drawing
Rate your Tripawds products from one to five stars. Leave as long or as short a review as you'd like, it's your choice. All we ask is that you own the product you're reviewing, and you provide honest feedback or tips for use.
Click Reviews Tab.
Enter Star Rating and Write Review.
Every month three lucky winners will be randomly selected from all reviews left that month and chosen to receive special Tripawds prizes!
You may win FREE Tripawds Downloads, coupon codes for more gear, jewelry and tags, or e-books, buttons, stickers, bandanas and beyond! Your review is your entry ticket for cool bling to show your Tripawd Pride. Winners will be contacted via email by the 5th of each month.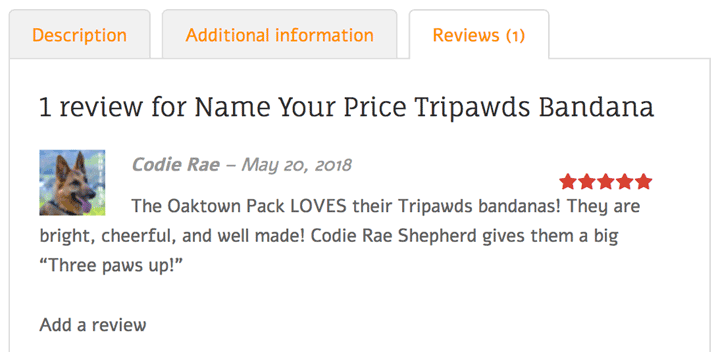 NOTE: The more products you review, the better chances you have to win. Search the Tripawds Gear Shop for any products you may own.
Your Purchases Support the Tripawds Nation
Did you know that every dollar you spend here goes right back into supporting the Tripawds Community? Sales made through the Tripawds Gear Shop and through our Amazon links help keep your community online. Without this store, Tripawds.com as you know it could not exist.
We try hard to keep our prices competitive, and offer personal Tripawd-tested phone and email support that you can't get anywhere else. There are millions of places to buy pet gear online, and we thank you from the bottom of our heart for choosing to shop and support the Tripawds Nation!