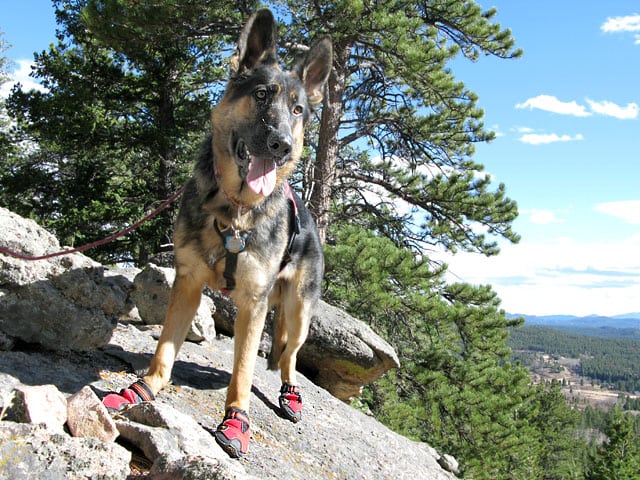 Many Tripawd pawrents wonder if dog booties can help their three legged friend get around a little easier. Our experience has been that booties help Tripawds who are willing to get used to them.
Some dogs easily adapt after just a couple of short sessions wearing them, but some hate them forever and will do whatever it takes to get them off their feet. Some dogs have feet just the right size for them, and other paws are impawsible to fit.
Ruffwear Grip Trex & Skyliner Bark'n Boots for Dogs
Demo Video | Paw Measurement Chart | Order Now | Return Policy
Product Review at a Glance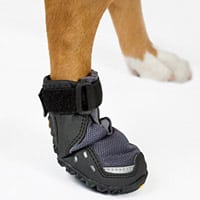 Wags
Durable materials, high-traction soles
Relatively easy to put on
Good range of sizes make them easy to fit
Sock liners are available for secure fit and added comfort
Single boots available or sets of four
Whimpers
Certain dog pawss impossible to fit
Some dogs may refuse to wear them
Sock liners recommended for best fit and comfort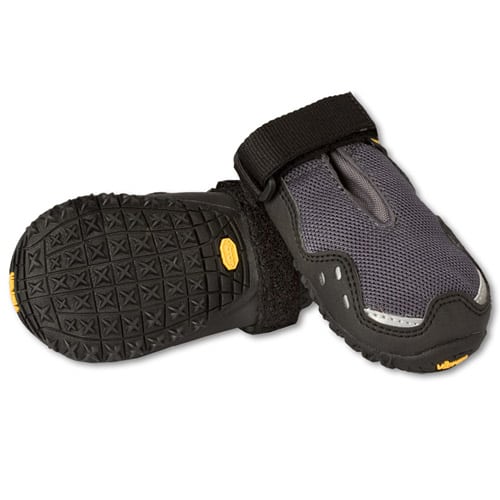 Wyatt turned out to be the ideal candidate for booties. We happened to have a pair of Ruffwear Grip Trex dog shoes around to try out, thanks to his gal pal Codie Rae, who did not like wearing them.
To introduce Wyatt to the concept of wearing shoes, we laid him down with tons of dog treats ready. We simultaneously fed him and put the shoes on quickly, before he could run away. We were happy to see that Wyatt's big paws easily fit into the Ruffwear Grip Trex booties. The shoes stayed on as long as we securely fastened the Velcro ankle straps, and he wore the matching sock liners underneath.
Options and Pricing:
Your cost includes shipping to anywhere in the continental U.S. via ground delivery (5-7 business days). Texas residents pay applicable sales tax. ONLY AVAILABLE TO U.S. CUSTOMERS. Find international dealers here.
Bark'n Boots Demo Video
We weren't sure if Wyatt would adapt, but after two short hikes wearing them, he walked as if he was born wearing shoes. We recommend putting the boots on your dog for a few brief sessions, before leaving them on for a long time.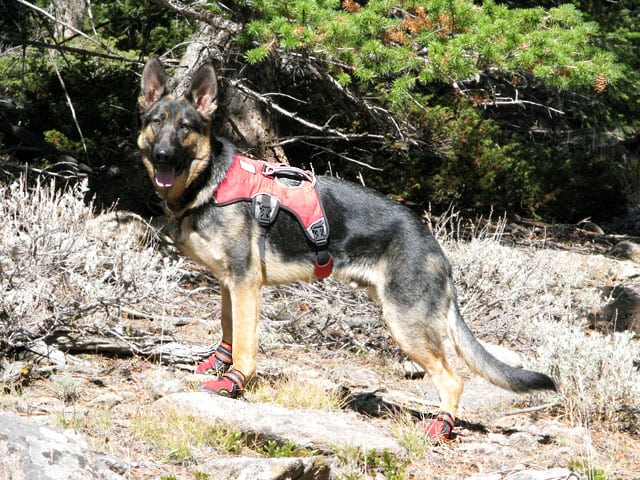 We like the Ruffwear Grip Trex Bark'n Boots because of their rugged quality and high-traction soles. As long as you fit them properly for your dog, they will stay on without a problem. Be sure to review the Ruffwear dog boot sizing and download the measurement chart below to measure carefully before you order.
The funny thing about these booties is that they actually slowed Wyatt down a little. Unlike his usual gallop pace, he slowed down enough to not pull on his leash. That was a real unexpected bonus!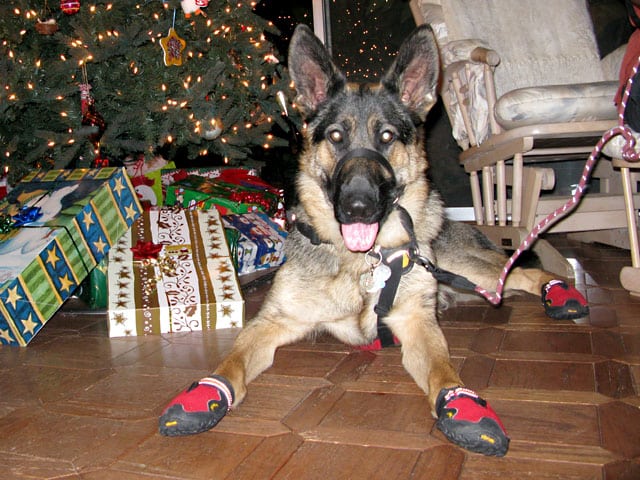 Bark'n Boots are great indoors too! They provide the added traction needed by most tripawds on hardwood floors and other slippery surfaces.
We discovered this when Wyatt refused to walk across the slick floors when visiting family for Christmas. When he returned wearing his dog boots, he pranced around and played without pause.
Grip Trex and Skyliner Dog Boot Styles
Best of all, Ruffwear Bark'n Boots come in two styles to meet the needs of dogs with varying needs and activity levels. The hearty tread on Grip Trex dog boots make them perfect for all terrain, all season use. The Grip Trex design is intended for hiking, and walking on steep, rough or rocky terrain to prevent paw damage. Also for traction on slippery surfaces. Their non-marking sole is safe for indoor and nautical use.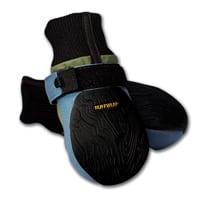 Skyliner dog boots provide ample traction and improve mobility indoors while protecting paws from pressure sores. Intended for walking on paved streets or roads where hot pavement, street chemicals or other hazards are a concern, Skyliner boots are designed for everyday use and are a great option for wet or rainy conditions. They also have a safe non-marking sole.
We like Ruffwear's booties out of others that we've tried before, but if you have a favorite brand, write to us and let us know, we'll try to demo it here.
NOTE: New and improved Summit Trex dog boots have replaced Skyliners.