Dog boots are useful for many situations, like giving a Tripawd traction on slippery surfaces and protecting from ruff outdoor ground. Many types of dog boots are in the marketplace, but paws down, the best dog boots money can buy are made by Ruffwear.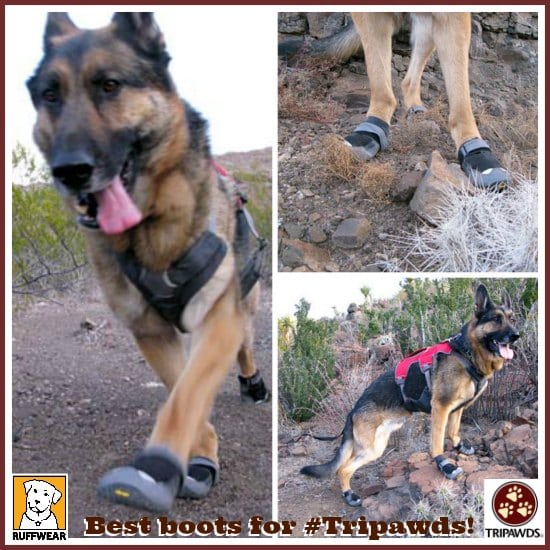 Grip Trex™ All-Terrain Boots Better Than Ever!
We pull no punches here: Ruffwear products are always great. Their product designers understand the biomechanics of a dog's body better than anyone else. Ruffwear outdoor dog gear fits great, functions beautifully and lasts a long, long time.
But Ruffwear knows there's always room for improvement, which is why they redesigned their famous Grip Trex™ dog boots. We are so excited about the new design!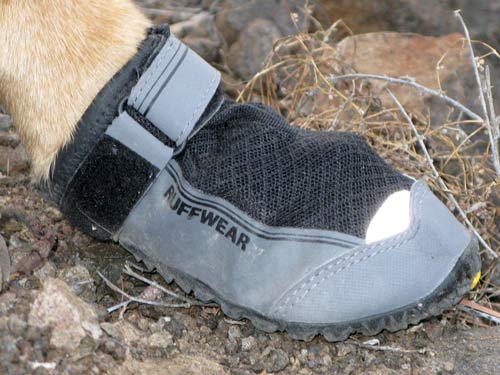 Before considering boots, please remember:
Boots are not the solution if you're trying to avoid covering your hardwood floors with non-skid carpets. Boots are not meant to be worn all day. Doing so will prevent your dog from perspiring and cause yeasty moisture build-up in-between paws.

And not all Tripawds will tolerate boots, or even need them if they don't live an active lifestyle or reside in harsher environments. Always introduce dog boots slowly.

But if you have an active Tripawd like Wyatt Ray, one who loves going on outdoor adventures all year long, Ruffwear boots are a must. Grip Trex will protect your best friend's precious three paws from nasty thorns, sharp rocks and other outdoor dangers like nothing else!
Tripawd Wyatt Tests the Grip Trex Boots™
Ruffwear sent us a set of the new Grip Trex to test on Tripawds Spokedog Wyatt Ray. Our official product tester is quite familiar with boots, so if your dog isn't and you're considering a set, please check out these tips about how to introduce dogs to boots before purchasing.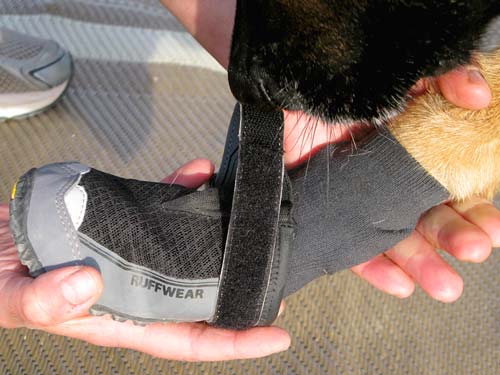 Booting Up Wyatt
"Booting Up" Wyatt is easiest as a two-person job. He's not overly enthusiastic during this process. Of course we always give plenty of treats in-between each step:
Before placing the Ruffwear Boot Liners and Grip Trex on Wyatt, we broke the shoes in by flexing and curling the soles a bit.
Next, we put the Webmaster Plus on Wyatt.
Then one of us grabs the Webmaster handle and lifts him up slightly to get his front paws off the ground.
On goes the sock liners and boots!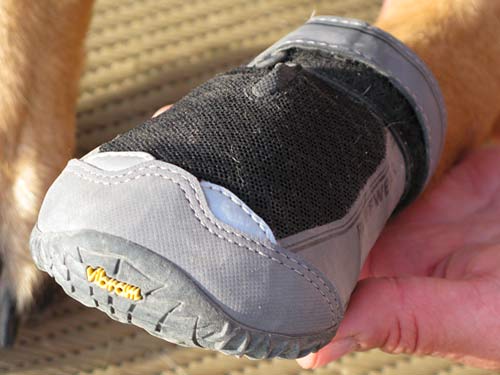 Once he has all three shoes on he'll clomp around for a bit. Within a minute or two he's forgotten how annoyed he was that we put them on, and he's off and running.
Wyatt Hits the Trail
There was no better place to test these shoes than here in Texas cactus country. Once Wyatt knew we were headed for some fun, there was no stopping him. We hiked around in the cool morning, stopping and checking to ensure the boots were snug (but not tight).
He chased sticks.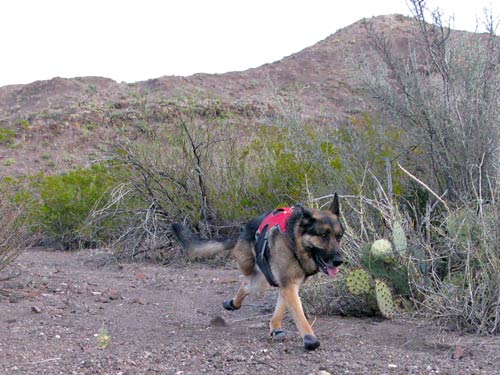 He climbed some craggy peaks.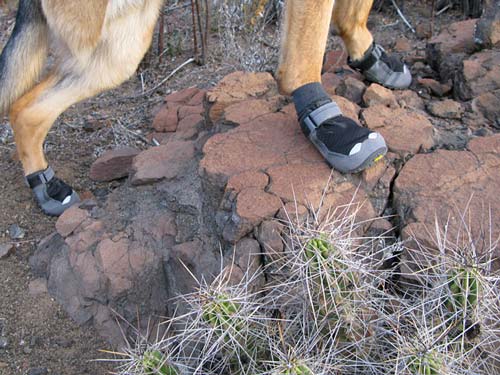 And he had a ball!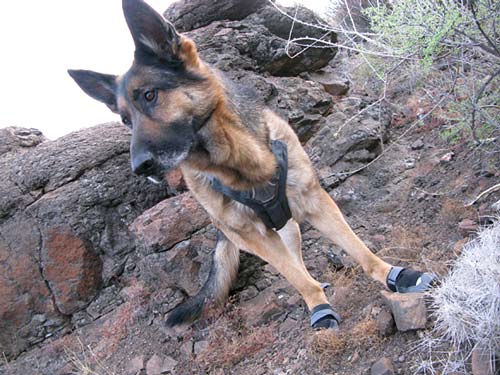 With every step we could clearly see these shoes are much better than the former Grip Trex. Here's why:
The Vibram® soles seem much more pliable than before.
The boots sat lower on his feet and no longer interfered with his dew claws.
The toe area has a bit more protection too.
The kicker? They stayed on better than ever! Only once did a single shoe come off and that's because we forgot to double-check the closures before we hit the trail. Otherwise there was no rotation or loosening at all. We believe the Ruffwear Sock Liners have a lot to do with that too.
The Conclusion
You are going to love the redesigned Grip Trex. They fit better, stay on like they're supposed to and your dog will probably think they're more comfortable than ever. We won't ever hesitate to use them on surfaces that could hurt Wyatt's feet. Give them a try!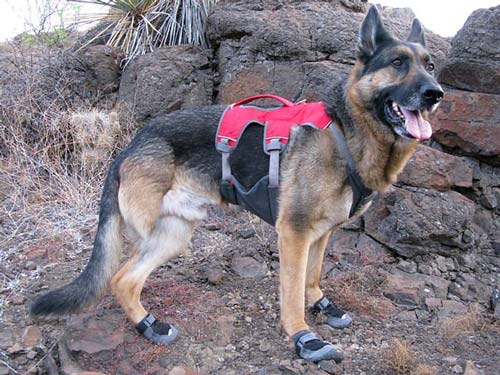 Thank you Ruffwear, for allowing our active Tripawds to keep on hoppin' in the great outdoors!
Size and Order Ruffwear Dog Boots
Your cost includes shipping to anywhere in the continental U.S. via ground delivery (5-7 business days). Texas residents pay applicable sales tax. ONLY AVAILABLE TO U.S. CUSTOMERS. Find international dealers here.