Ruffwear Summit Trex Dog Boots
$29.95
Summit Trex boots provide everyday traction for slippery floors and paw protection from heat, cold, abrasive surfaces, road chemicals/salt, and unseen hazards. Try them on your pup, and get outdoors on a walk around the block or on the trail. Sizes from 1.5″ to 3.25″ paw width.
Description
Improve traction for three legged dogs and protect paws everywhere you go with Summit Trex dog boots!

Protect three legged dog paws from abrasion, hot pavement, snow and ice, or salty roads in winter conditions. They also help provide traction on hardwood floors and other slippery surfaces.
Summit Trex™ by Ruffwear provide everyday traction for three legged dogs and paw protection from extreme temperatures, abrasive surfaces, and salt or other snowmelt chemicals. The Ruffwear-designed outsole provides flexible traction, while the durable, weather-resistant ripstop upper blocks moisture and debris. A hook-and-loop closure system creates a secure and comfortable fit.
Fit these boots properly for your dog, they will stay on without a problem.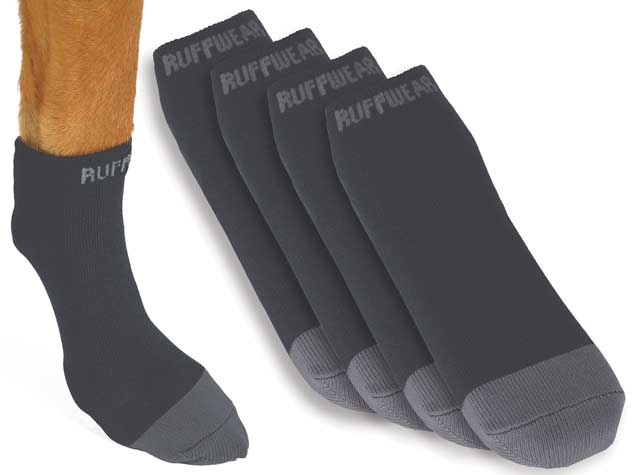 Add boot liners for greatest comfort!
Ruffwear Boot Liners will enhance the fit, upgrade the performance, and improve the comfort of the dog boots. These socks also makes putting on Ruffwear boots much easier! Ideal if your dog has a dew claw.
Sizes: 3.25″, 3.0″, 2.75″, 2.5″, 2.25″, 2.0″, 1.75″ & 1.50″
How To Measure for Ruffwear Dog Boots:
Be sure to review the Ruffwear dog paw sizing video below and download the paw measurement chart to measure carefully before you order.
NOTE: You will find the best price on Summit Trex dog boots in the Ruffwear Amazon store. May only be available for shipping in the U.S. Find international dealers here.
Usage: Summit Trex boots are intended for everyday use.
Ruffwear Summit Trex Dog Boots Review
Cant decide between Ruffwear Summit Trex and Grip Trex dog boots?
Additional information
| | |
| --- | --- |
| Size | 3.25 in., 3.0 in., 2.75 in., 2.5 in., 2.25 in., 2.0 in., 1.75 in., 1.50 in. |
| Color | Twilight Grey, Meadow Green |
| Quantity | Pair, Set of 4 |
| Options | Boots Only, Add Liners for comfort! |