Tripawds foster dog Nellie is pleased to tell you that she discovered the best summer Tripawd harness, ever. Here's why.
The Problem with Summer Heat and Dog Harnesses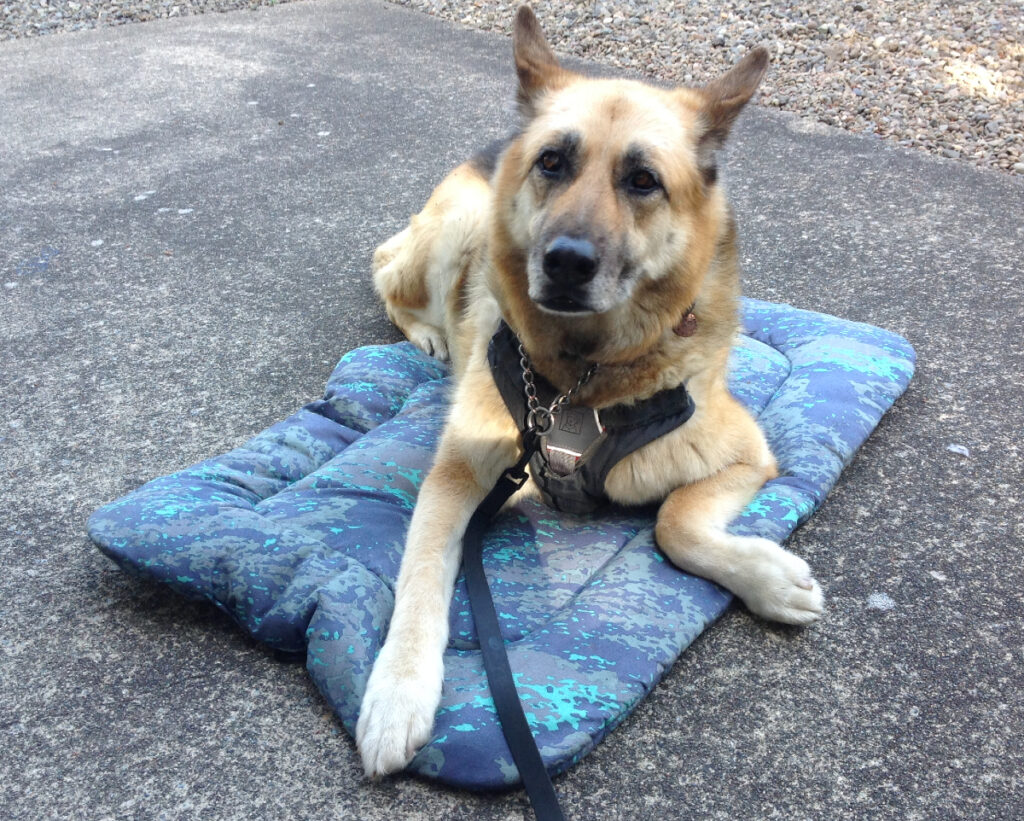 Hot weather and dog harnesses can be tricky. You want to support your dog during all seasons. But when it's super hot and you don't have air conditioning, or you want to go outside, what do you do? Turn to the Ruffwear Swamp Cooler Dog Harness, that's what!
You might have seen Cooper's Ruffwear Swamp Cooler Cooling Harness review. Cooper is missing a front-leg, so we wanted to make sure this gear works on front limb amputee dogs like him. It does! So if you've got a Tripawd with one less front wheel, check out his review.
Meanwhile, Nellie gave the Swamp Cooler Cooling Dog Harness a try yesterday.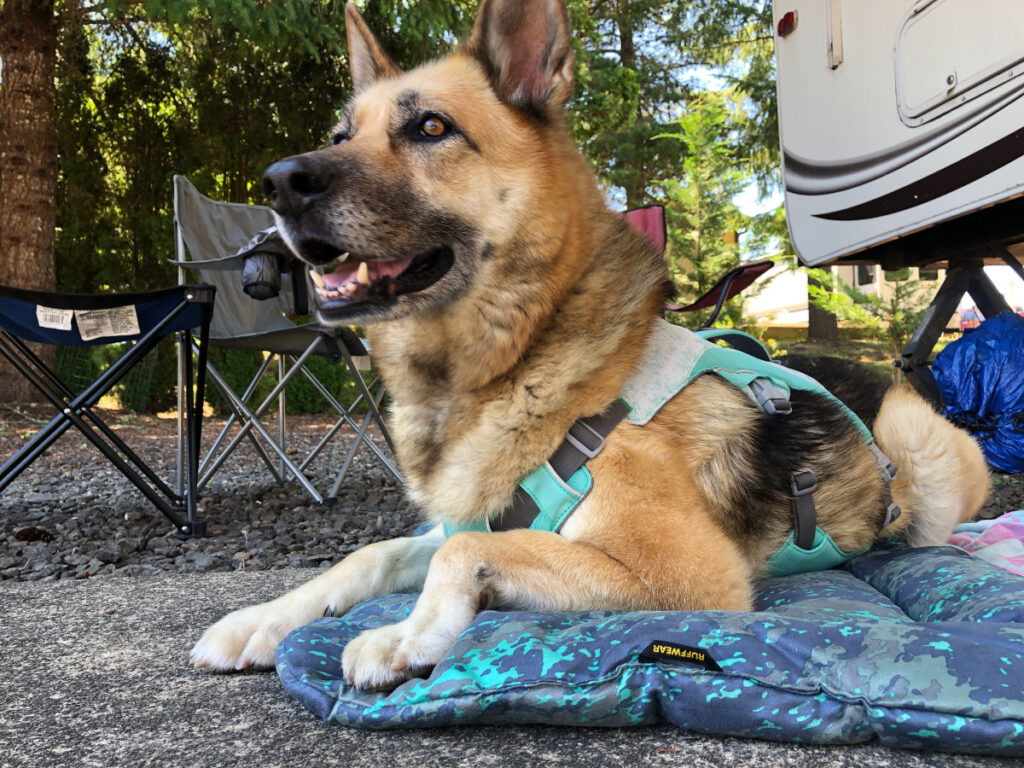 This week's temperatures are close to 100 here in Oregon. And that's just way too hot when you wear a fur coat all year. What a great time to try this new gear from Ruffwear! Our 3.5-legged Nellie volunteered to give it a go.
We prepared the Swamp Cooler Dog Harness as instructed.
First we drenched the cooling harness with cold water.
Then we put it on Nellie. She didn't complain one bit.
And in no time at all, she went from panting and looking so sad, to being herself again, a feisty old German Shepherd!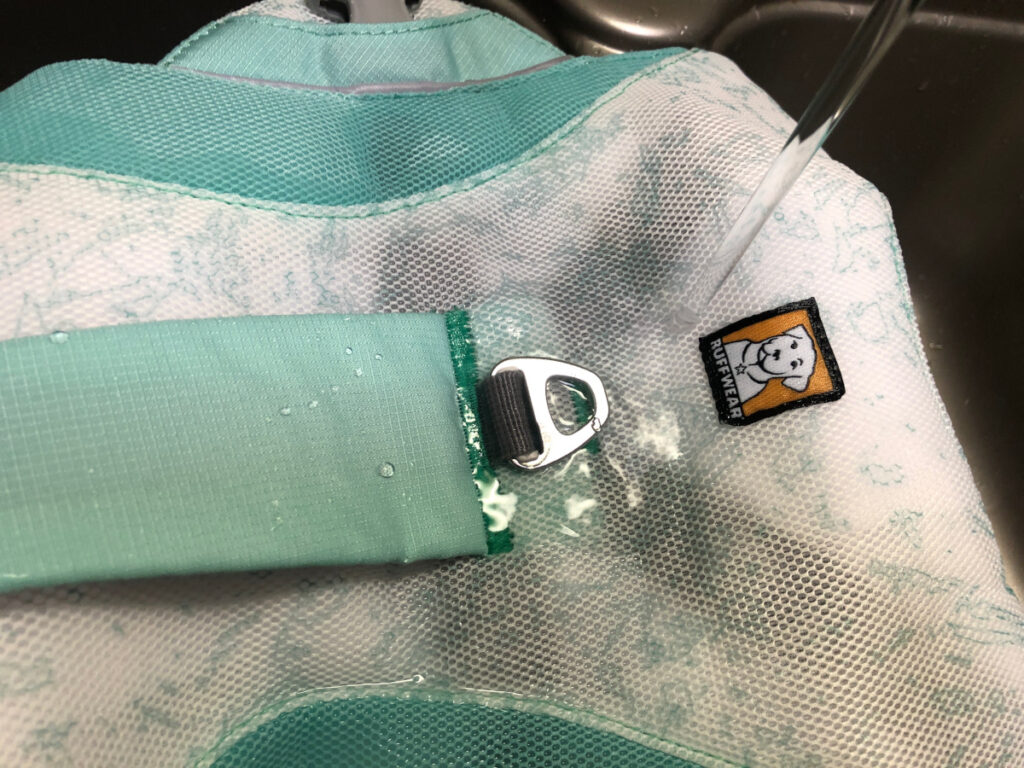 And yes, Nellie also loves the best summer Tripawd harness ever! We do too. Here's why.
Why It's the Best Summer Tripawd Harness
This is the most innovative Tripawd-friendly harness we've seen, ever. Whether you have a three, three and a half, our four legged dog, here's why your dog will thank you for getting a Swamp Cooler harness in the Tripawds Gear Shop.
The Swamp Cooler Dog Harness is all your dog needs on a hot summer day
When your Tripawd goes in and out of the house, you don't need to switch back and forth between harnesses. We sure love the Swamp Cooler Vest, and the Swamp Cooler Zip Vest. But they don't have a top handle to assist three-legged dogs.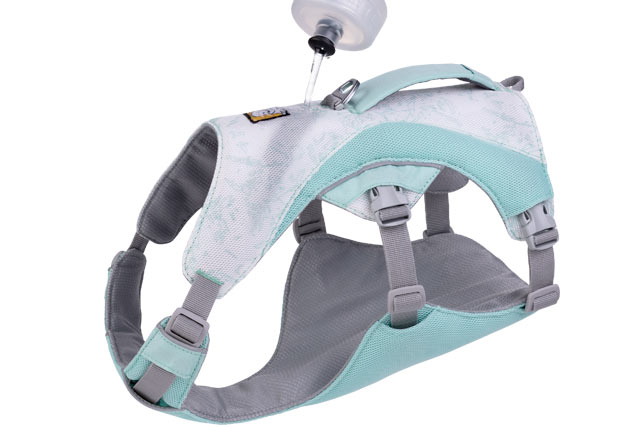 This cooling harness material stays comfortable for hours
For three whole hours, we sat outside working with Nellie by our side. When we checked on the harness, it was still cool to the touch. She didn't look uncomfortable so we knew it was working.
The support and the fit is just right
The Swamp Cooler Dog Harness is designed like the Ruffwear Flagline harness. It slips over your dog's head, and has six adjustment points for a secure fit. The handle works just as great as the Flagline and Ruffwear Webmaster. Also, even when the fabric is wet, it doesn't stretch one bit. Our bet is that even Houdini Tripawds probably can't escape from this gear!
The only potential downside of this cooling harness
If your dog is prone to hot spots and wears this harness all day, you might want to keep an eye on your dog's sensitive areas. The moisture from the harness might be an issue. Let us know if it does.
Now is the Time to Chill Out with Ruffwear Cooling Gear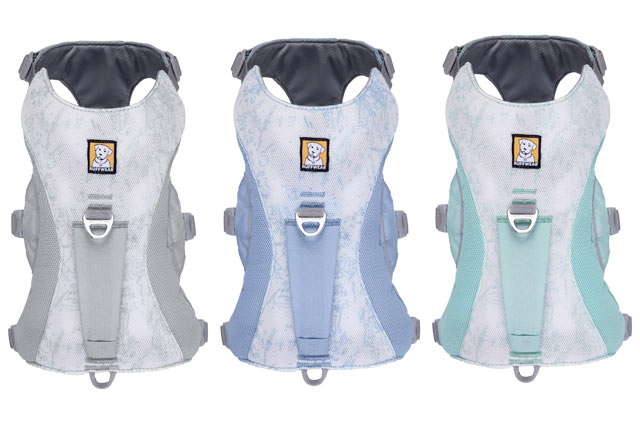 With supply chain shortages happening all the time, don't hesitate to get this essential Tripawd harness. Buy now and be ready for the next heatwave that hits home. The Swamp Cooler Dog Harness won't disappoint. It really is the best summer Tripawd harness for dogs of all leg configurations!