Ruffwear Swamp Cooler Cooling Vest
$79.95
Help your dog beat the heat, and provide cool comfort during recovery with this innovative cooling vest. Purchase includes coupon for $5 Off Tripawds E-books!
Description
How to Keep Dogs Cool in Summer
The Ruffwear Swamp Cooler™ uses evaporative cooling fabric to keep dogs from overheating in the sun. Although wearing a jacket seems like the last thing you'd want to put on your dog during summer, this vest really helps keep hot temperatures from overheating your Tripawd.
Just soak it in cold water, wring it out and slip over your pup's head. The Swamp Cooler is lightweight, easy to put on and remove, and the buckles are a cinch to adjust and close for a tailored fit.
NOTE: Base price includes free shipping via USPS Priority Mail. Select desired shipping option to rush delivery. ONLY AVAILABLE IN THE THE UNITED STATES. Find international dealers here.
KEY FEATURES:
Keeps dogs cool in hot temperatures
Works fast and retains coolness well
High tech, rugged fabric repels dirt and abrasions
Designed for a tailored fit
Deep-chest fit works well for giant breed dogs
Stays in place even during exercise
Easy to put on and take off
Great for thick coats and dark dogs
Helps provide cooling comfort during amputation recovery
Machine washable
How does it work?
Evaporative cooling (like a real swamp cooler) exchanges your dog's heat with the coolness of the stored water keeping your dog comfortable during outdoor adventures in the dog days of summer.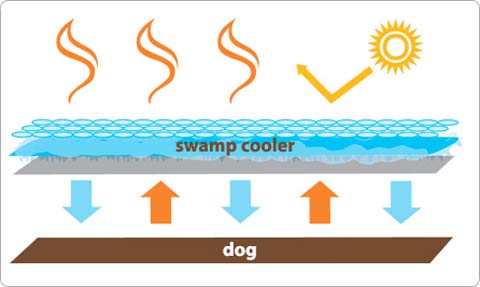 The Swamp Cooler is built with a special three-layer lightweight fabric that works by exchanging the dog's body heat with the coolness of the stored water in the coat. In addition, the light color of the fabric will reflect sunlight, and the inner layer stays cool next to your Tripawd's body.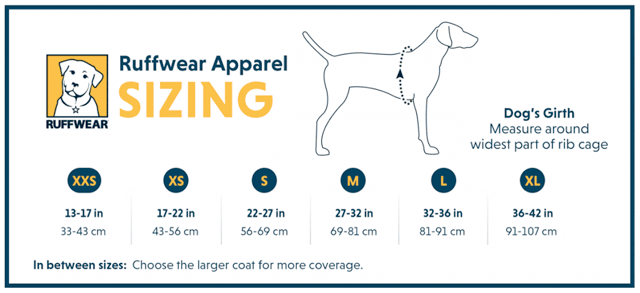 SIZES:
For proper fit, measure your dog's girth standing up, around the widest part of his/her rib cage.
XXS 13-17 in. (33-43 cm)
XS 17-22 in. (43-56 cm)
SM 22-27 in. (56-69 cm)
MED 27-32 in. (81-91 cm)
LG 32-36 in. (81-91 cm)
XL 36-42 in. (91-107 cm)
NOTE: It is girth size, not weight or breed, that determines proper fit. For in-between sizes, Ruff Wear recommends selecting the smaller size for an active, contoured fit. Please measure carefully using a cloth measuring tape, or wrap a string around the girth and measure the string where it meets.
Additional information
| | |
| --- | --- |
| Size | XXS 13-17 in., XS 17-22 in., SM 22-27 in., MED 27-32 in., LG 32-36 in., XL 36-42 in. |
| Color | Sage Green, Heliotrope Purple |