We know heatwaves are worse than ever for people, and especially pets. But some things we might think helps keep Tripawd dogs cool during summer can actually be harmful. Before you reach for typical things we think might cool our dogs off during a heatwave, consider the benefits of Ruffwear's cooling vests for dogs.
Keep Tripawd Dogs Cool the Smarter Way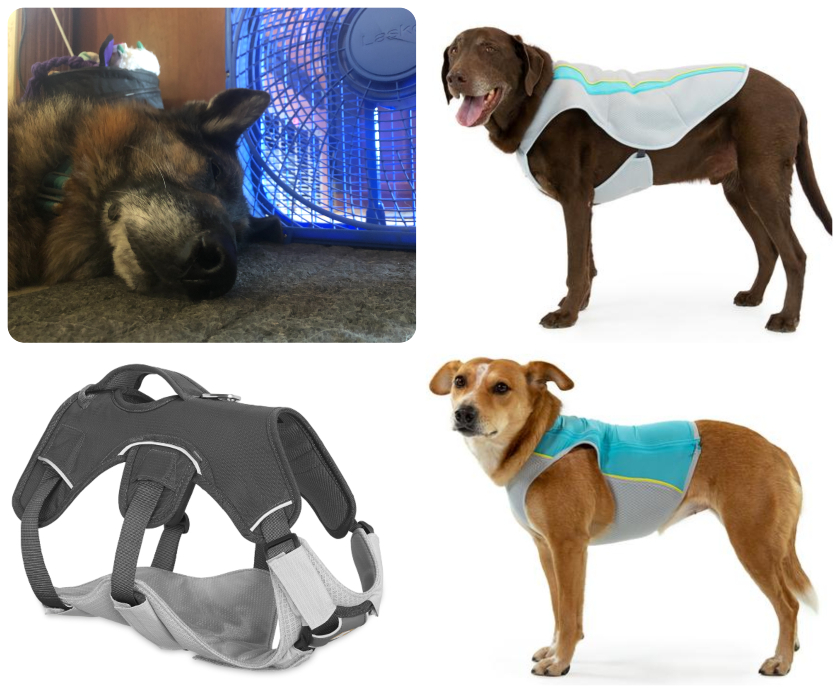 Did you know that portable fans can do more harm than good sometimes? We didn't either, until we read about this recent study on electric fan efficiency in a heatwave. Australian scientists showed that portable fans can actually make pets and people even hotter!
In high humidity conditions with temperatures above 95-degrees Fahrenheit, fans can be safer for humans. Fans can cools us by blowing air on our sweaty bodies and cooling our skin (known as "evaporative cooling"). But fans are useless for dogs, who sweat mainly through their paws.
But when humidity is low and we aren't sweating as much, fans cause humans bodies to dehydrate.
And since dogs sweat mainly through their paws, and not on their skin like we do, portable electric fans are even more useless for them in most all conditions!
But the good news is, Ruffwear cooling vests can make a huge difference for a dog in a heatwave. And sitting in front of a portable electric fan while wearing one can actually help keep Tripawd dogs cool!
Dogs Chill Out with Ruffwear Cooling Vests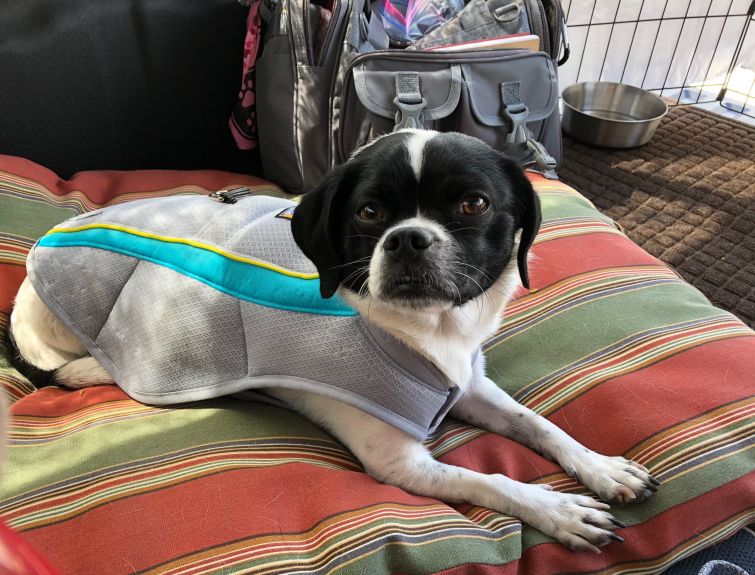 If you must use a portable room fan during a heatwave, only put it on your pet if you are constantly misting your pet with cool water (don't forget their paws!). But what's better for both of you, is when your Tripawd is wearing one of the three Ruffwear cooling vests for dogs.
Yes, it seems odd to put a vest on your dog during summer heatwaves. But the ones made by Ruffwear aren't just any vests. They're cooling dog vests for extreme summer heat.
How do Ruffwear cooling vests for dogs work?
The Ruffwear Core Cooler, Swamp Cooler and Jet Stream vests are made with special "evaporative cooling" fabric. The material is a three-layer lightweight fabric that holds water and reflects sunlight. It keeps Tripawd dogs cool by exchanging your dog's body heat with the coolness of the stored water. The inner layer stays cool next to your Tripawd's body.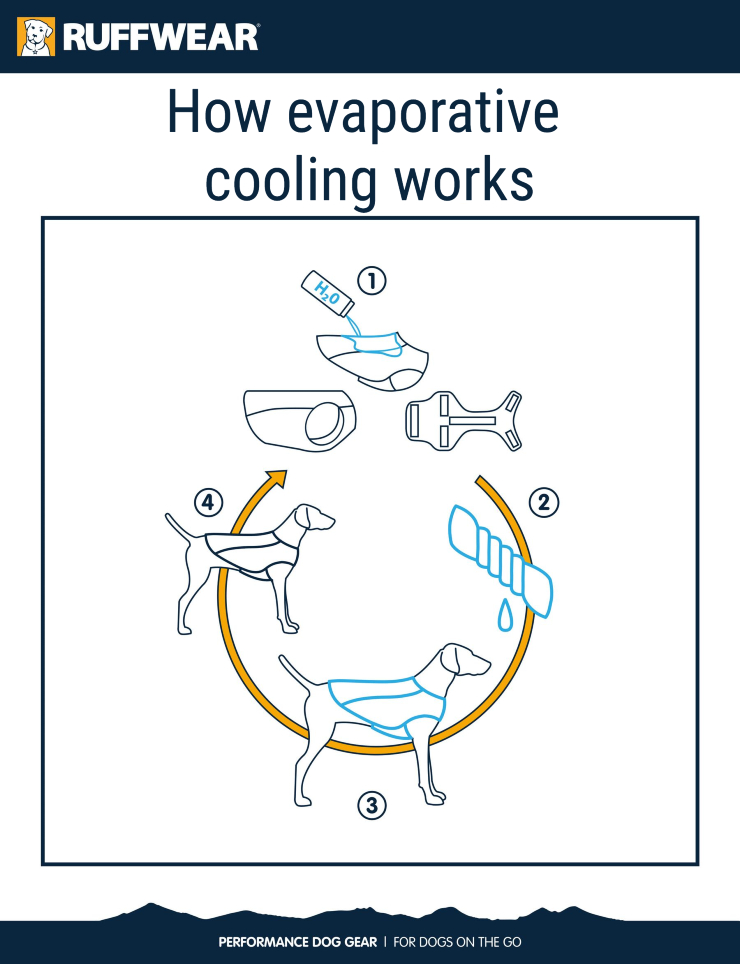 Gently aim a cool breeze from a portable electric fan on your dog while she's wearing one, to help her "sweat". Ruffwear cooling vests are the next best thing to helping a dog sweat like us, through "evaporative cooling."
Chill with the Core Cooler (for the Ruffwear Webmaster)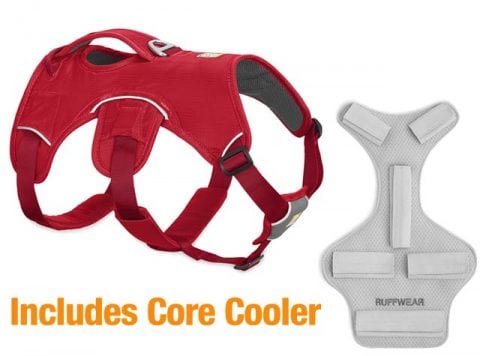 The Ruffwear Core Cooler is an add-on to the Ruffwear Webmaster harness. It uses evaporative cooling to keep your dog cool during hot days and high intensity activities. Ruffwear's three-layer evaporative cooling chest panel disperses heat from the dog's core to prevent overheating.
Hook-and-loop attachments make it easy to attach and remove from your harness. To activate, simply wet the Core Cooler and wring it out. This item is available from Tripawds when purchased with the Web Master harness. Or, buy the Core Cooler separately on Amazon.
For All-Over Cool, the Swamp Cooler Beats them All!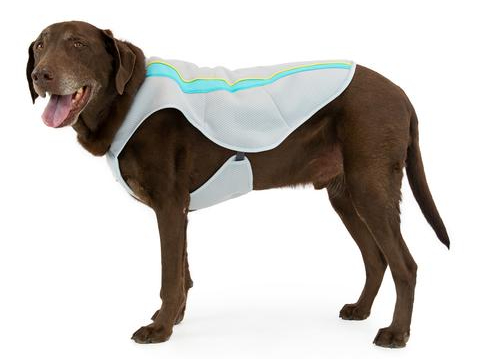 Wearing a jacket like the Ruffwear Swamp Cooler seems like the last thing you'd want to put on your dog during a heatwave. But this is no ordinary jacket. Like the Core Cooler, it's lightweight and uses "evaporative cooling" to keep hot temperatures from overheating your Tripawd. Put a fan in front of your dog while he's wearing it, and he will thank you.
Activate cooling by soaking it in cold water
Wring it out, then slip over your pup's head
Easy to put on and remove
Buckles are a cinch to adjust
Fits great on front or rear leg amputee dogs
Summer Adventures Begin with the Ruffwear Jet Stream Cooler Vest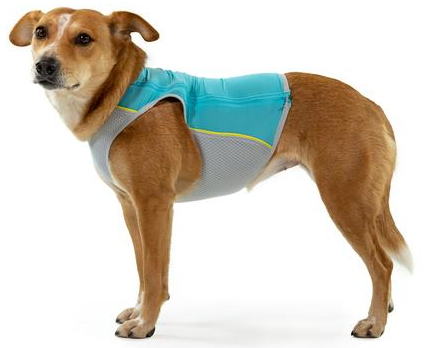 When the heatwave breaks and temperatures fall enough to go on a short summer adventure, the Ruffwear Jet Stream Cooler Vest is great gear to bring along. It efficiently cools dogs during light and fast, high-intensity adventures. The light and sleek Jet Stream uses shade-providing spandex over the back, while Ruffwear's three-layer evaporative cooling chest panel disperses heat from the dog's core. To activate the Jet Stream, soak in water, wring out, zip on your dog, and go.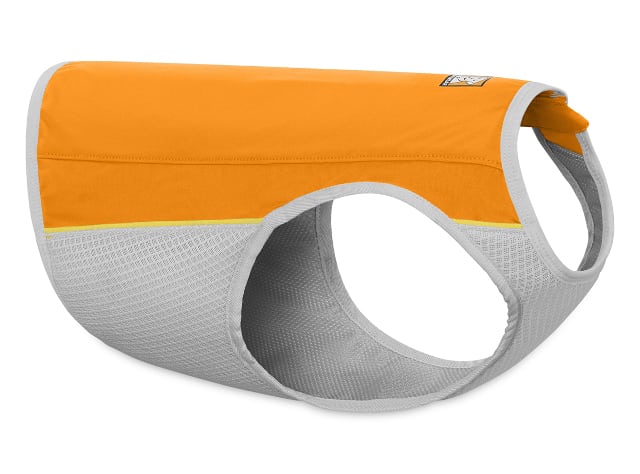 Try a Ruffwear cooling vest and you will see a difference in how your Tripawd feels during the dog days of summer. Oh, and some anxious dogs may react negatively the first time they wear any of these dog cooling vests. That's normal. Just be patient, pawsitive, and bribe with plenty of healthy treats to help your dog adjust. After a few minutes, your dog will start feeling the cool and realize the vest is a good thing!
We hope these give you some great ideas to help make the most of summer. Remember, no summer heatwave tips are fool proof. Don't take any chances when the heat goes up! Your pet's life could be at risk!