Dog and cat fur is naturally insulating. But even Mother Nature needs help keeping pets cool during hot weather. These self-cooling dog mats can lend a hand t0 canines and felines alike!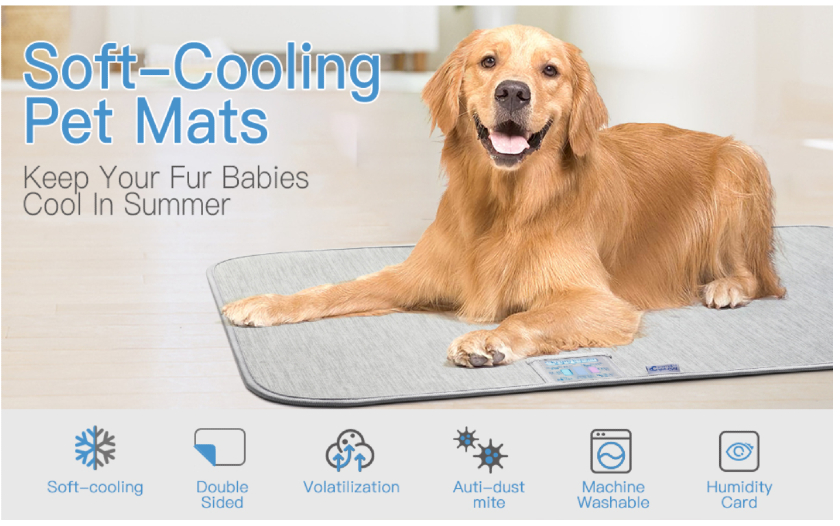 Summer is hard enough on humans. Imagine what it's like when you wear a fur coat! If you have a Tripawd dog or cat you've seen how the heat affects them. Summers are only getting worse! This month we are focused on spotlighting the best ways to keep pets cool during heatwaves. We discovered that self-cooling dog mats have come a long way in the last few years. And they're so nice now that your cat may want one too!
Why we love self-cooling dog mats (and they're good for cats too!)
Mats are pressure-activated!
No electricity or refrigeration required
You don't need to add water
Made with non-toxic cooling technology
Easy to clean
These hot weather dog mats and crate pads used to be a huge hassle. You'd fill them with water and try not to spill it all over the place! But now a new materials technology (sometimes called "Arc-Cool" or "Arctic Cool"), makes it easier than ever to help dogs and cats stay cool. Here are the three most popular, best-selling self-cooling dog mats with the most favorable reviews on Amazon.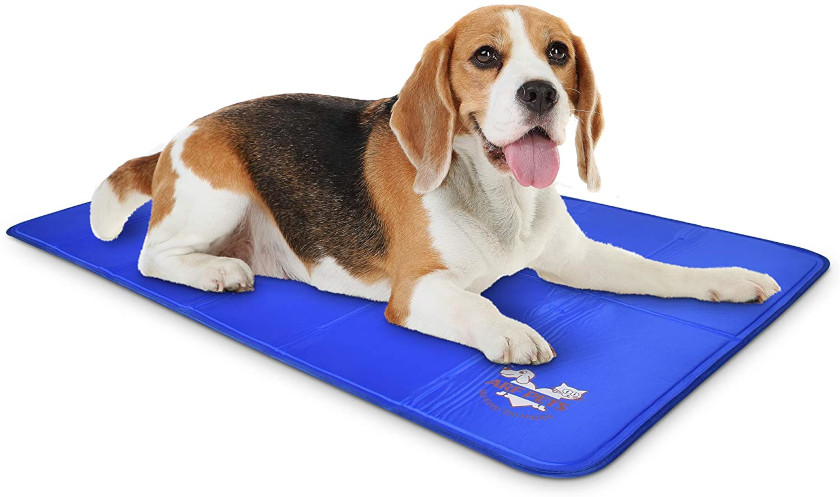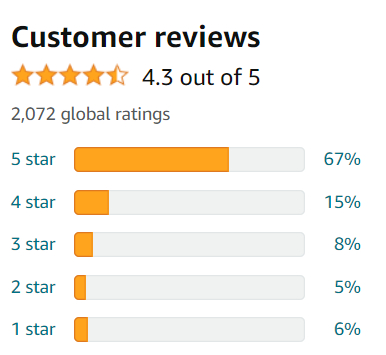 Beat the heat – Your dog unleashes the cooling power of this mat simply by laying down on it for up to 3 hours of cooling comfort, and the mat recharges after 15 minutes of nonuse.
Simple, powerful cooling – With a solid gel interior, this cooling mat provides cooling relief for your dog without any water, electricity, or hassle. The simple design makes it easy to clean and maintain.
100% safe and non-toxic – Made from 100% non-toxic materials, lay this gel mat out for your pet without any fear or concern.
Versatile Comfort – Bring this mat anywhere to help your dog beat the summer heat. Place this cooling mat in crates, cars, and on top of pet beds to keep your pet comfortable anywhere.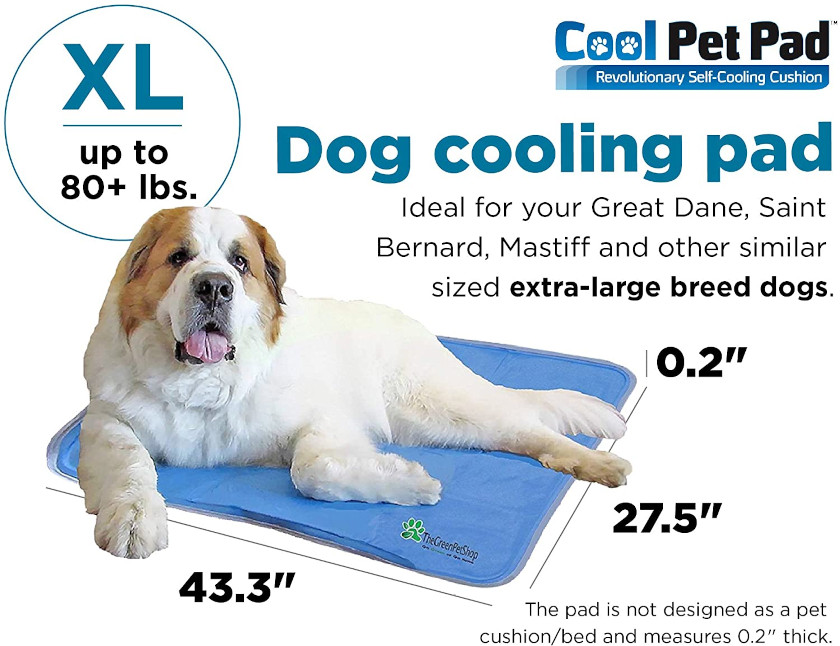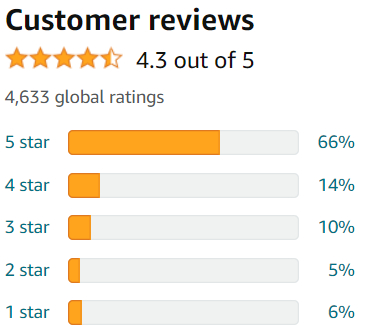 Patented gel formula – Automatically recharges after 15-20 minutes of non-use.
Once your pet lays on the pad, it goes to work immediately– Cool to the touch, the chilled sensation offers immediate relief. It's ideal for senior animals or pets with medical conditions
Use it anywhere– On the floor, sofa, or place it in your pet's crate, bed or kennel. The cooling pads are lightweight and folds effortlessly, ideal for travel. Clean with a damp cloth as needed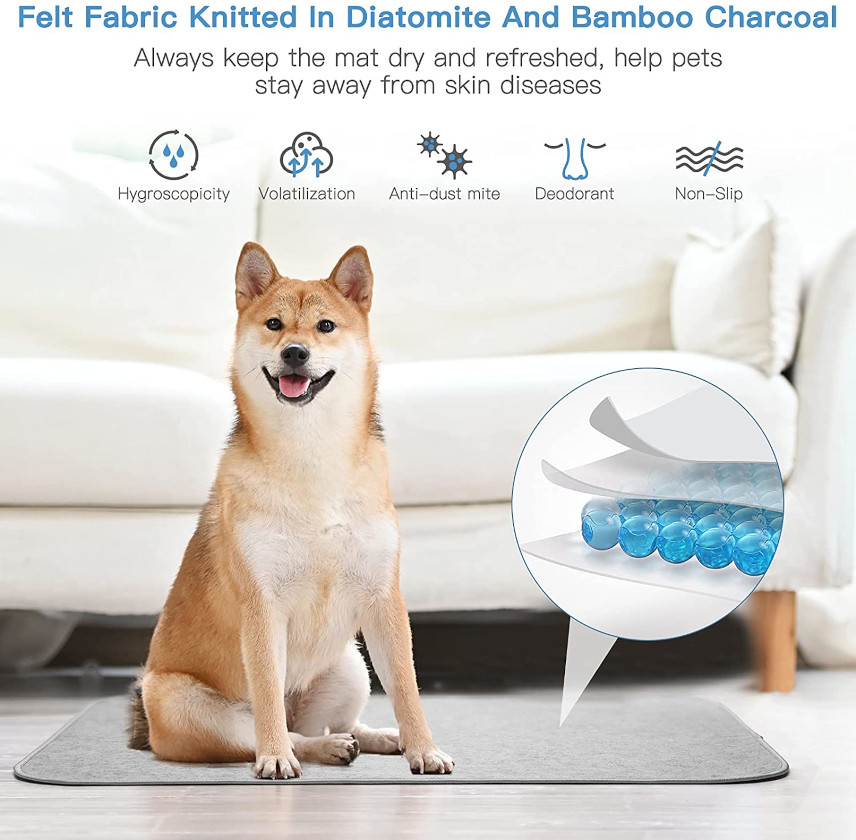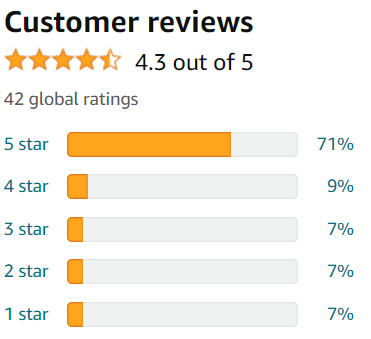 Unique anti-humidity self-cooling dog bed.
Made from Japanese Arc-chill cool technology fabri – Pressure-activated to cool your pet's skin temperature down at least 5℃.
Includes humidity indicator card – Keep moisture off the surface to prevent skin problems due to moisture!
Made of eco-friendly high-quality felt fabric, diatomaceous earth and moisture-absorbing particles. – The water absorption capacity is stronger than 90% of pet mats on the market, which can keep its surface dry at all times, and quickly eliminate dog urine and other odors. It is 100% safe material for pets and people.
Double-sided design for year-round use – one side is cold and the other side is cotton, suitable for use all year round. The lightwe
Lifetime guarantee!
If you try any of these self-cooling dog mats, let us know how they worked out. Comment below with your pet's experience.