Not every amputee dog needs a wheelchair, but every three-legged pooch can benefit from a Tripawd dog stroller. A set of wheels is a great way to walk help your Tripawd get out into the world with the entire pack.
No Tripawd Left Behind. Wyatt Explores the World in His Pawesome Ride!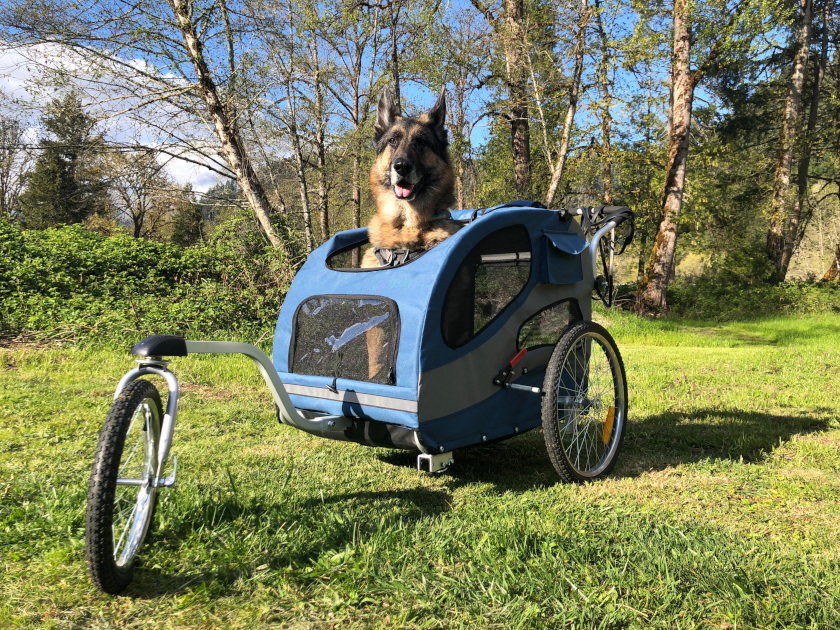 Ever since Codie Rae got her Solvit HoundAbout II Dog Stroller, we wanted one for Wyatt. He hated being left behind when we went on longer walks without him, and we felt awful each time we did.
So this year for his eleventh birthday, we got him a surprise: his own Tripawd dog stroller! His new ride was the next logical step after we realized that he could no longer go more than 10 minutes on a walk using his wheelchair. Wyatt's world was getting smaller and smaller, and we knew a dog stroller could change that. It has! And here's how:
This Tripawd Dog Stroller is Great for Large Breeds
The Solvit Houndabout II Bicycle Trailer and Stroller is a great choice for all Tripawd dogs, but especially large breeds like Wyatt. With plenty of room in the cabin and a sturdy wheelbase that prevents roll-overs, this ride is perfect for getting him out into the world.
What's even better is that it serves two purposes. The Solvit HoundAbout II is designed as a dog bicycle trailer (for bikes with a Shimano gear set), but if you buy the optional Strolling kit (sold separately), you can use it as a stroller too. The conversion process for either type of use is simple and quick.
Purchase the Solvit Houndabout II Stroller Here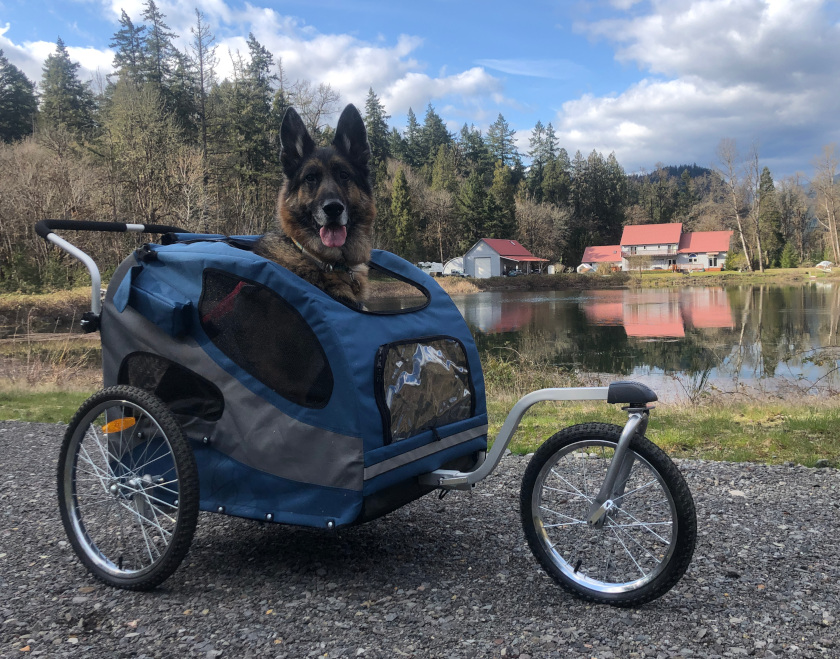 A sturdy but light frame. Made of aluminum, the frame is solid but light enough to load into a car and push a big ol' Shepherd around.
The cabin is large and well-ventilated. The huge windows and shades keep any dog from overheating on the hottest days.
Built-in safety features.  There's an exterior brake for parking on hills. Inside there's a safety tether to attach your Tripawd. And it has rear reflectors and reflective fabric features for nighttime visibility.
Assembly is easy peasy. We had no problem putting the trailer together. The manual is semi-useful, but assembly is relatively intuitive. What we especially love is that the trailer collapses down into a size that's easily portable.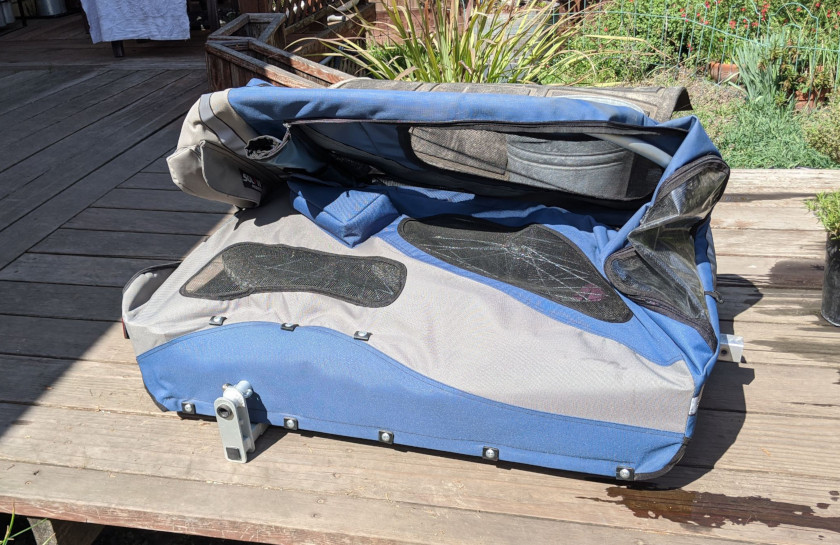 It fits into a space 37″ long x 29″ wide by 18″ high. The wheels and strolling kit / trailer hitch also go on and come off without a problem.
Storage pockets keep your hands free. The cabin has three exterior good-sized storage compartments for leash, treat, poop bags, etc.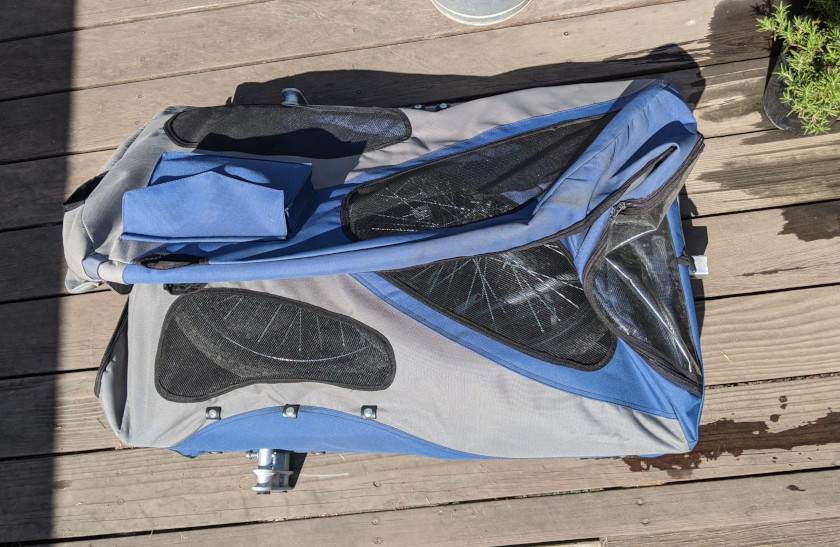 We only found one flaw with this stroller: the cabin floor seemed too flimsy to hold 75-pound Wyatt. To fix that, we just added a few layers of heavy-duty cardboard on top of the existing panel (for a larger dog, you probably want to add plywood sheeting instead). It hasn't been an issue since.
Trailer Sizing and Dimensions
The Medium Trailer
Holds dogs up to 50 lb.
Inside cab measures 26 in L x 17 in W x 20 in H
The Large Trailer
Holds dogs up to 110 lb
Inside cab measures 33 in L x 22 in W x 26 in H
This Tripawd Dog Stroller and Bike Trailer Works as Hard as Your Hero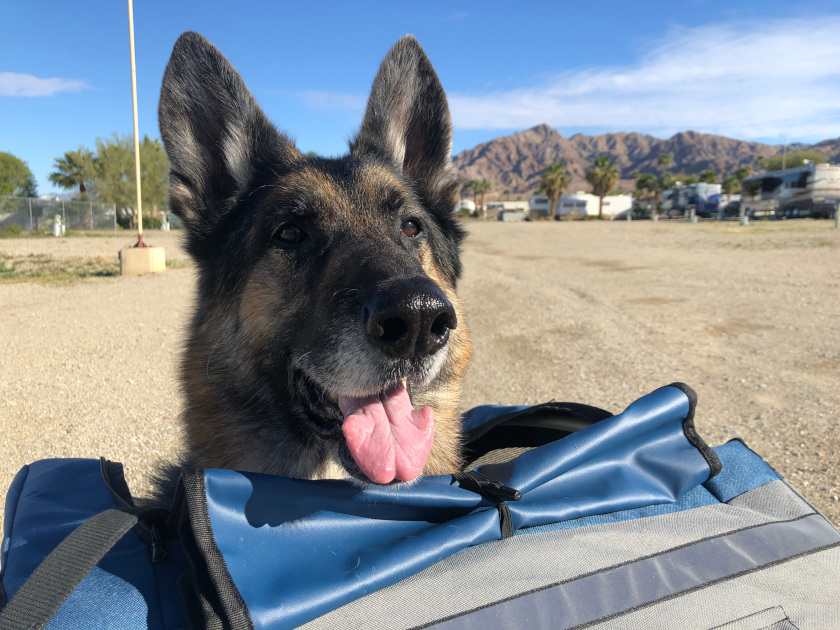 You'll find lots of dog strollers on Amazon, but very few are made sturdy and large enough for bigger dogs. This one gets the job done and allows Wyatt to join us on long walks. He still walks along side us for a brief distance to keep him strong, but when his walk is over, the ride fun begins!
If your heart belongs to a large breed pooch, and you want your pup's adventures to continue, this Tripawd dog stroller is the ticket.
Get the Solvit Houndabout II Stroller Here.
Your Purchase Supports the Tripawds Nation!
Thank You!