When a Tripawd loses a leg, there's no reason why strolls around the neighborhood have to stop. But those distances your Tripawd walked are probably too far for her now that she's on three. So instead of asking your Tripawd to go too far than is safe or reasonable, just have her hop onto the party bus doggy stroller, Tripawds everywhere love 'em!
The Doggy Stroller Tripawds Love
Pet strollers are the best way to help our three-legged heroes continue with life as they knew it. Only now it's even better because they have their own chauffeur! Gizmo recently hired his mom to drive him around town, after she purchased a Booyah Dog Stroller, aka "Gizmo's Party Bus."
(The links in this post are Amazon affiliate links. Shopping for any products via these links provides a small commission that helps support the Tripawds Community. Thank you!)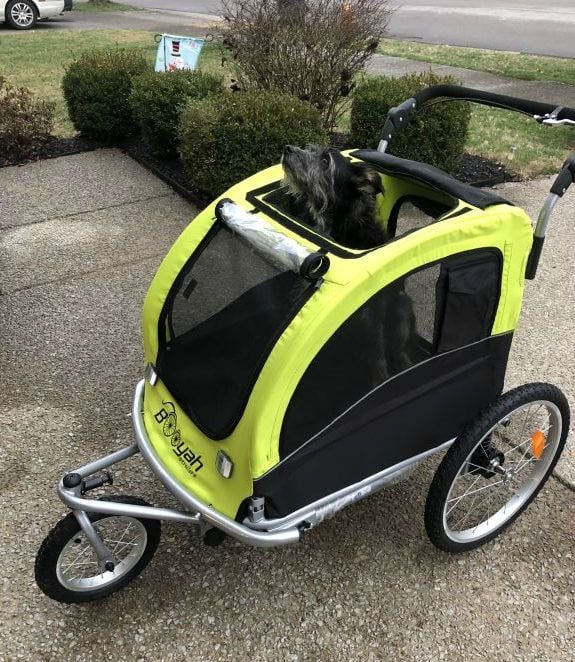 Well, we finally found a suitable mode of transportation for Gizmo. It's made by a company called Booyah & so far we LOVE THIS STROLLER! It was fairly easy to assemble & has a very smooth ride (even when going through our grassy field). It can be taken apart & put in the back of a vehicle for traveling. Holds up to 88lbs. Gizmo has turned into a full tilt diva & insists that I push him a 100 miles a day.
Not all doggy strollers are created alike. Some are sturdier than others and can handle the weight of larger dogs. The Booyah bike trailer dog stroller Gizmo is riding in is one of the sturdiest around.
Wheel is set back so there is no "tipping."
Full suspension with front and rear entrances
Adjustable handlebar, lockable swivel wheel
Bike trailer arm and hitch that swings out from underneath
Lockable handbrake, 3 layer sunroof, and aluminum wheels with beefy tires.
This is the large size pet stroller and trailer for large dogs 88 lbs or less. (Not all dogs will fit in this trailer.)
Dimensions: Inside: 32 L x 24 W x 21 H (Please see that your pet will fit within these inside dimensions.). Outside: 50 L x 33.5 W x 39 H
This is one of the sturdiest dog strollers around, we're so glad it's working out for Gizmo!
Have you tried a doggy stroller, Tripawds nation? If so we would love to hear about your experiences. Comment below and let us know which features you love best about yours.
More Doggy Strollers Tripawds Love
Buddy Goes on a Chariot Ride in his Tripawd Dog Stroller
Tripawd Dogs and Cats Go Places with Pet Strollers