Although most humans think that recovering dogs need lots of fluffy pillows to lay on, what they really need most is a low profile bed with extra firm support. New Tripawds are often adjusting their position to be comfortable and can have a hard time turning around on traditional pillow-style beds.
Fluffy beds can also act as a sponge for post-op moisture, bugs and odors. Consider making your own dog bed, or review this selection of the best recommended dog beds for restful recovery after amputation surgery.
Recommended for big dogs!
This large plush dog bed is ideal for dogs recovering from amputation surgery. With an easy to clean cover, the two-sided waterproof, 6″ thick memory foam mattress gives your dog the option of a firm or soft surface and also features a non-skid bottom. Tripawds Spokesdog Wyatt reviewed this Ruffwear dog bed and gave it three paws up! It fit his 80 pound body just right and gives all the support he needs for power naps.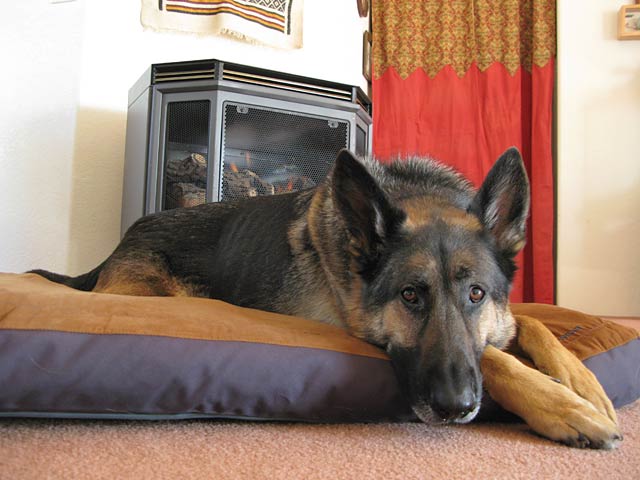 For Large and Extra Large Breed Dogs (Headrest Edition) Big Barker dog beds are made with 7″ of superior quality American-Made foam. Specifically designed to completely support every nook and crevice of a big dog's body. Your dog will not sink into this bed.
"(The Big Barker) is an 'investment' but I've spent that many times over trying to get a good bed for my dogs and they don't retain their shape or support AND this bed is made for bigger dogs." ~ Tripawds Member Benny55
Orthopedic Dog Beds for Surgery Recovery
Choose from this selection of orthopedic dog beds for comfortable rest during recovery and for years to come. These plush yet firm beds are recommended since they will not bunch up, making it easy for recovering dogs to get comfortable without stumbling on unstable bedding.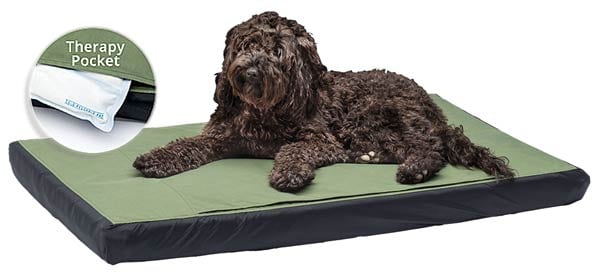 Veterinarian-Recommended Komfy K9 Dog Bed
The Komfy K9 Dog Bed is recommended for its unique design, with the highest quality foam and air inflation, providing maximum therapeutic comfort and support for any dog—especially during amputation recovery.
Tripawds Komfy K9 Dog Bed Review
"Our techs Komfy K9 beds especially for dogs that have had painful surgeries, older arthritic pets, and pets that are not mobile. They are easy to clean, and to change out the machine washable cover —Wignall Animal Hospital, Dracut MA
Midwest Quiet Time Double-Thick Ortho Pet Bed

To restore tired, aching hips, joints and muscles, canine professionals and veterinarians recommend the even, supportive comfort of an orthopedic bed. The Quiet Time™ Double Thick Ortho Dog Bed is the superior comfort and therapeutic rest your dog-tired dog requires.
---
Pet Dreams Ortho-bliss Memory Foam Dog Bed
This super squeezable bed is loaded with features that you and your pet will love. Pet Dreams' Orthopedic Memory Foam Bed is filled with 100% Recycled Memory Foam Chips. Good for the environment and easy on your wallet.
---
Snoozzy Mattress Dog Bed
The Precision Pet(R) SnooZZY(R) Mattress Dog Bed features a classic style with a luxurious plush fabric and tufted stay-in-place 100% polyester filling. This designer dog mattress has a non skid backing and fits most crates. The SnooZZY(R) Mattress Dog Bed is 100% machine washable making it both stylish and durable. Features: Luxurious Plush Fabric Tufted stay-in-place 100% polyester filling Non-skid backing Fits most crates 100% Machine Washable Perfect for both dogs and cats.
---
Kuranda "Chew Proof" Dog Bed

The Kuranda dog bed with optional fleece pad is for dogs who chew on stuff. This bed's unique design tucks the fabric panel inside a PVC frame – safely hidden away from teeth. Practically eliminates chewed edges and keeps your dog up and off of hard, cold surfaces. The fabric is a 40 ounce vinyl. This material is Kuranda's most durable fabric and is preferred by many animal shelters and kennels. The 40 ounce vinyl is a smooth, non-porous fabric similar to that used for truck tarps and gym mats. Easy to clean and ideal for outdoor or indoor use. The XL and XX-large sizes are reinforced with steel rods for greater support…more
Thermoregulating Dog Beds and Crate Pads
Ever wonder why some dogs prefer to lay on cold hard floors instead of a big comfy dog bed? Many recovering dogs will seek out a cool spot for comfort. Cool surfaces feel good on achy bones, and they help with post-amputation pain management relief too. Check out the following thermoregulating dog beds and cool crate pads for more information.
Cool Bed III Cooling Pet Bed
Keep your pet cooler than ever with the new Cool Bed III. Simply add the recommended amount of water through the easy fill cap and burp with the new easy air adjustment valve. A unique Cool Core then diverts the liquid throughout the bed for advanced cooling power. No electricity is required. A nylon/vinyl exterior provides strength and durability, making this dog bed the perfect choice for owners looking for a comfortable, dry, and cool place for their pets to relax, both indoors and out.
---
Canine Cooler Brand Thermoregulating Pet Bed for Dogs
The Canine Cooler Brand Thermoregulating Pet Bed will give your dog a constant cool spot in summer, relief from furnace and fireplace heat in winter, and cushiony support for vulnerable joints all year. It is non-electric, non-toxic, paw-puncture proof, and easy to clean. Fleas hate the cool environment but dogs love it.
---
K&H Thermo-Bed Heated Ortho Dog Bed
The unique dual thermostat in the K&H Thermo-Bed Heated Ortho Dog Bed maintains an even surface temperature of 12-15 degrees above ambient air temperature and to your pet's normal body temperature when in use. With two thick layer of orthopedic foam you can be sure that the K&H Thermo-Bed Heated Ortho Dog Bed will provide comfort and support to even the largest dogs. The K&H Thermo-Bed Heated Ortho Dog Bed's heater is removable as well for easy care and washing.