We talk about cat and dog rehabilitation therapists (physios) a lot around here. That's because these skilled veterinary physical therapists are so helpful for a smooth amputation recovery. But how do you know a good animal rehab practice from one that's just OK? Here are some guidelines to consider when searching for a therapist who can help Tripawd dogs and cats.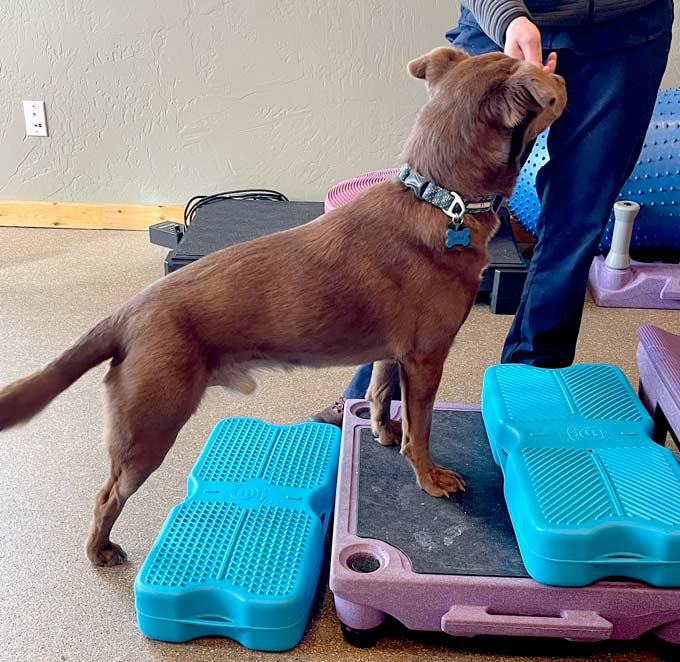 What's This Thing Called Rehab Therapy for Cats and Dogs?
New amputee humans are never sent home unless they work with a human physical therapist during their hospital stay. Your Tripawd needs rehab therapy too. Why? Because these experts promote better and more comfortable movement. They know how to give hands-on amputation recovery massage, gentle stretching, and treatments like cryotherapy.
Many animal rehab therapists started in the human medical field. Today, both veterinarians and veterinary technicians can get certified in animal rehabilitation therapy. There are three credentials in the field. "CCRT" (Certified Canine Rehabilitation Therapist), "CCRP" (Certified Canine Rehabilitation Practitioner), and "VMRT" (Veterinary Medicine Rehabilitation Therapist designation just for licensed veterinarians). These initials indicate that a practitioner trained in modern, proven techniques.
We encourage everyone to meet with a certified cat or dog rehab therapist. This is because therapy makes amputation surgery recovery so much easier. When you know how to help your Tripawd build strength and stay injury free, you feel better about the future. This is why Tripawds Foundation rehab reimbursement grant exists. We want you to know how help your Tripawd live better.

3 Ways to Find Good Cat or Dog Rehabilitation Therapists (Physios)
Cat and dog rehab therapy is growing fast, and that's a good thing. But how do you know a great animal rehab therapist from a not-so-great one? Finding a good cat or dog rehabilitation therapist is even trickier than finding a medical doctor for yourself. Veterinary rehab therapists tell us these are things that set great animal rehabilitation therapy practices apart from the rest.
1. Look for a Credentialed Therapy Team
Choose animal rehabilitation therapists with the CCRT, CCRP, or VMRT credentials. These trained practitioners received the most current training for animal rehabilitation therapy and pain management protocols. Just like human physical therapists, they also take ongoing extended education in order to keep their credentials.
2. Choose Animal Rehab Clinics with a Veterinarian On the Team
The gold standard cat or dog rehab therapy center has a veterinarian with therapist credentials. Clients essentially get two experts for the price of one. Veterinarians with animal rehab credentials can prescribe pain medications. They more easily know when a mobility problem can't be solved with rehab alone. Issues get treated faster than if you waited for your therapy team to refer to your veterinarian.
Choosing a therapy team who works with an off-site veterinarian is fine too. It's not legally required that practices work with veterinarians, but it's a best practice for animal rehab centers.
3. Great Cat or Dog Rehab Therapists Offer Multiple Modalities
Your ideal cat or dog rehab center has many ways to treat pain and mobility issues. A "Modality" is the method used to treat the animal. Examples include acupuncture, massage, or hands-on stretching. A physio who only offers one rehab method, like hydrotherapy, only offers a one-size-fits-all approach. The more modalities for patients, the better.
BONUS #4: The Best Cat or Dog Physios are also AAHA-Accredited Clinics
Talk about the gold standard animal rehab practice. If you find rehab therapists in vet clinics accredited by the American Animal Hospital Association, you can rest easy. Your Tripawd is receiving the most modern care possible.
Other Signs of Great Cat and Dog Rehab Therapy Clinics
Good veterinary rehab therapists want to know you and your Tripawd. For instance, they ask things like:
Describe what quality time looks like for your Tripawd. What are their favorite activities?
What are your main goals for your Tripawd? Is it weight loss? Going on more family outings? Doing agility?
How much time can you spend each day with your Tripawd's rehab exercises at home? Would you rather pay the the therapy team to do them with your dog?
Can you and your Tripawd visit the practice weekly? Bi-weekly? Monthly?
A qualified therapist assesses your Tripawd's health. They do this by looking at your pet's strengths, and areas that need work. And then they explain their findings to you. Good physios also also send pet parents away with homework. For example, they provide at-home exercises, tools, and tricks to track their Tripawd's progress over time. In conclusion, don't settle for anything less.
No Cat or Dog Physio Therapist Nearby?
If you live in a remote area, fear not. You have options!
Why Tripawd Rehab Therapy Makes Life Easier on Three
Tripawd physio is the best thing you can do for a new Tripawd. For instance, you learn important things like how to prevent injury in remaining limbs. Don't wait to find out the hard way. Check out these directories to find the best cat or dog rehab therapist for your Tripawd:
Search the Canine Rehab Institute Certified Canine Rehab Therapist (CCRT) Global Directory
Or, the Univ. of Tennessee Certified Canine Rehab Practitioner (CCRP) Global Directory
Also see the American Association of Rehab Veterinarians and Vet Techs Global Directory