Strollers for Tripawds are such a great idea. And the Aosom Dog Stroller with suspension is one of the best yet. Here's why we think it's a great idea for our 3-legged hero dogs!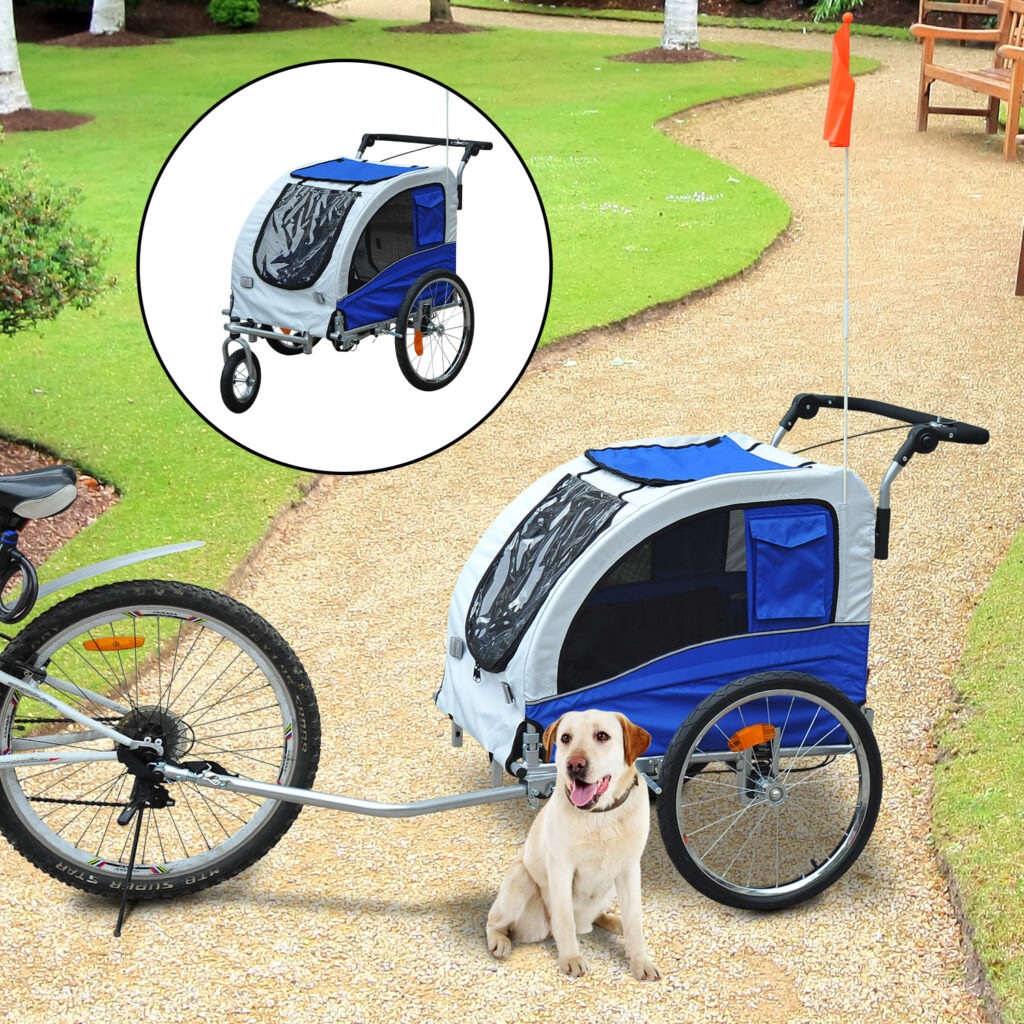 Dog strollers are a great idea for all Tripawds. They allow your three-legger to go on longer walks with you and the pack. Your Tripawd can hop in for a ride to the park. Then they can get out, run around, and when they're tired, hop back in for the ride home. Or they can ride a little and walk a little on an ordinary stroll around the neighborhood.
So far our favorite dog buggy has been the Solvit HoundAbout Big Dog Stroller / Bike Trailer. It's the one we bought for Tripawds Spokesdog Wyatt Ray. We love how it opened up his world when osteoarthritis and age shrunk it down. The Solvit is one of the few dog strollers made for dogs over 80 pounds, and it has many great features we love. But one thing it doesn't have is suspension!
Why Aosom's Dog Stroller with Suspension is Pawesome
We first heard about the Aosom Dog Stroller / Bicycle Trailer from Marley's people This big ol' senior pup is from Vancouver, Canada. At twelve years old, he's at that age when he can use a bit of help getting around. His mom Marleen bought the Aosom stroller, and told us that he loves it! We can see why. Because this stroller has suspension, it gives Marley a smoother ride which is nice on his joints.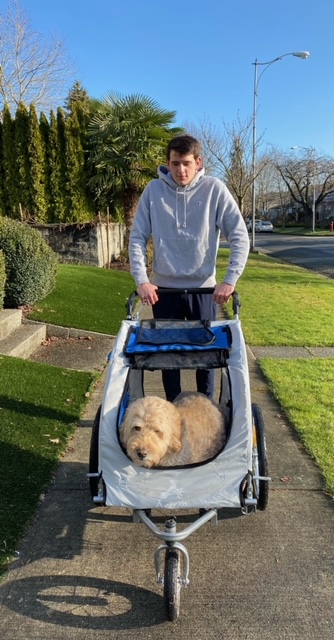 Features of the Aosom Dog Stroller with Suspension
Here's why we think this dog stroller and bike trailer will rock your Tripawd's world!
2-IN-1 DESIGN: You furry friend can ride in style with this pet trailer! Use it as a jogging stroller that you can push as you run. Or attach it to your bike as a bike trailer for a cycling adventure.
KEEP YOUR PET COMFORTABLE: This dog trailer is made with oxford fabric and a steel frame to keep the trailer stable. The trailer includes a canopy to keep your pet dry and shaded.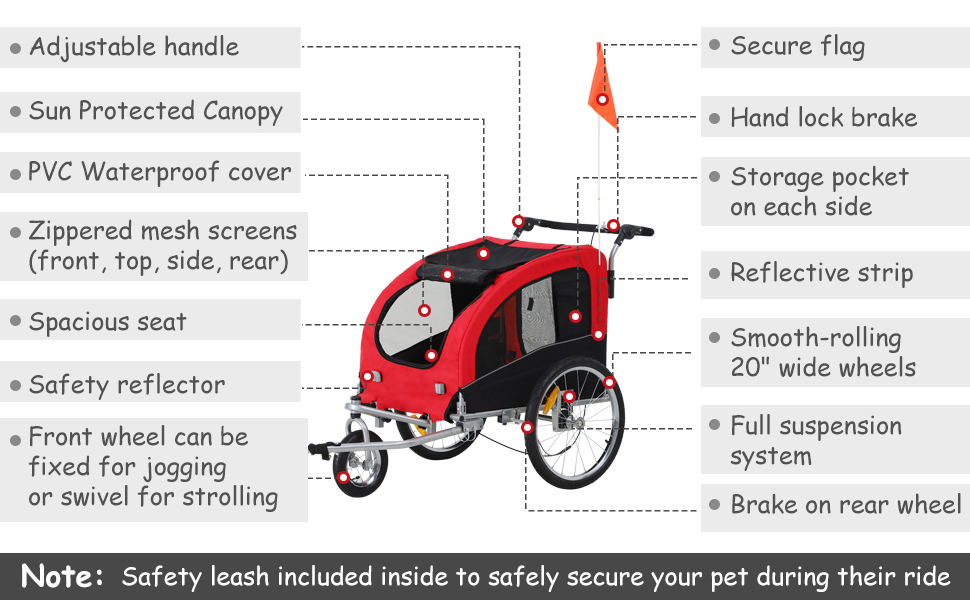 EASY ENTRY AND VENTILATION: Let your pet enjoy the breeze with the roomy sunroof on the pet bike trailer! Your pet can easily enter through the zippered front and back door and stick their head out.
SMOOTH RIDE: Keep your dog bike trailer securely in place with a convenient and built-in hand-lock brake system. Two 20″ rear wheels and a 360 degrees swivel universal front wheel provide a smooth ride. An attached flag provides high visibility in traffic and low-light conditions.
EASY TRANSPORTATION AND STORAGE: The pet stroller includes quick release wheels that can fold flat for easy storage and transportation. The stroller can also stand upright to create a compact design that doesn't take up a lot of space.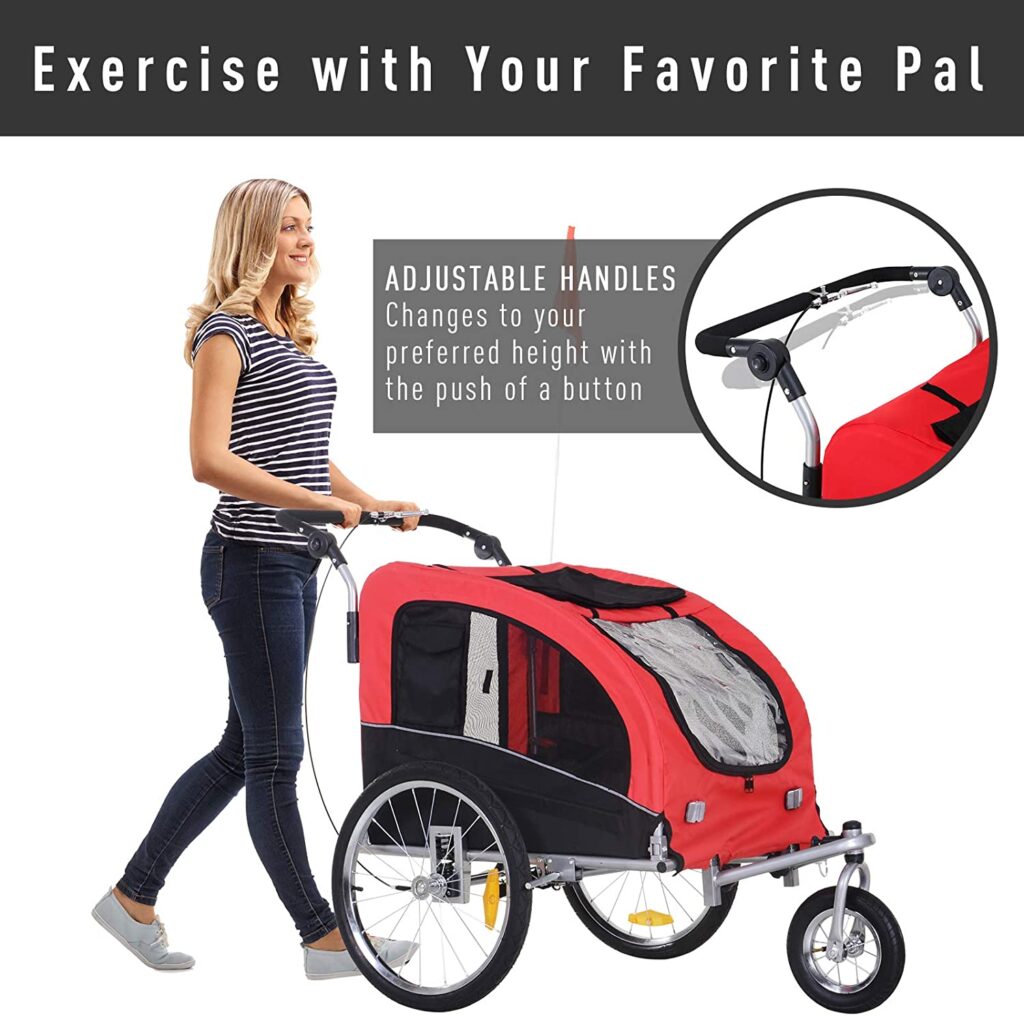 This convertible pet bike trailer/ stroller is a great way to maintain an active lifestyle for you and your pets and can be ready to go in minutes. The mesh zippered screen on the front and back and the meshed windows on the side allow for maximum airflow for your pet. Exciting biking and outdoor adventures don't have to stop when your pet gets older.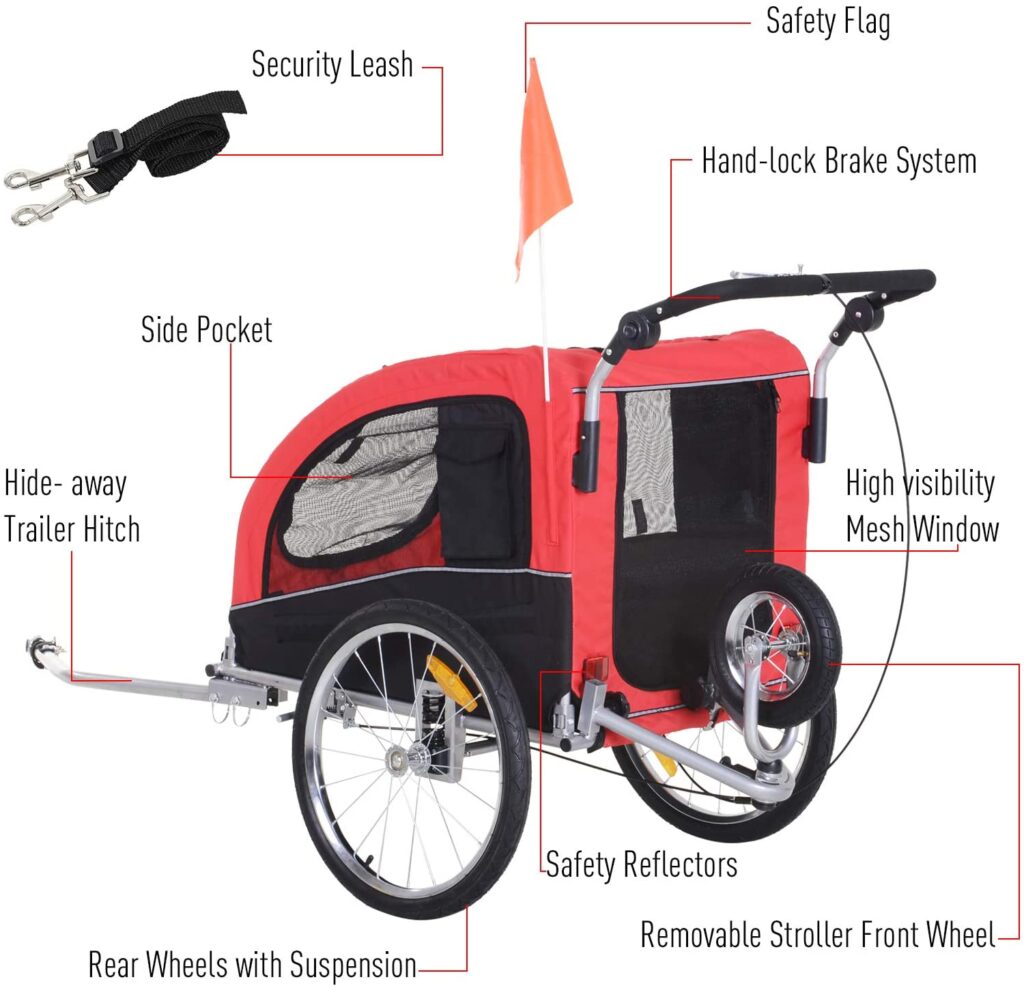 With this pet trailer that you can hook up to your bike, you just put your pet inside and you're off. The removable weather-resistant canopy will help keep away wind, rain, sun, and road debris.
Have you tried a dog stroller or trailer for your Tripawd?
If so, share your experience with us. If you have a favorite model, let us know what it is so we can share with the community!