When Ruffwear introduced the Flagline Harness last Fall, we knew they were onto something special. And as you can see, Admiral Nelson James' Flagline Harness Review proves it!
Here's what his mom, Kat Endert, had to say about how the Flagline Harness works for her three-legged dog.
A Great Option for Front Leg Tripawd Nelson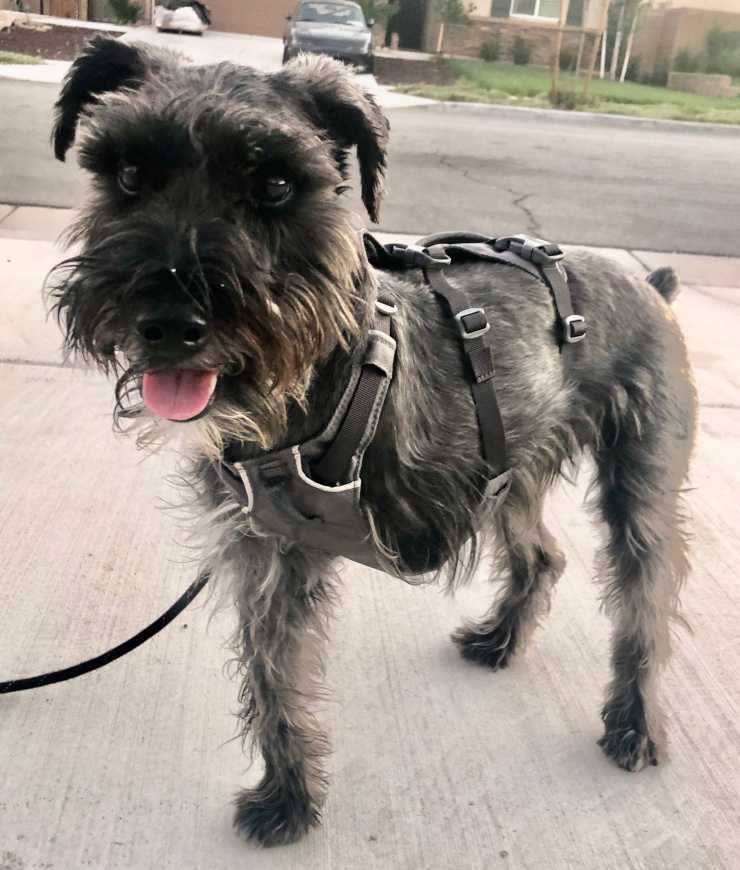 We have been using the Webmaster harness with our front paw tripod Nelson for three years now, a recommendation of Tripawds when we first adopted him.
We were made aware of the the new Flagline harness again through Tripawds and decided to try it as we had found that lifting Nelson's body and paw to put on the Webmaster was inconvenient at times.
We ordered the Extra Small size in Granite Grey for Nelson, a 15lb miniature schnauzer.
Lightweight and Easy to Use
Our first impression on taking the Flagline harness out of the package was how lightweight it was compared to the Webmaster.
The buckles on the extra small size Flagline are also smaller than on the extra smal Webmaster. This adds to the lighter weight and ease of using the harness.
We found using the Flagline to be a simple and quick process.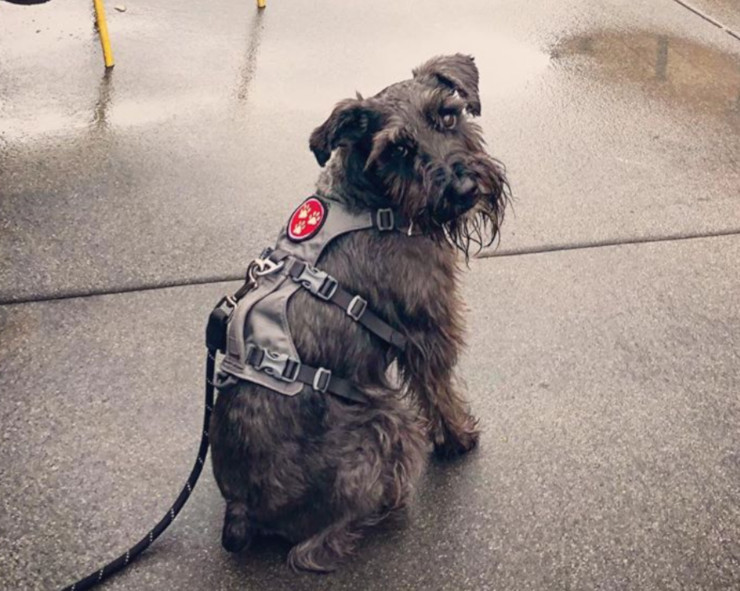 Overhead, slip-on design is a shining star!
The shining star for the Flagline is having the availability for the harness to be slipped over the head while keeping all paws on the ground.
It also is less complicated to use for those who are not familiar with these types of harnesses.
Even though lightweight, the Flagline provides a safe and secure harness for him while out on walks.
It has taken a few days to find the right adjustment for his size due to the fact there are six points to be adjusted on the harness and we found it to slide to his side easily.
Fits like a glove.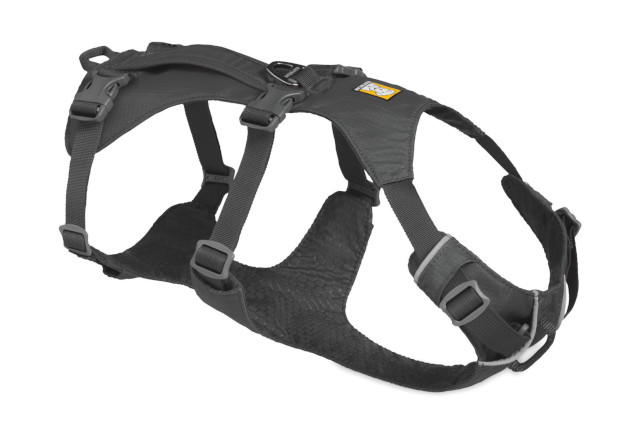 Once we found the perfect adjustment, the Flagline fits Nelson like a glove. Being able to keep all three paws on the ground keeps his balance and makes the placing of the harness a positive experience for him.
We are thrilled with this new product. It will work wonders for many other front paw tripod animals.
Follow Nelson's Adventures on Instagram!
Send your Flagline Harness Review
If you have tried the new Flagline harness by Ruffwear, why not send us your full review too? After all, we count on the community to let us know what works and what doesn't for our heroes.
Contact us with your Flagline harness review or other Tripawds Gear product of at least 250 words, a couple of photos and/or video, and we will send you a free thank you gift!