Imagine: a Tripawd fitness class that's as close as your computer? Now, you don't have to!
A Tripawd Pet Parent's Commitment
As you'll discover in our e-books, we parents of amputee animals have a huge responsibility. Helping our Tripawds avoid injury means carefully monitoring their activity level, weight and overall fitness.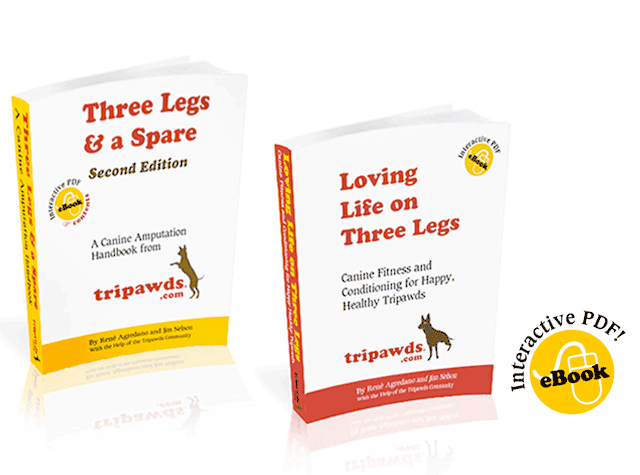 But where do we begin? First, establish a relationship with a rehabilitation therapist. We think it's so helpful that the Tripawds Foundation will pay for your pet's first rehab visit with a credentialed practitioner!
If you think you don't live near a therapist, don't worry. Reach out to us! We can often find credentialed rehab practitioners with the all-important "CCRT" (Certified Canine Rehabilitation Therapist") or "CCRP" (Certified Canine Rehabilitation Practitioner") letters after their name.
And when we cannot, there is now a downloadable self-study course any Tripawd parent can get, Conditioning and Concerns of the Tripod Dog.
A Tripawd fitness class you can do at home!
We are so excited to announce the availability of Conditioning and Concerns of the Tripod Dog. It was originally a month-long online Tripawd conditioning class taught by the therapist who literally wrote the book on canine rehabilitation therapy, Debbie Gross Torraca, DPT, MSPT, CCRP,CCMT, Board-Certified Orthopedic Clinical Specialist Emeritus Owner and Founder of Wizard of Paws Physical Rehabilitation for Animals.
Conditioning and Concerns of the Tripod Dog Overview
In Debbie's course you'll learn about things like:
The Important of Balance and Proprioceptive Exercises
Beginning with the Basic Exercises
Additional Health Considerations of the Amputee
Activities and Exercise Programs for Foreleg and Rear Leg Amputee Dogs
And much more! Check out the full syllabus here.
We had so much fun when we took the course for Tripawds Spokespup Wyatt Ray. We learned things like:
Tripawds weight shifting exercises
How to help Wyatt master the FitPAWS Peanut
Different Tripawd fitness class exercises on the FitPAWS Balance Disc
And so much more!
For just $50 USD, this class is available to anyone, 24/7. Visit the Conditioning and Concerns of the Tripod Dog class website for details today.
And when you need to shop for Tripawds class supplies, we hope you will visit the Tripawds Gear blog post "The Tripawd Conditioning School Supply List" for everything you need. Every purchase helps our community, so thanks for your support!