All dogs and cats need mental exercise for health and happiness. Today we have some gentle Tripawd recovery games for dogs to help break the boredom of waiting for stitches to come out.
There is nothing to buy, you have everything you need to play these games with your recovering Tripawd dog! All four activities are brought to you in a guest blog post by dog trainer Steffi Trott of Spirit Dog Training in Albuquerque, New Mexico.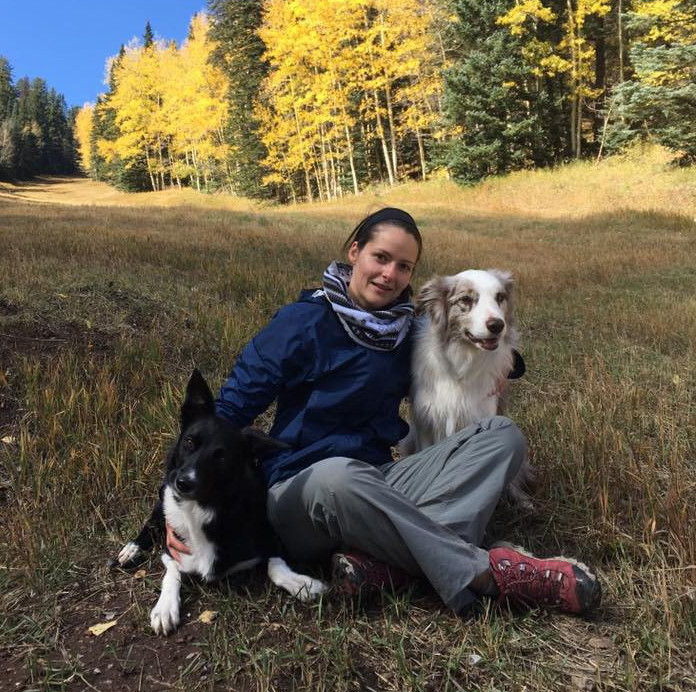 Let's Play! Gentle Tripawd Recovery Games
Being a Tripawd does not mean not knowing how to have fun, as you well know. Especially after the amputation it is important to keep your pet's spirits high and his mood happy by playing as much as possible with him. Play will keep his body agile and his mind content, and it will give both of you a wonderful time to bond.
Not all games and toys are suitable for our three-legged friends, however. Some tricks or exercises that a four-legged dog can do are plain impossible for our Tripawds.
As a dog trainer, I encounter the challenge of adapting dog training games to Tripawds every now and then. Here are some of the games I have found they love to play!
Please note that every dog's individual abilities will differ. Depending on his physical condition and capabilities you might want to further adapt the ideas in this article. Keep in mind that the goal of all play is to have fun.
Playing should have no strings attached. It is the time of the day during which your dog can be himself and enjoy games with you! If you sense that your dog struggles, make it easier. As always the following saying holds true:
"The best trainer is the one whose dog is having the most fun."
The Cup Game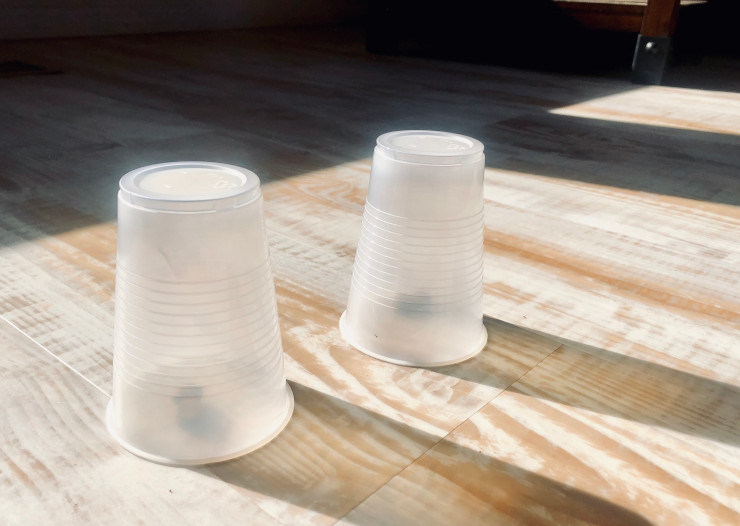 Take a plastic cup and hide a treat underneath it. Make sure your dog watches you. Now let him figure out how to get the treat out from under the cup.
There are many different solutions for this problem: Some dogs use their nose to scoot the cup, others knock it over with their paws or pick it up with their mouth.
If your dog gives up quickly, you can help him by lifting the cup and pointing out the treat to him. If he really struggles, you can put the treat underneath the rim of the cup for the first couple repetitions so that he understands that he can get to it by moving the cup in some way.
As he advances in this game, use several cups and only put treats under some of them!
Paper Towel Roll Fun
Take a paper towel roll. Put some treats inside it. Now stuff paper towel into the roll on both sides of the treats, so that the treats are held in place by the paper towels.
Give it to your dog and watch him figure out how to remove the paper towels to get to the treats! The better he gets at this game, the tighter you can stuff the paper towels.
With a dog just starting out you want to stuff them loosely and perhaps let some hang out of the ends of the roll so your dog understands where to grab with his mouth.
Note: As with all games, you should always supervise your dog while he works on this puzzle to make sure that he does not ingest any paper towels.
Cushion Crushes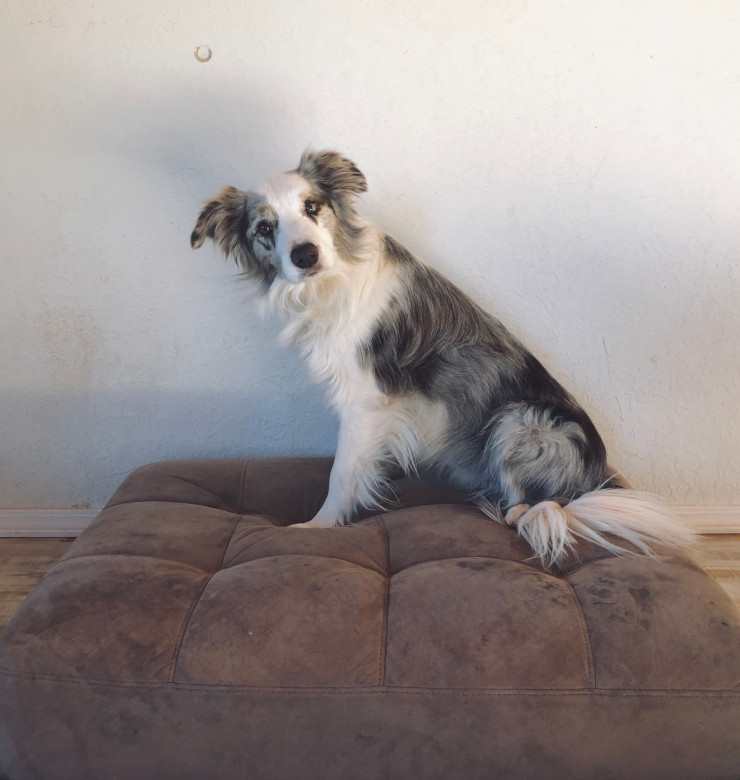 Take a big cushion that your dog can comfortable stand on. For a small dog this can be a couch pillow, for a larger dog you can use a couch cushion. If you have a spare mattress you can also use that.
At first, just have your dog step on and off the cushion. It is slightly unstable and will challenge him to balance on three legs.
As your dog gets comfortable stepping on and off the cushion you can include some little tricks once he stands on the cushion, such as asking him to sit or lie down. Make sure that you give him plenty of treats for every successful task.
This game will challenge his balance as a Tripawd and help him gain new coordination skills!
Which Hand?
Take treats in both hands. Now sit in front of your dog, hold out both hands and decide which hand he is going to get the treats from. The only clue you will give him is looking at the hand you chose.
At first you might have to stare really intensely at your dog, at the hand and back at your dog and perhaps move your head towards the right hand. When he understands and approaches the correct hand, open it and let him have the treats.
Over time he will get better and better at following your gaze and you can use very subtle looks to let him know which hand to pick. The more you play this game, the better your dog gets at following your eyes.
Pup-Sicle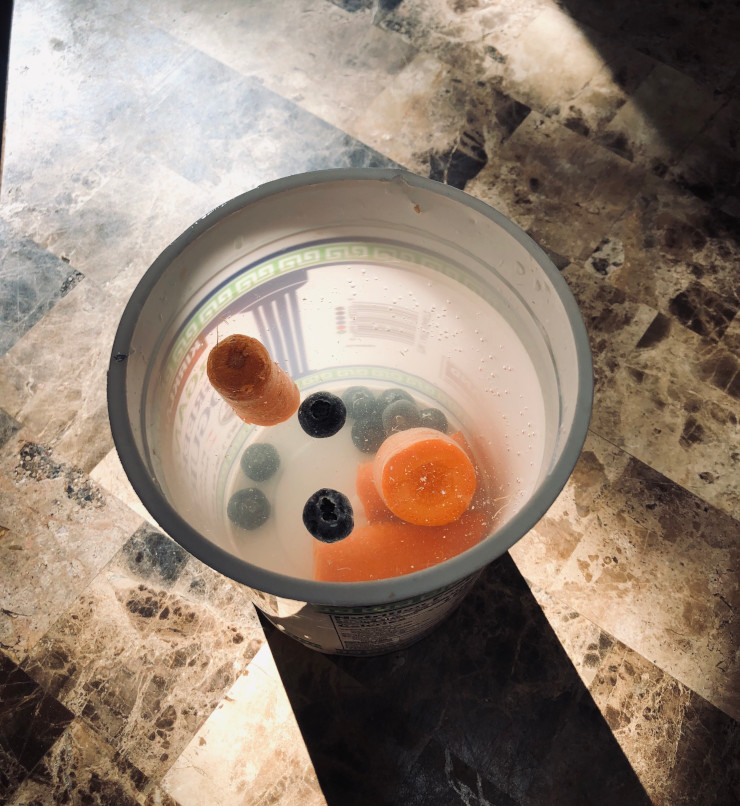 Take an empty yoghurt container. Fill it with some thin, low-sodium chicken broth.
Now you can get creative: We want to give our dogs some new culinary experiences by including a bunch of interesting foods from our fridge – such as apples, bananas, berries, cheese etc.
Check out my blog post "Using Human Foods as Special Treats" for ideas! Cut them up in small pieces and put them in the chicken broth.
Freeze the yoghurt container with the chicken broth and pieces and give it to your dog as a frozen treat. He will love to lick and chew it. This is a game that is especially nice for hot summer days!
Roll Out The Carpet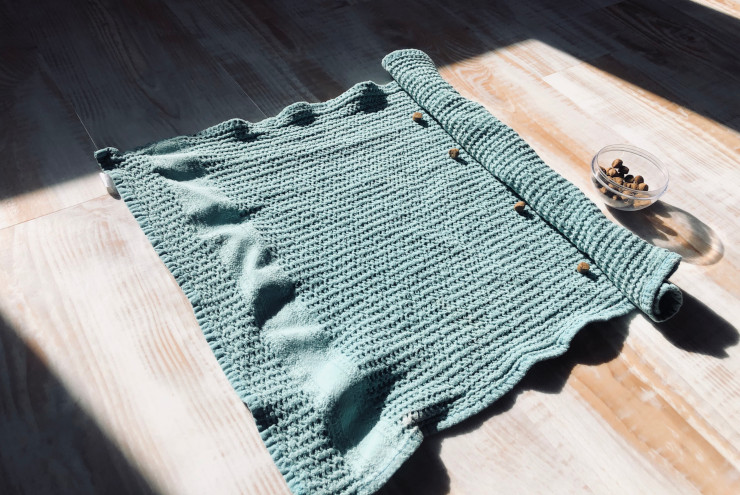 Take a towel and put it flat on the ground. Now put some treats at one end of the towel and fold the towel over the treats. Put more treats at the end and fold the towel over these as well. Roll up the entire towel this way – you want to create a roll just like a rolled-up yoga mat.
Now show it to your dog. He will try to get to the treats and use his nose to unroll the towel a bit. Treats appear and he can eat them! He will unroll it more.
Through this approach you can teach him how to roll out an entire towel (or a small carpet) with his nose. A fantastic thinking game for your dog!
Play Time is Happy Hour
Playing should be the best part of your dog's day. Reserve these games for your dog's prime time: The hours of the day during which he is the most active. For many dogs this is either in the morning after waking up or in the evening during sunset.
If you play with him every day at the same time he will soon expect his Happy Hour, get excited and look forward to your time of playing and training together.
Happy Playing!
For more information about Steffi's in-person, fun online dog training classes and other gentle Tripawd recovery games, see Spirit Dog Training.
More Brain Games for Dogs Ideas
Best Interactive Pet Games
How to Exercise Young, Recovering Tripawd Dogs and Cats