If you have a new amputee dog or cat and your home has stairs, don't panic. There are simple ways to help your Tripawd on stairs.
How to Help Your Tripawd on Stairs
Front-leg and rear leg amputee dogs and cats both have challenges when it comes to using indoor or outdoor stairs. During the early days of recovery it's best to block any stairs inside or outside of your home.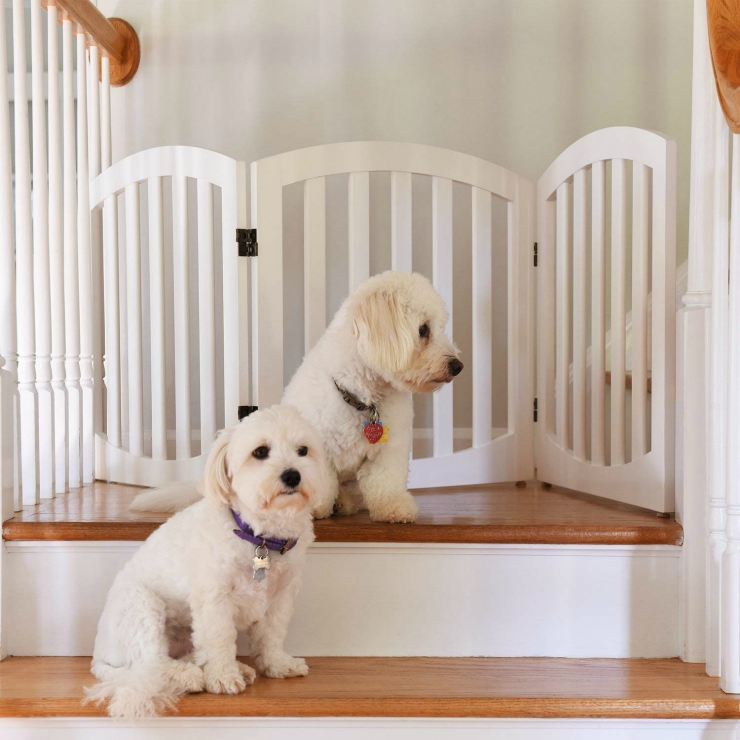 Consider installing pet gates for amputation recovery to keep your pet safe and away from staircases.
Try to keep your cat confined to a stair-free area of your home until they are strong enough to do stairs (usually when stitches come out).
Front Leg Tripawd Dogs and Cats on Stairs
Once stitches are out, take things slow. Front leg amputee pets may discover that going down stairs is scarier than going up. They carry more weight on their front ends, which makes them extra cautious about descending.
Good thing you can do a few things to help a front leg Tripawd down stairs.
Jerry had to use 18 uncarpeted stairs whenever he wanted to go outside. We weren't going to take chances on him falling, so he wore his Ruffwear Webmaster harness all day.
By keeping one hand on the handle of a recommended Tripawd dog harness, we kept him safe.
Rear Leg Tripawd Dogs and Cats on Stairs
When we adopted Tripawds Spokesdog Wyatt Ray, we learned that going up stairs is harder for rear-leg amputee pets. Cats and dogs both have powerful leg muscles and one less rear leg makes it harder to climb stairs and jump.
Carpeted Versus Un-Carpeted Slippery Stairs in a Home
If you just have one or two steps in your home, amputee pets should be able to handle them just fine. Just make sure to add traction to your stairs if they are not carpeted.
Most dogs and cats can handle stairs with carpet. But, if your home has hardwood or slippery stairs, it's safest to keep your Tripawd away from stairs indefinitely if you have an amputee dog. If that's not an option, you can make them safer with a product like Puppy Treads, or staircase carpet runners.
You can see how this front leg amputee dog is hesitating on slippery stairs.
As for cats, well, we aren't sure anyone has been able to keep a feline away from stairs after recovery. Just see how Purrkins the Tripawd cat tackles stairs.
Tripawd cats generally do better on stairs than Tripawd dogs. Sssh, don't tell the canines in our community!
Have you found a unique way to help your amputee dog or cat with stairs? If so we want to know about it! Be sure to comment below.