Asking your dog to step into Tripawd fitness by walking over a row of poles on the ground is such a simple, but powerful concept when you have the CanineGym® Dog Agility Kit in your toolbox.
A Fun, Tripawd-Friendly Workout for Everyday Fitness Games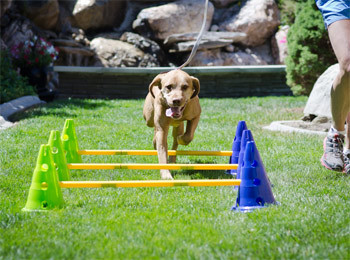 Officially known as "cavaletti poles" in the agility world, the CanineGym® Dog Agility Kit is one of the best ways to step into Tripawd fitness for a workout that will:
strengthen hind limbs, front limbs and core
improve body awareness and gait movement
help improve balance
You can set it up in many different configurations for various purposes.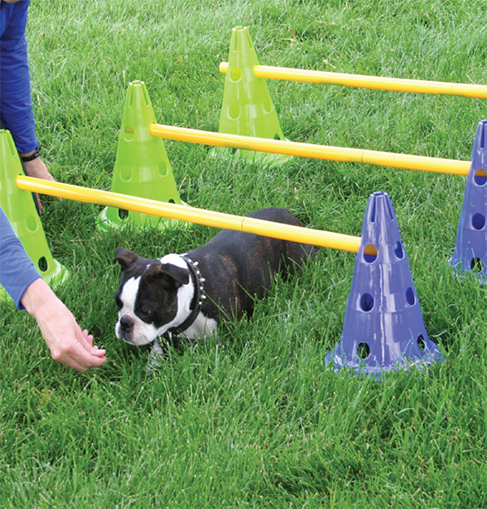 Change up the distance and height of the poles, depending on your Tripawd's body type and what you'd like to accomplish. For example:
Increase distance between rails to improve your Tripawd's stride length. Just make sure the rail isn't higher than your dog's hock.
Boost your Tripawd's range of motion by putting the rails above your dog's hock. Then, ask her to step over the rails.
Rear leg and front leg Tripawd dogs of all ages benefit from this cavaletti exercise kit. Even cats can get a good workout if they are good leash walkers.
Here's a helpful FitPAWS video that shows you exactly what to do with the CanineGym® Dog Agility Kit once your Tripawd has been cleared for activity by your vet:
Get CanineGym® Dog Agility Kit Savings During National Canine Fitness Month
You can buy the buy the CanineGym® Dog Agility Kit separately, or save when you take advantage of our National Canine Fitness Month Promotion.
The 3-in-1 Tripawd Canine Fitness Kit includes everything you need to get your dog started on a strength training program. You save $25 by purchasing these items as a bundle instead of separately. Each kit includes instructional DVDs and: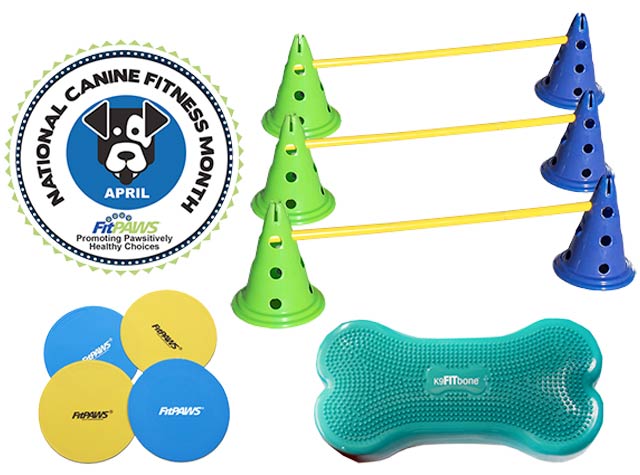 Bundle includes:
K9FITbone®, Regular Size in Aqua
and the CanineGym® Gear Agility kit
When you purchase a FitPAWS National Canine Fitness Month package, we know you and your 3-legged hero are gonna have fun getting into shape!
Send us your Tripawd exercise photos, we always love seeing how our Tripawd heroes are working out.