It's our dream that every Tripawd can live a strong, healthy life. That's why we are so hoppy to kick off another National Canine Fitness Month with FitPAWS® Gear savings!
Get in Shape, Tripawd Soldier! It's National Canine Fitness Month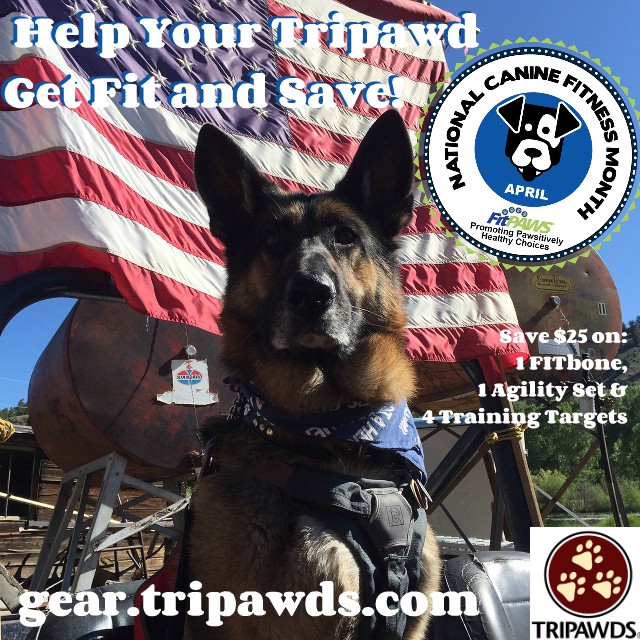 Ever since Tripawds Spokesdog Wyatt Ray was a wee pup, he's worked out daily with FitPAWS Canine Conditioning Gear. Along with guidance from his rehabilitation therapy team, these balance games and endurance exercises have made the biggest impact on his mobility and stamina.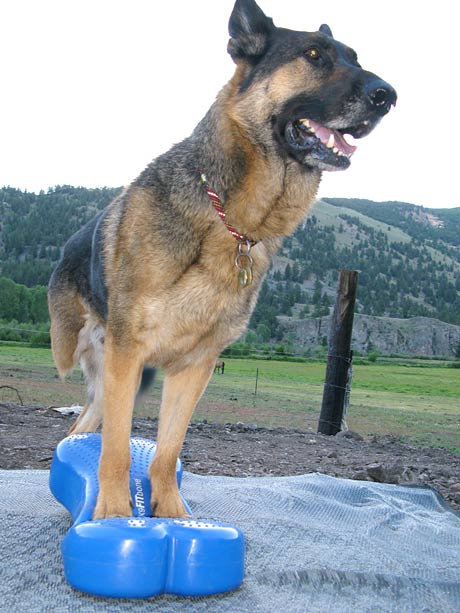 Ready to get your Tripawd dog on the road to strength and stamina? First, make an appointment with a canine rehabilitation therapist. These experts can assess your pup for the areas they need to strengthen, and show you the best ways to do it. The Tripawds Foundation may even pay for your first consultation with a therapist, thanks to the Maggie Moo Fund for Tripawd Rehab!

Save on the Tripawd Canine Fitness Kit Home Gym
Next, pick up a 3-in-1 Tripawd Canine Fitness Kit. This special FitPAWS workout package includes everything you need to get your dog started on a strength training program. You also save $25 by purchasing these items as a bundle instead of separately. Each kit includes instructional DVDs and :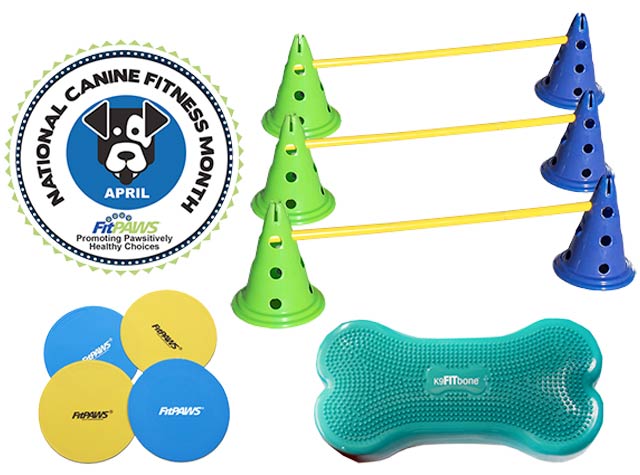 K9FITbone, Regular Size in Aqua
The 20″ size K9 FITbone is an easy way to give your Tripawd instability training to develop core strength, endurance, proprioception, balance and flexibility. Provides a low–impact, platform to add full–body conditioning and toning for small and large dogs. The sensory bumps also give neural stimulation for an extra mental challenge. Adjust the difficulty by adding more or less air to the platform.
Try cavaletti exercise games for gentle agility movements with your Tripawd. Develop a stronger bond, confidence and self-awareness. Good for dogs of any size and age, the kit breaks apart for on-the-go convenience and is great for indoor or outdoor fitness.
Includes:
Six, 12-inch cones in blue and green. Each features. three height adjustments.
Three  collapsible, interlocking yellow jumping rails
Training targets are useful to teach your dog limb awareness, sit-in-place commands and even to help your dog get used to FitPAWS equipment. This set comes with two blue and two yellow targets — the colors dogs see best. They are 10″ in diameter and a fun way to develop a stronger bond together.
Your investment will pay off over the course of your Tripawd's lifetime. Get your Canine Fitness Month Exercise Kit today!
Every purchase made in the Tripawds Gear Shop helps support the community. Thanks for shopping with us!