Gentle agility games are one of the best ways for a Tripawd to stay fit without risking injury. You'll exercise your dog's mind and body while strengthening your relationship as you tackle fun challenges made for your three-legged dog.
In this last of our series about staying fit with Maggie the Agile Cow Dog, she demonstrates the homemade agility course that keeps her busy.
Below, Maggie's mom Tracy tells how to build it. Take a look!
Maggie's Mini-Obstacle Routines for Tripawds
by Tracy Snow-Cormier
Low Jumps: No higher than wrist height. I have chosen 8-inch height for Maggie and that works well even though she can jump higher, it's not safe for her to do so in my opinion.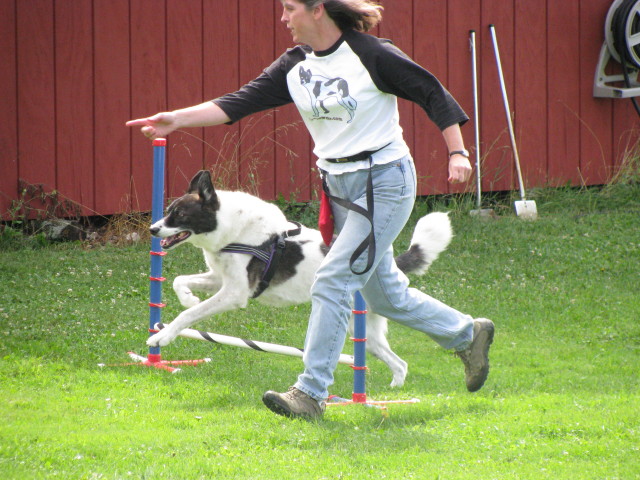 Short tunnels: These are made out of leaf compost bags you can get on Amazon. Just cut out the bottom. The largest diameter I could find at a reasonable price are 22 inches. Maggie is over 25 inches tall so she has to squat a bit but they are short so not hard on her to do.
Perch. Can be made simply out of a piece of log end cut off a large diameter tree. But also could use a thick book like a dictionary. No more than 2 to 3-inches thick.
Ramps/Table: These are old training tools I used to use for agility training but now are used for rehabilitation obstacles. Just paint a couple of 1 foot wide boards approximately 5 to 6 feet long and prop up on a stable surfaced table. The boards are painted and sanded to give a traction surface so the dog doesn't slip.
Hoops: These are also from Maggie's agility days and were actual obstacles from agility in the venue we competed in (NADAC). They are also used in Wag It Games. I bought a bunch of hula hoops and then had an agility obstacle builder make the PVC frames for them and just used duct tape to hook them to the stands. There are many variations of exercises one can do with hoops! Highly recommend hoop work.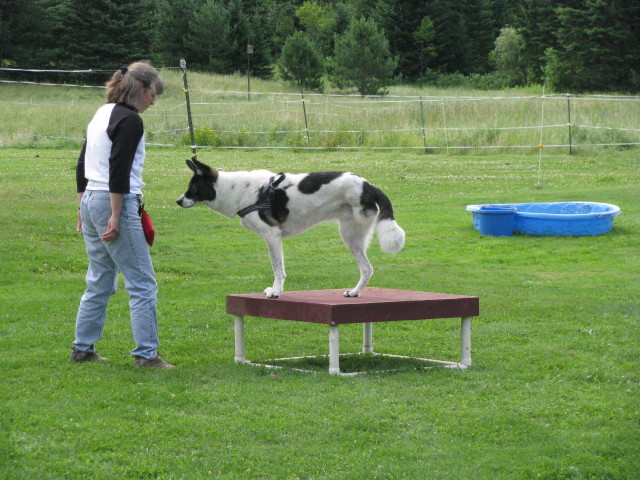 PVC ladder: This is excellent for Maggie to learn where her feet are in 'space'. Great coordination tool for her. It is another Wag It obstacle and also was used for agility foundation training. Mine is home built but can be purchased online. They also have many other obstacles.
Cavaletti's: Another great tool that can be placed in many variations. Can be set closer together than I have them and trot dog thru them as I did in the ladder. Set no higher than wrist height.
Mini-Seesaw: Mine is aluminum training plank I had from agility training. It is 8 feet long and has adjustable legs for two varied heights. Watch how Maggie's tail goes around in a circle as she comes to a stop at the end. She is doing that to balance herself.
Buja Board (also known as a wobble board): This is a 3-foot diameter plywood with a box under it with a hard plastic ball within that box to hold ball in place. (see Tripawds instructions for building your own!)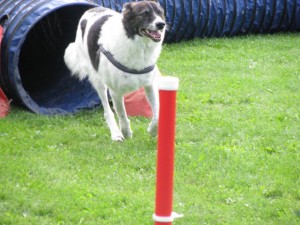 This is a good training tool as well for teaching the dog balance. I consider this a harder exercise for Tripawds. It took Maggie a while to build up to be able to work on this board again after being amputated. I do similar exercises on this as I do on the rehab tools of disc and dome.
Cones: Weaving around cones. Another very good exercise for the Tripawd.
Many thanks to Maggie and Tracy for sharing their fitness tips with Tripawds! They are an incredible, inspiring team and we are thrilled to have them as a part of this community!
Recommended Reading:
Staying Strong with Maggie's FitPAWS Workout
Maggie the Agile Cow Dog Tripawds Blog
Maggie's YouTube Channel
CanineGym Agility Kit Cavaletti Poles
Step into Tripawd Fitness with CanineGym Dog Agility Kit