Cavaletti, or ground poles, are a fantastic and fun addition to your Tripawd's fitness program.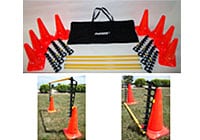 Typically used for gait training by canine rehabilitation therapists and horse trainers, cavaletti poles can help animals learn to walk, correct an abnormal walk, and improve body awareness ("proprioception"), which is especially diminished after a dog undergoes amputation surgery.
The goal of cavaletti high stepping is to:
"encourage extension and provides muscle memory and foot timing. Cavaletti also encourages a dog to steady its rear, thus promoting a clean down and back.  Frequent practice also helps build stamina, for both the dog and handler." – EverythingGolden.com
The FitPAWS Hurdle Set brings this rehab therapy to the Tripawd caregiver, making at-home strength training easier than ever. This exercise promotes coordination, flexibility, and muscle development.
Here's Murphy the Tripawd after his hip replacement surgery. This is a modified cavalettie course for dogs just after surgery recovery.
The FitPAWS Hurdle Set is a completely adjustable and portable dog agility Cavaletti set that includes:
Four 40" jumping bars
Eight highly-visible orange hurdle cones with cut-out holes for additional bar configurations
Eight height-adjustment attachments
Black nylon carrying bag
The bars can be set as low as 2″ off the ground, making it especially helpful for canine rehabilitation exercises and gait training. Later, as your Tripawd gets stronger, you can increase the height.
The entire set fits in the FitPAWS Carrying Bag for on-the-go convenience and weighs under 11 lbs!
Use indoors or outdoors
Height of jumping bar adjusts in 2" increments from 2"-30"
Perfect for easy rehabilitation or more challenging agility training
Lightweight for on-the-go portability
Some assembly required
Remember, always talk to your veterinary physical therapist before embarking on any fitness program. Then, order your FitPAWS Hurdle Set from Tripawds to Support this Community!