Elevated pet feeders seem like a simple way to help your Tripawd eat comfortably, but they sure are a controversial topic. Here's what we know about raised bowls for Tripawds.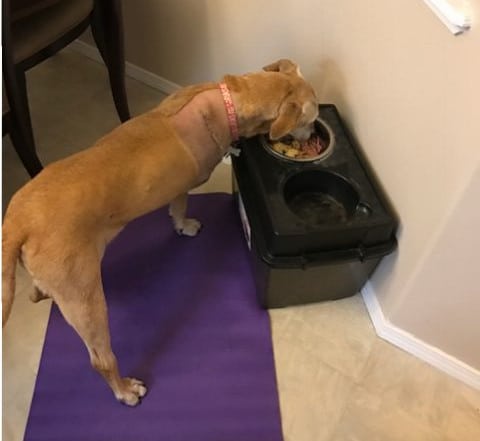 The Pros and Cons of Raised Bowls for Tripawds
Nature didn't design cats and dogs to eat upright from tables, but raising their food can help in certain situations. Namely, when they are coping with osteoarthritis, or when they lose a leg.
Without that fourth leg to hold them steady, it takes a lot of work to dip their head forward and dig into a bowl placed on the floor.
When you raise water and food, you're enabling them to eat without putting stress on their neck and shoulders.
But what about bloat?
Many people have heard of the 1997 Purdue Bloat Study, which showed that Great Danes who ate from raised feeders had a higher chance of suffering from bloat ("Canine Gastric Dilatation") than Danes who did not. It was one study, about one breed that already had a reputation for bloat. We are not aware of any other studies that have been done since then to prove or disprove its findings.
When we asked one of our favorite veterinarians Dr. Patty Khuly if she thought Tripawds were at increased risk of bloat because they ate from raised bowls, here's what she said:
For feeding dogs working hard to battle another condition, I would not alter my stance one bit. Feed from a raised bowl. This goes for dogs who have neck pain, orthopedic creakiness, megaesophagus, etc.
Simply put, the benefits of raised bowls for Tripawds reduce any unproven risks of bloat. Period.

For Tripawd pet parents of giant breed dogs, a gastropexy procedure goes much farther to reduce the risk of bloat than leaving bowls on the floor and allowing your dog be uncomfortable when eating.
As for cats, we don't know of any studies that demonstrate downsides of raised bowls.
So why not help to make your Tripawd's home more comfortable and get those water and food dishes off the floor, today!
You can use anything from a milk crate to a box with a no-slip rubber mat on top, or if you are able, you can get a nice feeder from Amazon and support the Tripawds Nation with your purchase!
This blog post contains Amazon affiliate links; when you shop through them for anything at all, you help keep the Tripawds Community online. Thank you!