Worried about your cat's confinement after amputation surgery? Or are you just looking for a way to help your cat slim down? These top five interactive games for cats are sure to help your new kitty stay entertained and slim.
The Top Five Interactive Games for Cats on Three (or Four!) Legs
Slow feeders and interactive games are one of the best ways to help your cat stay entertained and drop excess pounds. These fun activities for cats don't cost a lot, and they get rave reviews on Amazon.
We scoured Amazon to find the most popular interactive games for cats that your new Tripawd will love. This blog post contains Amazon affiliate links; when you shop through them for any products, you help keep the Tripawds Community online. Thank you!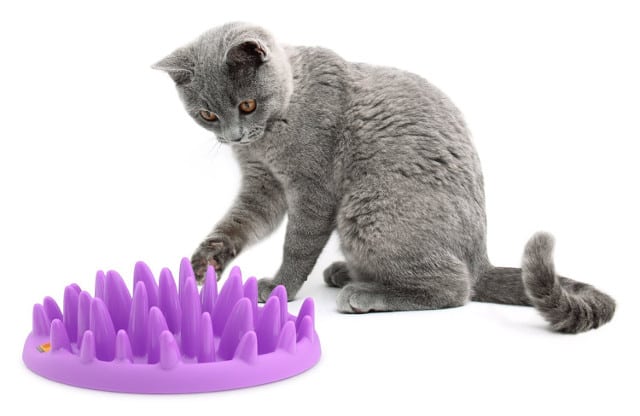 an innovative feeder that stimulates a cat's natural instinct and helps turn feed-time into an inspiring hunting game
Simple solution for house cats that helps bring stimulation and fun indoors
Modeled on a tuft of grass to replicate foraging and searching
Stylized purple spikes have been ergonomically designed to provide the maximum challenge for even the most determined of cats
Purrfect to use for overweight cats or those prone to gulping and digestive problems
Cats can be greedy eaters. The Catit Senses 2.0 Food Tree stimulates natural hunting behavior. This is a slow feeding solution that encourages cats to paw out snack-sizes portions at a much healthier pace.
Here's a battery-operated, interactive toy that doubles as a feline fitness machine. Give your cat stimulating physical and mental exercise by encouraging them to chase the ball!
Erratically spinning feathers fascinate cats

Unpredictable play pattern keeps cats interested

Encourages healthy activity through play

Whisper quiet motor won't scare cats

Replacement wands available

Ball's outer casing made with recycled plastic
Be ready for 3 levels of ball-spinning fun with the Petstages Tower of Tracks cat track toy.

Expertly designed with 3 levels of tracks and 3 brightly colored balls, this cat track toy elevates playtime and interactive play with your cat.

Equipped with 3 differently designed balls, the Tower of Tracks by Petstages stimulates your cat's senses and excites their mind as they work to bat at every ball. Unique to this cat track toy, the track is built with a closed top and no-slip base pads.

Allows you to play with your cat and your cat to share in the fun with their furry friends

The puurfect way for your curious cat to get the mental and physical exercise they need to stay healthy and engaged from day to day while channeling their hunting instincts as they chase down the fast-moving balls.
Award-winning game & puzzle box – stimulates and occupies cats and kittens for hours – bonds cats and their owners through play!

ENCOURAGES NATURAL INSTINCTS to explore, scratch, sniff, find and retrieve hidden rewards – with three difficulty levels to challenge clever cats as their skills improve!

WORKS WITH your cat's favorite cat treats, catnip, crinkle balls, mice, cat wand toy and other favorites; works great as a dry cat food dispenser and puzzle feeder!

VETERINARIAN RECOMMENDED for exercise, slower eating, weight loss and meal management
Remember, we want to know what your cats think of these games if you try them! Share your feedback below.
Thank you for shopping with Tripawds!
A portion of all sales (pet related or not) made via these Amazon affiliate links helps the Tripawds Community.