Welcome to summer, Tripawds Nation! Let's get out and show the world what we can do. Whether you go for a romp around the block or a swim in the river, you can gear up for summer with our annual Tripawds Gear Rebate!
Tripawds Gear Rebate Gives You Ten Bucks Back
Starting today through Labor Day, you can get a $10 rebate when you order any two of our three favorite pieces of Ruff Wear summer gear for Tripawd dogs:
The Webmaster Plus or Webmaster harness
The Float Coat
The Swamp Cooler
Order any two of these three items together in one order and you'll get an instant $10 rebate — there's no coupon required. Simply visit the Tripawds Gear Shop and add both items to your cart before checking out. Once we receive your order, you will get a $10 rebate. This offer cannot be combined with any other promotion or coupon.
Shop Tripawds Gear Shop Now & Save!
Three Pieces of Essential Summer Gear for Tripawds
Tripawds Spokesdog Wyatt Ray never goes anywhere without his Ruffwear Webmaster Plus harness. The durable and good looking harness is the foundation of any adventurous Tripawd dog's gear. We have found this is the best way to assist him on all of his summer adventures from the mountains to the beach and everywhere he roams.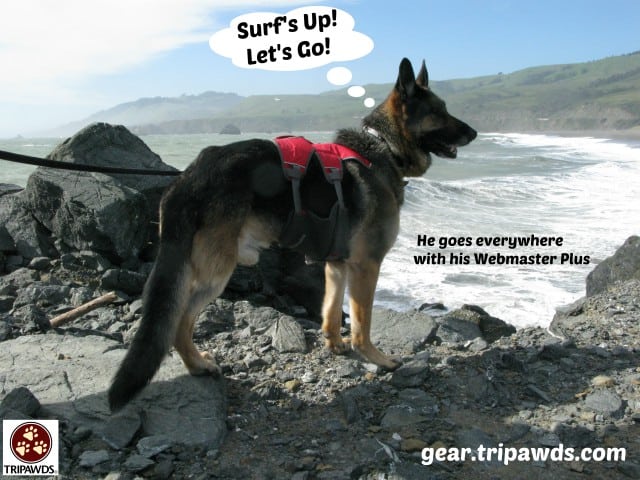 Since Wyatt loves to swim, his other essential summer gear includes the Ruffwear Float Coat. Made with just the right padded buoyancy, it's the only doggie life jacket we've found that helps keep a Tripawd upright in water. Yes, three-legged dogs can swim without one, but the Float Coat helps dogs swim longer and safer. Wyatt doesn't get tired of swimming when he's got this piece of gear helping him out!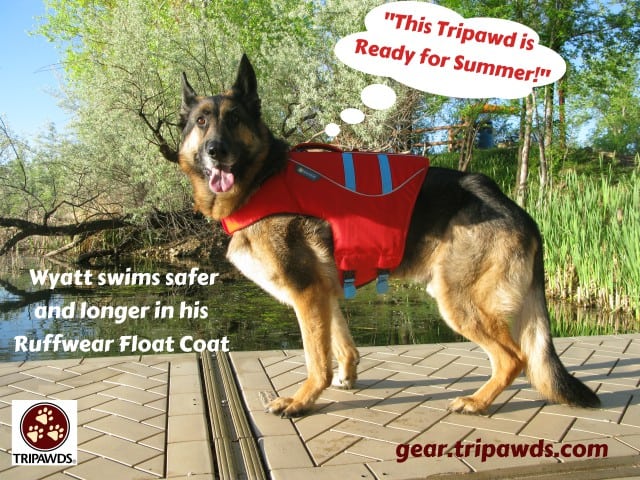 And sometimes when the heat just gets to be too much, our furry hero just wants to chill out and relax. The Ruffwear Swamp Cooler Vest is just the ticket!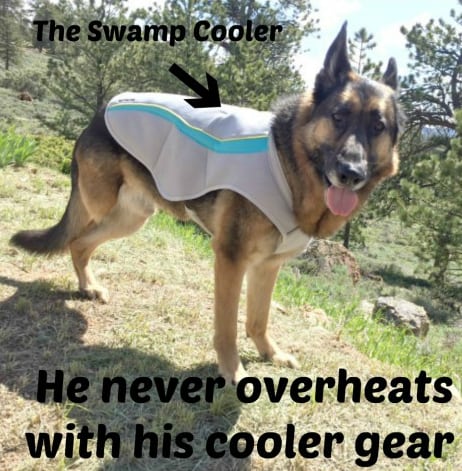 Wearing more clothing to keep cool doesn't make sense at first. But once you try Ruffwear's evaporative cooling gear for dogs you'll see why it works. Just run any of these pieces under cool water and they immediately begin working to help your dog avoid overheating. Check out our review, "Summer is Easier with New Ruffwear Cooling Gear for Dogs" to learn more.
Shop Tripawds Gear Store Now & Save!
NOTE: This instant rebate offer ends Monday, September 3, 2018.
Make it the Best Summer Ever!
Don't forget, this sale is good through Labor Day. But we hope you'll take advantage of our annual Tripawds Gear Rebate right away so that your three-legged hero can be comfier, safer and cooler than ever before!