Some people think that dogs don't need clothing. "But they have fur!" say the skeptics. Well, we think once these folks see how clean a canine stays when they're wearing great gear in bad weather, they'll see dog apparel in a different light. We think the Sun Shower doggy rain jacket is the best example yet that shows how great gear improves everyone's quality of life!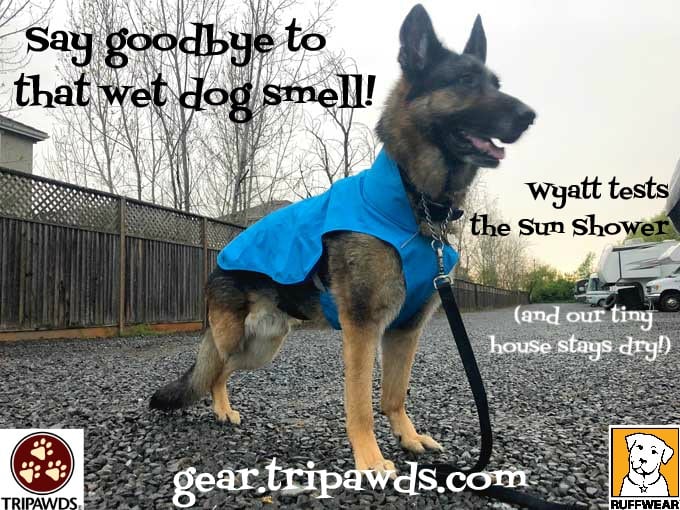 No More Wet Dog Smell with the Sun Shower Doggy Rain Jacket
Tripawds Spokesdog Wyatt Ray isn't afraid of rain. We, his people, on the other hand, don't particularly appreciate the musty wet dog smell that lingers in our tiny RV home on rainy days. His muddy paws can be cleaned before entering, but that damp double coat is another story. Even the thickest towels have a hard time drying him off completely.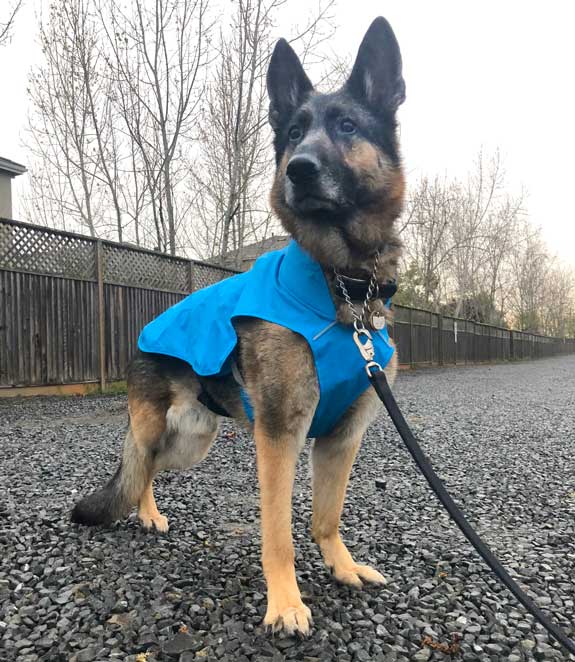 We try to stay far from foul weather in our dog house on wheels, but sometimes rain happens. And now that we're headed to Alaska this summer, we know it's going to happen a lot.
Earlier this spring Ruffwear shipped a Sun Shower doggy rain jacket to Wyatt so he could stay dry in the north country. The first time we tested it in a downpour, we couldn't be happier with the results!
Why Your Tripawd Needs This Rain Coat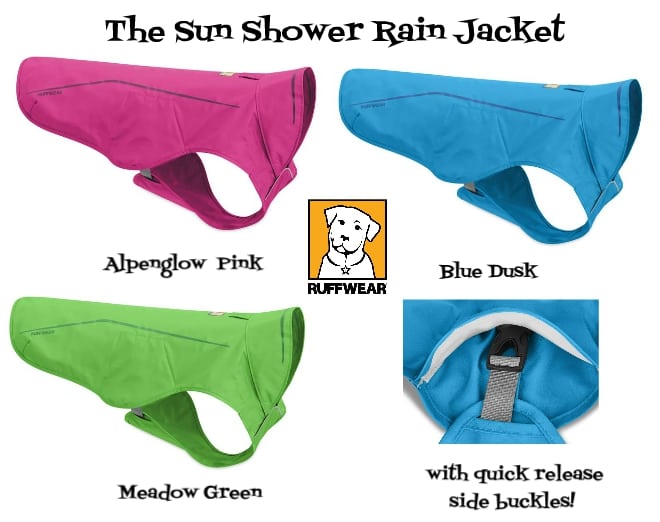 Durable, PVC-free waterproof fabric
Oversized storm collar to keep his long neck dry
Easy on-off, side release buckles for fast gearing-up
Reflective trim for visibility in dark conditions
It's so easy to put the Sun Shower on him. He doesn't have to step through any leg loops, we just slip it over his head and buckle each side.  This makes it perfect for a Tripawd with balance challenges.
Whether a front or a rear leg is gone, the Sun Shower doggy rain jacket doesn't slip or rotate one bit.
The people at Ruffwear just know how to design a great product for active dogs. Wyatt can run and play while wearing it without any problems.
The best part about this indispensable piece of gear is that it can be worn over his favorite harness, the Webmaster Plus.
And once he's back inside the RV, there's less cleanup than ever. His belly and topside stay dry and mud-free. And so does our house on wheels.
The Sun Shower Rain Jacket is must-have gear to have ready at all times. Winter, spring, summer or fall, you never know when a rain storm will come your way!